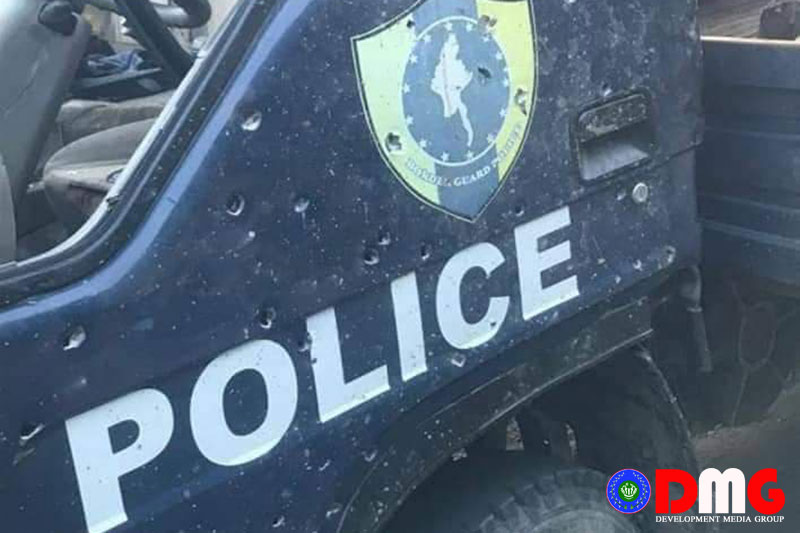 Cha Lu Aung/DMG
25 October, Sittwe
Two policemen have been killed and five other police officers and two inmates were injured in a police convoy attack launched by the Arakan Army (AA) in Buthidaung Township, Arakan State, according to the State-run newspapers.
The police convey was comprised of a prison van and a police vehicle. The 10-member AA group attacked the police convoy carrying 14 security personnel and 20 inmates by setting off two remote-controlled mines on the Buthidaung-Maungdaw Road at about 4 p.m. on 24 October.
The State-owned dailies said the police convoy was on the way to Buthidaung Prison from a court in Maungdaw District.
The injured people were transferred to a military hospital in Buthidaung to receive medical treatment while the inmates were sent to Buthidaung Prison. The Tatmadaw is conducting a clearance operation around the site of attack.
The DMG phoned Khaing Thukha, Spokesperson of the Arakan Army (AA), but he could not be reached.
The Arakan Army launched a series of similar attacks on police and military conveys including civilian vehicles according to military sources amid escalating clashes between the Tatmadaw and the ethnic armed group in Arakan State.
But the attacks on the police convey carrying the inmates is the first of its kind in Arakan State.