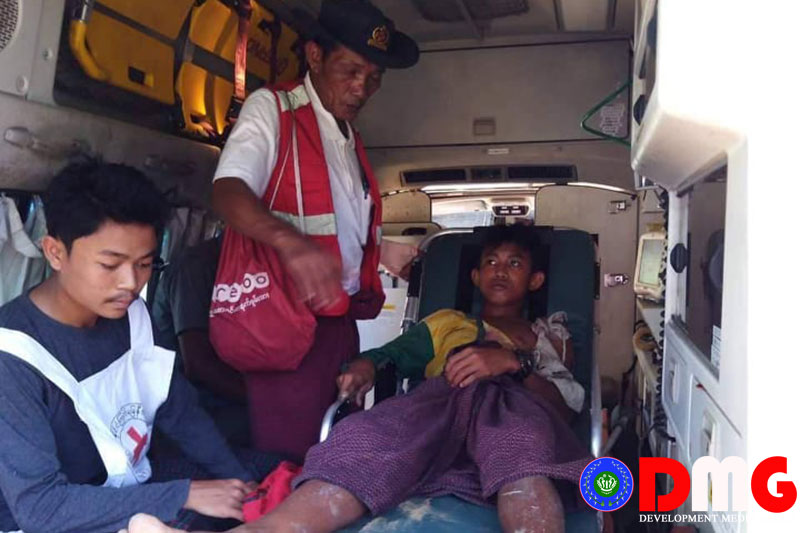 Cha Lu Aung/DMG
October 28, Sittwe
Two people, who were hit and injured by stray bullets from Yay Bote village in Rathedaung township, were sent to hospital on October 28 with the help of the International Committee of the Red Cross (ICRC) in cooperation with Myanmar Red Cross Society (MRCS), U Hla Kyaw, head of Township Red Cross Unit said.
The injured are Maung Maung Chay, 15 and Ko Kyaw Win, 26, were both were hit by bullets on October 27. But they weren't able to be sent to hospital immediately and were stuck in the village because the Tatmadaw was questioning the residents in the village and its helicopters were firing at surrounding areas of the village.
"A bullet went through Maung Maung Chay's right shoulder. He was sent to Sittwe hospital. The other person received injuries to his thigh. He is now at Rathedaung hospital," U Hla Kyaw said.
U Asoe Chay, father of Maung Maung Chay, said that his son and the other man were shot at by soldiers in the Tatmadaw's helicopter while they were running to Aung Myay Khone village on the other side of creek.
"The Tatmadaw soldiers shot guns into Yay Bote village from the helicopter around 2 p.m. yesterday. That's why they ran away to the village of Aung Myay Khone on the other side of the creek and got hit by the bullets," U Asoe Chay said.
Locals said that the Tatmadaw detained 13 Yay Bote villagers yesterday.
Regarding the locals, DMG tried to contact Colonel Win Zaw Oo, spokesman of the Tatmadaw's Western Command of Arakan State. But his mobile phone was switched off.
Yay Bote village is located two miles away from Yay Myat village where Shwe Nadi express boat was stopped by the Arakan Army (AA) on October 26.
The Tatmadaw launched air attacks on that area [Yay Myat village] because the AA detained 58 people, including the Tatmadaw soldiers, policemen and civilians, from the boat.
The AA said that most of detainees were killed in the air attacks. But the Tatmadaw stated that they currently have rescued 14 people, who were detained by the AA.