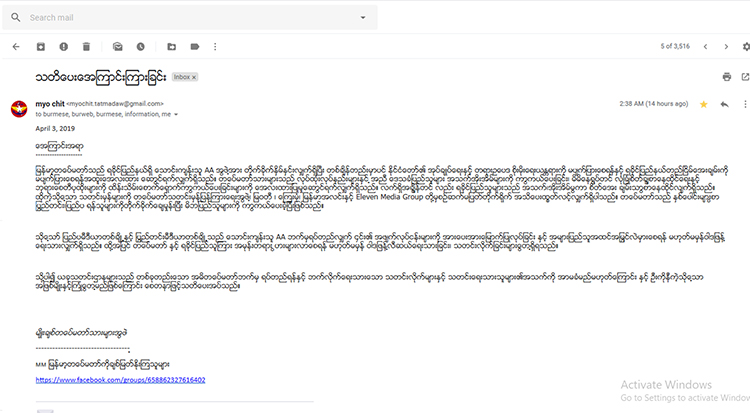 3 April 2019, Sittwe
The Development Media Group has received a threatening letter sent from the email address "This email address is being protected from spambots. You need JavaScript enabled to view it." very early this morning.
The letter, which arrived at 2:38 a.m. today, says: "Myanmar Tatmadaw is crushing the insurgent group AA in Rakhine State while it is giving special consideration to stability of Rakhine State and strengthening of the administration and rule of law of the country."
"Troops of the Tatmadaw, in line with procedures, are providing their service for protecting local people's lives, houses and pagodas in the region. Currently, Rakhine people are living peacefully in their homes. The Tatmadaw True News Information Team, Myawaddy, state-owned newspaper The Mirror and Global New Light of Myanmar and Eleven Media Group are covering true information in Rakhine State in real time. The Tatmadaw cracked down on local and foreign enemies many years ago and has protected people," it said.

The second paragraph of the letter says: "But some local and foreign media stand by the AA and support their acts of sabotage. They are covering fabricated news to mislead the public about the Tatmadaw's actions. Moreover, it is found that they are writing and collecting fake news to incite hatred between the Tatmadaw and the Rakhine people."
The letter finishes with a direct threat on the lives of the journalists working for DMG: "Thus, we send a message to you all with good will to stand by the one and only army, the Tatmadaw. Otherwise we will not guarantee the lives of your journalists, both who collect and write news, and they will face a situation similar to U Ko Ni," the letter concluded.

U Ko Ni, a prominent Burmese lawyer and politician with the NLD, was assassinated on 29 January 2017 on Yangon Airport when returning from Indonesia.
The DMG is a Rakhine-based media organization that works in line with national media ethics based on an editorial policy that rules out all forms of stereotyping, hate speech and fake news.
On April 2, some mainstream media groups based in Yangon also received threatening letters that were allegedly sent by the AA. The AA immediately denied their responsibility for the letters and their threatening content.