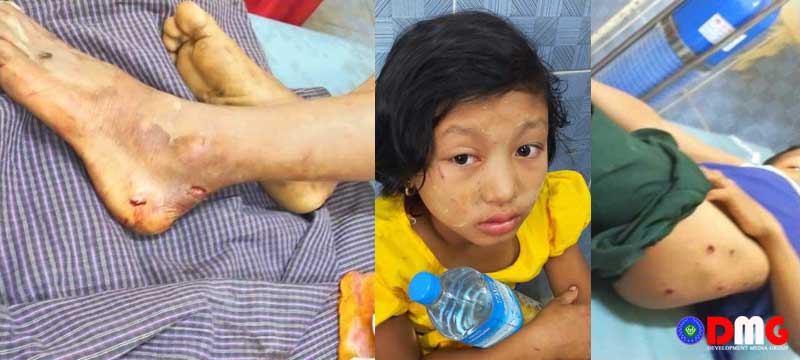 Nay Win San | DMG
1 December, Sittwe
 
An artillery shell landed on a house in Shar Shay Pyin village in Mrauk-U Township on the morning of 1 December, injuring five people ranging in age from two to 25 years old.
 
"My two daughters and three grandsons received injuries. All are at Mrauk-U hospital now, the house was also destroyed," said U Aung San Chay.
 
The shell was launched by a Tatmadaw troop that entered the village and there was no fighting near the village, he added.
 
"They shot from north of the village. Then, about 200 soldiers entered the village," U Aung San Chay said.
 
The Tatmadaw however said that a military column conducting regional clearance operations near Shar Shay Pyin village was attacked by the AA from the village and fighting broke out.
 
"The AA attacked military troops from the village. When the military troop entered the village, they attacked the military troop from outside of the village. We do not know whose shell hit the house," spokesperson of the Western Command Colonel Win Zaw Oo said.
 
U Tun Tha Sein, Arakan State Hluttaw MP for Mrauk-U Township, said that he heard that five people from Shar Shay Pyin village received injuries during an attack.
 
"A proposal not to target people and avoid residential areas during battle has been submitted to parliament. I'd like to say to armed groups to try not to hurt civilians and destroy pagodas and ancient buildings," U Tun Tha Sein said.