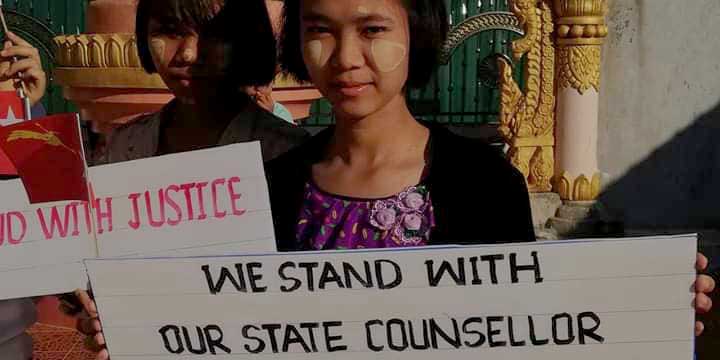 Khaing Min (Kyauk Phyu) | DMG
4 December, Rambree
 
Around 80 people led by National League for Democracy (NLD) in Ramree Township of Arakan State rallied to show support of Daw Aung San Suu Kyi because she is going to face trial for the Muslims of northern Arakan State.
 
The rally for the State Counsellor was held around 8 a.m. today on 4 December at the compound of Aung Zaydi Pagoda in Ramree, for she is about to stand in trial at the International Court of Justice (ICJ).
 
Representing the Organisation of Islamic Cooperation (OIC), Gambia, filed a lawsuit against Myanmar on November 11 with allegations which include genocide of local Muslims in northern Arakan.
 
An executive member of the township NLD, U Khin Yi, said, the rally is organized because Daw Aung San Suu Kyi is the leading the defence for the case.
 
"We held this rally to show to the world that we support, encourage, and stand with our leader and representatives who are going to the ICJ to defend Myanmar and that we united for this."
 
Around 80 participants made up of (NLD) members and supporters held up banners that read, "WE STAND WITH OUR STATE COUNSELLOR", "WE STAND WITH LEADER", and "WE STAND WITH JUSTICE".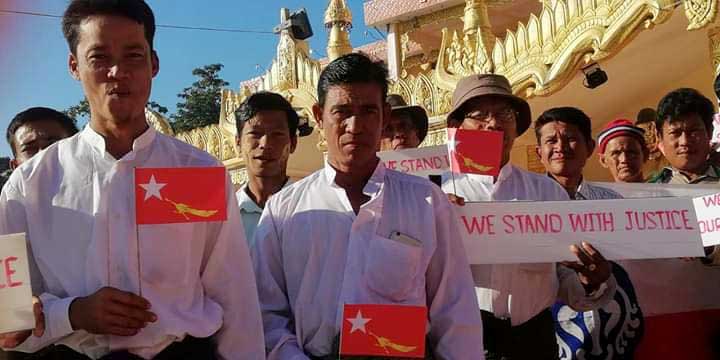 On the other hand, the Arakan Army (AA) that has gained the support of the majority of Arakanese people that is currently fighting with the Tatmadaw welcomes the charges and the lawsuit at the ICJ. Three northern allies including the AA have made an announcement that they are hoping the guilty people will get punished.
 
The Ministry of Foreign Affairs has released a statement on November 27, " it is heartening to see that people from all walks of life, those in the country as well as those living abroad at present, who are expressing their strong support for the State Counsellor and her leadership in the endeavors to contest the case at the ICJ. The issue before the International Court of Justice is of national concern and affects the interests of all our people. Their support sustains us and their unity is the strength of the nation."
 
The ICJ has scheduled Dec 10-12 for Myanmar and Gambia to submit opening statements for the charges of Gambia.
 
The State Counsellor's Office has announced that lawyers who are international legal specialists have been hired to defend the charges against Myanmar.