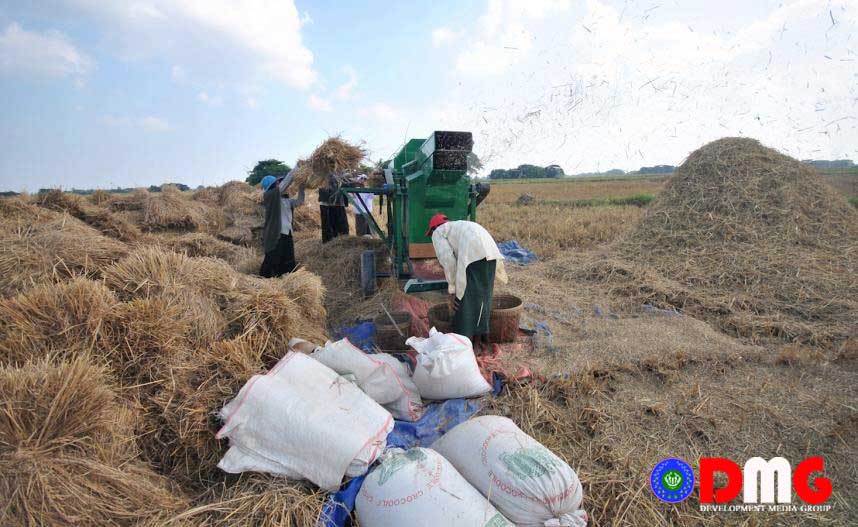 Khaing Roe La | DMG
25 December, Sittwe

Farmers in northern Arakan State are facing difficulties due to lower paddy prices and fewer buyers than in years past.

"Paw San Hmway" paddy, a high-grade rice variety, is this year fetching about K300,000 ($200) per 100 bushels, compared with more than K400,000 last year, according to farmers.

A five-member Agriculture, Livestock, Forestry and Irrigation Committee, formed by the Arakan State legislature, met with farmers from Ponnagyun Township in early December and promised to present their concerns to relevant authorities via parliament.

U Aung Win, an Arakan State MP and chairperson of the committee, said the primary problem the farmers faced was a dearth of buyers for their paddy.

"There are few buyers. So, they have a stockpile of paddy that could not be sold," he said.

Farmers are thus facing losses, exacerbated by cost increases including rises in wage-labor and fertilizer expenditures, farmers said.

A key problem, according to a farmer from Oat Phoe Kan village in Mrauk-U Township, is that farmers find themselves unable to repay agricultural bank loans if there are not enough buyers for their crop.

"The situation is much different from last year. We were able to pay our loans to the agricultural bank last year after harvesting our paddy," said farmer U Kyaw Naing Win.

"Some farmers are waiting to get a higher price for their paddy," he added.

Looming over this year's rice market woes in some parts of Arakan State is the simmering conflict between the Arakan Army and government troops. Armed hostilities between the two sides have prevented some farmers from harvesting their crop.

Due to the fighting, more than 12,000 acres of paddy in Arakan State's Rathedaung, Buthidaung, Ponnagyun, Mrauk-U, Minbya and Myebon townships has gone unharvested, according to the Arakan State Farmers' Union.