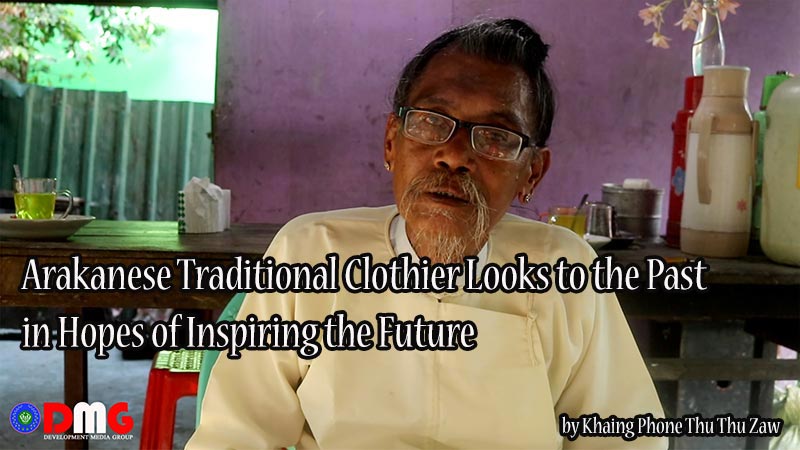 Written by > Khaing Phone Thu Thu Zaw

"My thought was that if we had to describe the dress of the Arakanese kings in Arakan State, it would be like the dress of Myanmar," said Gana Sein, a 67-year-old man from Arakan State's Pauktaw Township, describing what he saw as a problem that he has set out to address.

Gana Sein is working to identify and replicate the traditional attire of the ancient Arakanese kings. The costumes worn by most novitiates at novitiation ceremonies in Arakan State are loosely based on the traditional styles of mainland Myanmar, he notes.

Gana Sein's real name is U Khaing Wunna. He previously worked in the radio repair industry for more than 30 years, from the age of 20-something into his 50s.

He retired from radio repair at the age of 55 and began writing poetry under the pen name "Ah Phoe Shin". He currently runs a costume dress business for novices-to-be, to be worn in their novitiation ceremonies, as well as making wedding attire for brides and grooms. He has been working this job for more than 12 years now.

Gana Sein's new skill set and knowledge was all self-taught; there's been no one to teach him about what he hopes to pass on to younger generations.

"I am currently working on a costume business that depicts four eras — Danyawaddy, Waitharli, Laymro and Mrauk-U — for the novices-to-be as well as brides and grooms," he said.

Not everyone embraces the traditional Arakanese aesthetic, however.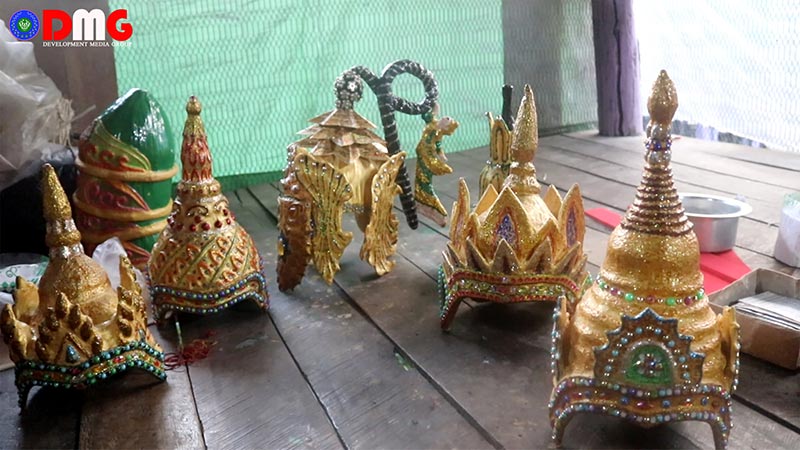 "Some people are reluctant to wear traditional dress at novitiation ceremonies. I told some people who accompany the novices-to-be ... it's even more embarrassing when you imitate other people's dress. This is in line with the belief that we should wear the clothes worn in the Arakanese tradition," he said.
Gana Sein said that these days young people are more accepting of the traditional dress. But the window of opportunity for him to pass on his knowledge — and perhaps take on an apprentice — is closing as Gana Sein has been suffering from a number of ailments, such as hearing loss and poor eyesight.

"I want to teach the younger generation about traditional dress because when I die, this legacy might be gone too. I urge young people through Facebook to learn how to wear these traditional clothes at no cost. Some young people who want to learn are also worried that they will encounter livelihood hardships while studying," he said.

Part of Gana Sein's "look" is the traditional attire, but he also stands out for his long hair and earrings. The full ensemble, he says, is an expression of his patriotism.

"To be patriotic is to love the religious tradition. We must be able to preserve our culture so that it does not disappear. You cannot be ashamed of wearing your traditional dress. When tradition disappears, culture disappears. When culture disappears, so does race. We need to be able to preserve our traditional dress and culture."

He has been wearing earrings since he was a child, and as a teenager lived like a "normal" person. Then, in his mid-30s, he changed his hairstyle, wore earrings once again, and put on the traditional jacket and longyi that he sports with pride to this day.

He said that in the past, Arakanese people had this kind of hairstyle and it was not considered embarrassing to wear earrings.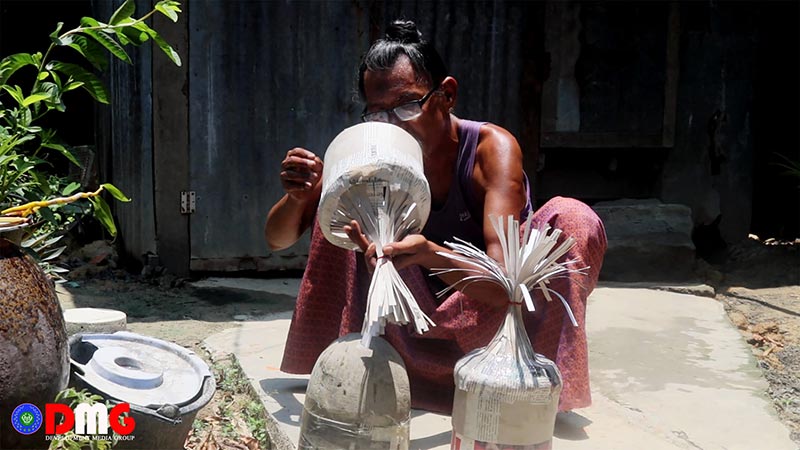 "In the past, all men and women were frustrated if they did not have earrings. In the past, people were not allowed to go out without earrings. In the past, Arakanese people used to insult each other if they did not have earrings," he said.

Gana Sein fell in love with his wife Daw Thaung Kyi when he was about 30 years old. The couple have two daughters who live with them.

His wife did not comment on his extravagant attire, and she still loves him as a gifted partner.

"I was criticised for wearing a traditional jacket, earrings and longyi. Some people are attacking me, wondering if this person is an Arakanese or if he is accepted as an Arakanese," he said.

Gana Sein said he had repeatedly considered giving up the dress when he was facing a lot of ridicule. "But this is not shameful, it is a shame that the people who are talking are saying what they are saying," he said.

In this age of change, some cultural heritage and traditions are slowly disappearing. People like Gana Sein are here to argue that we must urgently preserve them.