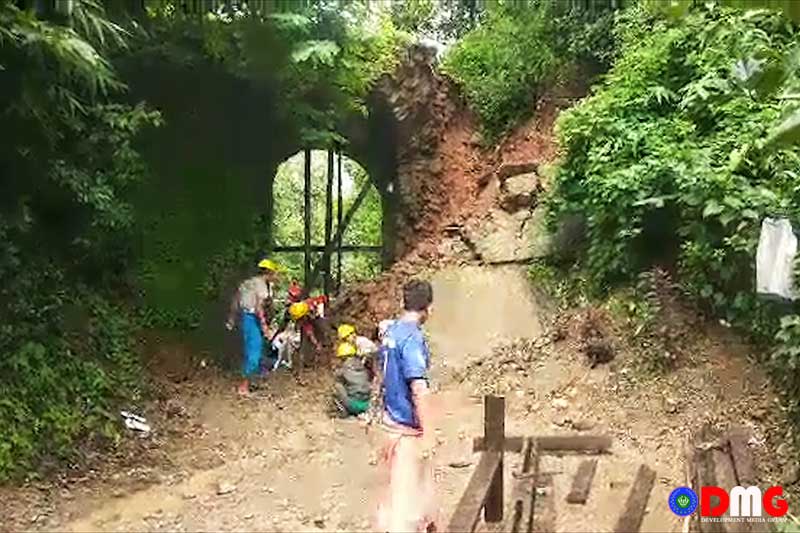 Sein Ko Ko | DMG
11 September, Sittwe
 
The door of the Mauk Taw gate, one of thirty entrance gates in Mrauk-U ancient city, was broken off on 8 September following heavy rain.
 
The Mauk Taw gate is one of the gates that remains in good condition, but pieces of the gate were chipped from the arch due to the lack of timely maintenance, said Daw Khin Than, chairperson of the Mrauk-U Cultural Heritage Conservation Group.

"We saw cracks on the gate that was located in the west of the city. We reported to the Department of Archaeology about the cracks. They underestimated the risk of the destruction. I can guess it will be damaged when rainwater seeps through the cracks," she said.

The Department of Archaeology, National Museum and Library in Mrauk-U Township had been carrying out maintenance work on the gate, said U Nay Naing Tun, deputy director of the department.

"Once we've heard about the collapse of the gate, we have been trying to minimize the damage. It has been raining, so an arch has been propped up with wooden posts. We also erected a fence around the gate to prevent possible risk to locals. We removed rubble from the area," the deputy director said.

The department has also presented upkeep plans to the district administrator and regional government about emergency repairs and maintenance of the gate, he added.

Daw Khin Than said that cracks have appeared in some ancient buildings in the east and south of the ancient city due to the shaking during gunfire.

"The Koe Thaung Temple has been affected by gunfire. The firing of heavy artillery has negatively impacted the pagoda. But, I cannot predict when cracks will begin to develop on it," she said.

Some pagodas and temples in Mrauk-U ancient city have been marred because they were struck by artillery shells during recent clashes between the Tatmadaw and the Arakan Army while Myanmar tries to put Mrauk-U cultural region on the list of World Heritage Site.