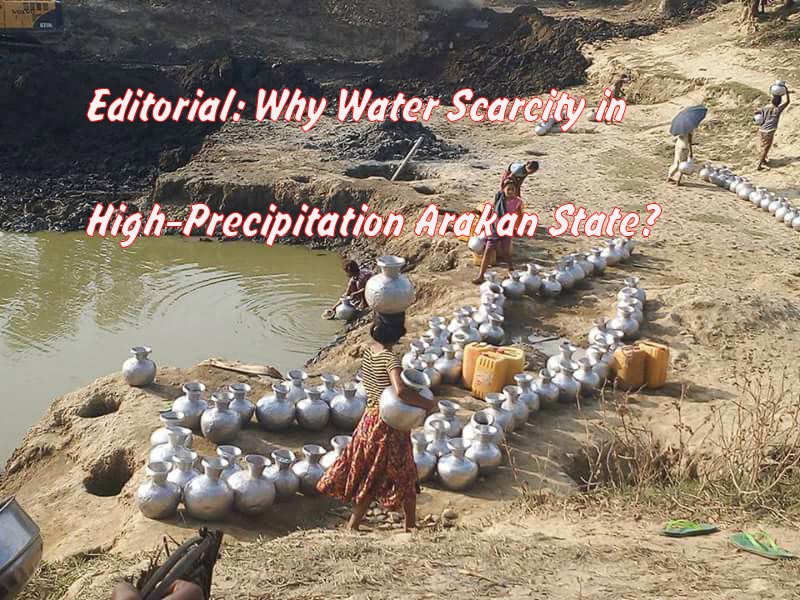 Editorial
Drinking water scarcity in the summer months has become an annual trouble in Myanmar. 
It is not unusual for water shortages to arise in central Myanmar, where precipitation has historically been low for much of the year. But the annual water shortages that are increasingly the summertime norm in Arakan State, where average precipitation is significantly higher, is the result of poor management of water resources.  
Many countries around the globe seek various ways to ensure access to adequate drinking water. 
Some desert countries such as Israel, where water resources are very limited, have devised innovative ways to cope; 100% of the sewage from the Tel Aviv metropolitan area is reportedly treated and reused as irrigation water for agriculture and public works.    
At the moment, almost all of Arakan State's 17 townships, including the state capital Sittwe, are facing water shortages. 
Arakan State receives more than 200 inches of rainfall a year, as well as benefiting from the upstream freshwaters of the Mayu, Kaladan, Laymyo and Naf rivers, but water scarcity is still an annual concern. One cannot but conclude that the problem is not of geography or freshwater endowment, but rather lies in successive governments' mismanagement.  
Particularly the apparent inability to solve yearly water scarcity problems in Sittwe, the most populous city in Arakan State, has attracted public criticism.  
The people pay taxes in order that their government can solve problems such as this. And if civil society organisations want to lend a helping hand, so much the better. 
The Arakan State Administration Council says it is conducting field inspections at Sittwe's Kandawgyi Lake, which supplies water for the Arakan State capital, in hopes of addressing its tendency to dry up during the summer months, according to the council's information officer. For the time being, water from artesian wells is being pumped into pipelines to supply water to the city. 
DMG urges authorities and the relevant departments to draft an effective water resource management blueprint so that this summer might be the last that the people of Arakan State are forced to face these annual water woes.