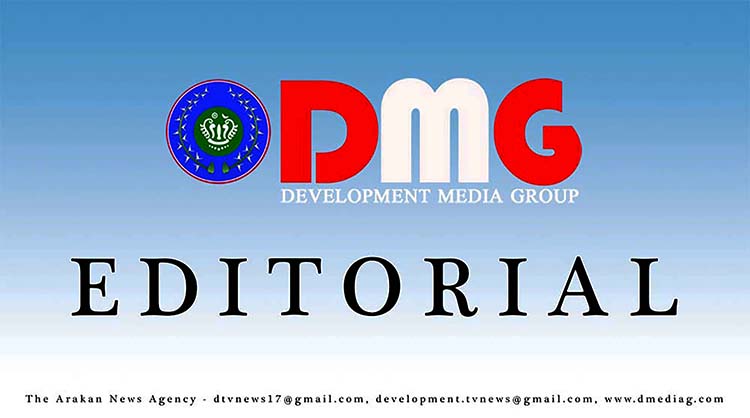 "When two elephants fight, it is the grass that gets trampled"
 African proverb
The Tatmadaw and the Arakan Army (AA) have been fighting in Arakan State since December last year. The ongoing fighting has forced thousands of people to leave their homes and stay at IDP camps with many problems and hardships to endure. Even worse, many of civilians were either killed or severely injured by stray bullets or hidden bombs.
Even though some areas don't experience the ravages of war, they still feel the residual consequences of warfare. Armed groups came and established their camps and outposts at schools and monasteries, this resulted in damaged public property and the loss of personal property.

It is imperative that the armed groups avoid using religious and historic buildings, villages and public places as their protective cover when launching offensives. A proposal for avoiding those places was submitted to the State Hluttaw on September 25 and was approved.

Both the Tatmadaw representatives and the AA supported the proposal, and the AA stated on September 26 that they will adhere to the proposal without fail.
Currently, clashes have been continuing aggressively in Arakan State, and the peace talks between the Tatmadaw and the ethnic armed groups haven't been successful. The Tatmadaw calls the AA a rebel group and is trying to eradicate them from Arakan State. But the AA is very determined to remain in its own state.
As long as both sides disagree, fighting goes on, unabated, and innocent civilians will bear the brunt of the war.

The continuation of war equals the continuation of innocent suffering, strife and hardship for civilians who only want to return to a normal life. These same civilians bear no ill will towards anyone and only want to have the chance to improve their quality of life. Because of the perpetual fighting in their homeland the quality of their lives is now less than zero.

This is why the Development Media Group (DMG) urges the armed groups not to establish camps, stations or any other type of command center in public places in addition to cease firing weapons at culturally historic icons or sacred places. If both sides can comply with the proposal of 25 September, they can begin to win the hearts and minds of local people again.