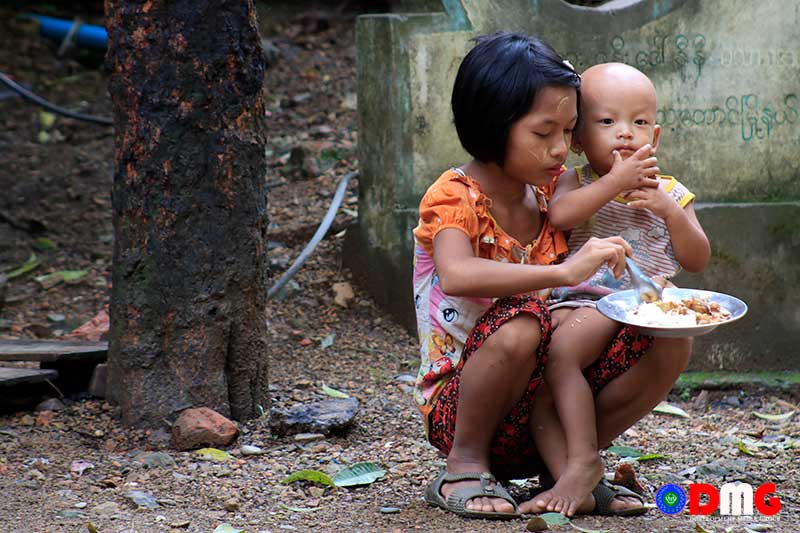 If a war starts, it damages the health, education and business systems and the public have to suffer for that. The residents in Arakan State are really getting tired of experiencing fighting which broke out in their region between the Tatmadaw and the Arakan Army (AA) since December last year.
Because armed conflicts are mostly in rural areas, people living in those areas suffer the most from the consequences of the war. Even though fighting started in remote forest or mountain areas, it has expanded close to residential areas. That means villagers aren't able to work safely so their jobs are in jeopardy and moving about their farmland or fishing in river or creeks poses great risks that could result in tragedy.
A dust-to-dawn curfew is also imposed in some areas of Arakan State, so farmers are facing more problems. They are also worried that they may be detained by the armed groups while working. The Arakan State Farmer Union stated that there are about 99,600 acres of farmland that cannot be ploughed or cultivated during agricultural seasons.
Some people still have to go to the forests or rivers or creeks near their villages to do jobs such as fishing or picking vegetables or minding their cattle. But most people get injured or killed by the landmines and some people just go missing without a trace.
However, some people still grow paddy in the face of adversity, the paddy plants are now ripe but the farmers aren't able to go near their paddy farms because clashes have been continually occurring near the farmlands.
Since paddy farms became ignored and farmers aren't able to harvest in time, cattle entered the farms and ate the paddy seeds, and the remaining seeds fell from the plants. The recent storm added more problems and damaged most paddy farms in Arakan State which were ready for harvesting.
CSOs and business owners are very much concerned about these types of situations which could lead to a rice shortage problem in Arakan State.
Arakan State is a region which mainly grows paddy, and if rice production decreases, it would have a grave impact on people in the region. The local rice market as well as the price of rice transported from other parts of the country can be increased. If this scenario actually occurred, people at the grassroots level won't be able to afford buying rice for their daily lives.
That's why the state government must seriously consider having enough food for the public and should start making the necessary plans to counteract a sudden sky rocketing of rice prices before it's too late.
Many of people lost their belongings and their families because of the constant fighting. That's why people desire an end to war now.
The Tatmadaw and AA are fighting because of political disagreements. That's why it needs to engage in mutually agreeable peace talks to solve problems and build a fruitful future.
The Development Media Group (DMG) suggests and urges both parties to conduct constructive discussions on a broad range of topics that can save the lives of people and start development in Arakan State.