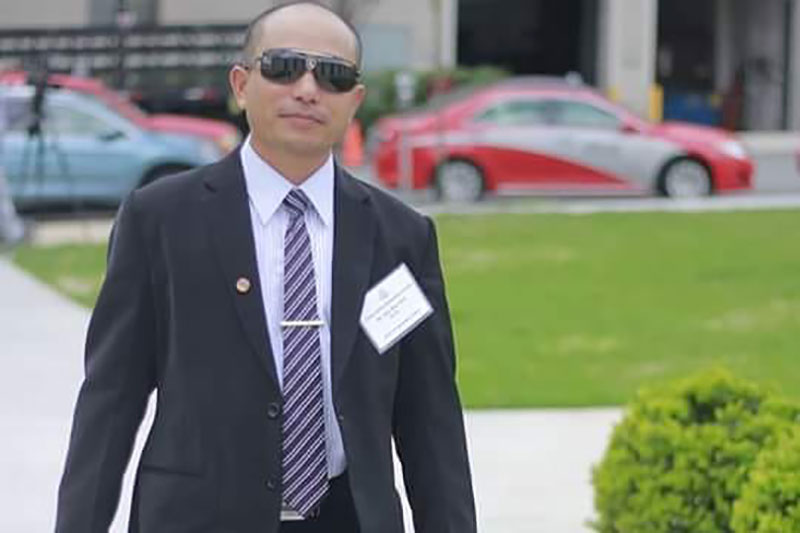 Conflict between the Tatmadaw and the Arakan Army (AA) has resulted in more than 164,000 internally displaced people (IDPs) in Arakan State, with many of these wartime refugees staying at camps where they struggle to meet basic needs such as food, shelter and clothing. Making matters worse, as COVID-19 cases continue to climb in Myanmar, IDP populations are particularly vulnerable to rapid contagion, should the virus establish a foothold in the country's west.
With neither war nor the pandemic likely to end any time soon, DMG's senior reporter Khin Tharaphy Oo spoke with Ko Zaw Zaw Tun, who serves as secretary of the Rakhine Ethnics Congress and has also assisted IDPs, to discuss a range of topics including displaced populations' coronavirus awareness, efforts to educate the refugees about the disease and the government's performance and obligations in the time of COVID-19.
DMG: How much do IDPs in Arakan State know about the coronavirus?
Ko Zaw Zaw Tun: They know about it roughly, such as that it is a deadly disease and spreads rapidly; that it requires social distancing; that the disease can be spread by cough and sneeze. However, they don't know in detail, such as how many people have been infected in Myanmar and how many have died.
They do not know the symptoms of this disease; how many days a carrier can go without showing any symptoms; how the Department of Health is handling and controlling the disease; and what the department is doing for the family members of the infected people. They don't know in detail about the transmission of the disease. They just know about it roughly. Some people don't care about the disease. It depends on who educated them and how they have been educated.
DMG: Where do displaced people get their information about coronavirus from?
ZZT: Most IDPs get information from being told by other people. They know about it when people from IDP camps go to other places and towns and awareness campaigns are held at the camps. They do not get information through the internet, or TV, or Facebook either [because] most people at the IDP camps do not have mobile phones.
DMG: Since an internet ban has been imposed in the townships where most IDPs are, how have IDPs fared in getting information?
ZZT: They get information through awareness campaigns held at the IDP camps. They cannot see the images that show the patients from the affected countries and places and their situations. These are the disadvantages of not getting internet. There are no TVs or electricity at the IDP camps except IDP camps in urban areas. The IDP camps where there is no internet access have no TVs and electricity. IDPs from such camps only rely on reading the news and cannot watch videos that give information about the disease and show situations relating to the disease. That's why some know about the disease, and some don't believe and don't care about it.
DMG: The Ministry of Health and Sports announced that public gatherings are banned to contain the spread of coronavirus. At some IDP camps, however, people have to live in crowded conditions. How are these people living at the camps?
ZZT: It is sure that people from IDP camps have no [endemic] COVID-19 disease. The disease only comes from outside. So, if people who return from foreign countries do not come to IDP camps, displaced people will not be infected.
It is impossible to live 3 feet away from each other at the IDP camps. The only thing that must be done at the IDP camps is to not allow people from outside to come in, and there should be a designated place for them. And when IDPs want to meet with their family members from outside, they should meet outside of the camp.
IDPs need to be told not to go to other towns and places during the pandemic. If it is necessary, they should inform people in charge at the camps before they go outside. It is the only way to prevent the outbreak of disease at the IDP camps. There is no other way. It is totally impossible to live 3 or 6 feet away from each other at the camps.
DMG: Is there any limitation on the number of people who go in and out of the IDP camps?
ZZT: Some IDP camps do not have anyone watching people go in and out. We have teams to watch at each camp. Other organisations do not have such plans yet.
DMG: Arakanese people are facing the risks of both war and coronavirus now. So, what do you want to urge armed organisations?
ZZT: I have informed them that some IDPs have returned home as they are worried about coronavirus infection, because they are aware that living in crowds is not suitable for preventing contagion. They returned home although it is not safe for them. So, armed organisations should try not to affect them with their clashes. They should not fight near their villages and not launch artillery shells near residential areas. They returned home because they are worried about the infectious disease. So, armed organisations should try not to force villagers to flee from home again.
DMG: What kind of challenges do you face in carrying out COVID-19 preventive measures because clashes are occurring in the state?
ZZT: Because clashes occur in Arakan State, people cannot go everywhere they want to go. Wars disrupt conducting measures to prevent the spread of COVID-19. We cannot go and provide aid to villagers for security reasons. So, it is difficult to undertake preventive measures to combat the spread of COVID-19 in most areas affected by armed conflict.
DMG: What has the government been doing at IDP camps to prevent the spread of COVID-19?
ZZT: The government has not done anything at IDP camps in rural areas. But CSOs [civil society organisations] and government departments provide education programming about the disease at IDP camps in towns. Other organisations also cannot reach IDP camps in rural areas. The Myanmar Red Cross Society provided soap for some IDP camps in Sittwe.
DMG: In what ways do you want to see the government step up its COVID-19 education programming at IDP camps?
ZZT: The government has weaknesses for security reasons and resources; government departments are facing difficulty providing public awareness about the disease because they do not have sufficient resources and they are worried about security.
The government should try to conduct all required activities in a region to prevent the spread of COVID-19. It should not neglect people from an area if government departments cannot reach there. It should invite an individual or organisations who can do these activities.
It should talk with those who can do these activities rather than giving the excuse that they cannot reach war-affected areas for security reasons. It should search for other solutions to undertake required measures in such areas.