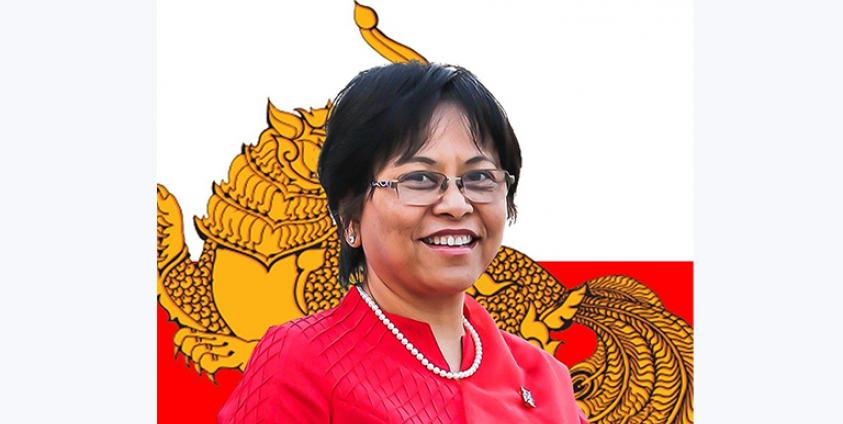 Interview with Dr. Tin Mar Aung, Arakan League for Democracy candidate
Dr. Tin Mar Aung raised eyebrows last month when it was revealed that she would contest the 2020 general election as a member of the Arakan League for Democracy (ALD). The former personal assistant to State Counsellor Daw Aung San Suu Kyi will be contesting an Arakan State Hluttaw constituency in Taungup Township, considered a stronghold of the ruling National League for Democracy — the party of her old boss.
DMG reporter Min Tun recently interviewed Dr. Tin Mar Aung, discussing why she is seeking election as a representative of the ALD, her expectations for the upcoming vote, and challenges she expects to face as a woman entering Arakan State's male-dominated political arena.
Question: Why are you running for an Arakan State Hluttaw seat?
Answer: I think it is not enough for me to work for the development of Arakan State with the Dr. Saw Mya Aung Foundation. Because I see Arakanese people, including people in Taungup Township, are getting poorer and they are suffering hardships in an environment weak on justice. That's why I want to effectively work for the best interests of the Arakanese people as a parliamentary representative of them. So, I decided to seek election as a state Hluttaw candidate. 
Q: And why are you running as an ALD candidate?
A: The ALD was established by my father, Dr. Saw Mya Aung, in 1988. So, I have 100% belief in the policies of the ALD and [its platform] is in sync with my own.
Taungup is the sole entry point to Arakan State for people from Myanmar Proper who have passed through the Arakan mountain range. It is not far from the world-famous Ngapali Beach on the coast of Arakan State. The west of the township is the Bay of Bengal and the township is surrounded with green forests and mountains.
Residents of the township are earning their livelihood by trading, fishing, doing agriculture and livestock. I am eager to ensure the township is developed. Additionally, the ALD assigned me to contest the election from the township.
Q: What are you doing to win the election?
A: I believe I can work effectively for Arakanese people and residents of Taungup if I am in parliament for discussions there. I shall try to be elected by the people in Taungup to send me to the parliament as their representative. If I am elected with their trust, I will work with other lawmakers toward a better future for Arakan State. It is my duty to try hard as best I can, like participating in swimming competitions when I was young.
Q: You worked as Daw Aung San Suu Kyi's personal assistant. You are also involved in the nomination of Mrauk-U as a UNESCO World Heritage site. And you're engaged in other sectors. Will these activities bolster your election bid?
A: We have submitted the nomination dossier to enlist Mrauk-U's cultural heritage on UNESCO's list of World Heritage sites. We are providing relief aid supplies and COVID-19 preventative supplies to IDP camps. Wherever I am working, including charitable activities, I do the best I can. The experiences I've gained and what I've learned in Myanmar and abroad throughout my whole life are priceless. They will be useful to some extent when I am seeking election as a candidate.
Q: Currently, the number of women candidates in Arakan State is still low. There is no female lawmaker in the state Hluttaw. So, we can say there are no women's voices representing their issues in the parliament. What will you prioritise if you are elected to the state Hluttaw?
A: Yes, the inclusion of women in parliament throughout Myanmar is still low. There is no woman MP in the Arakan State Hluttaw. So, there has been little discussion that mainly focused on women's affairs and children's development in the state parliament.
I'd like to work for the social development of women and children and to build a good future for children if I am elected to the state parliament. I want to work for the healthcare of Arakanese people, social affairs, education and environment also.
Q: What kinds of challenges might you face in the election?
A: Everyone faces difficulties and challenges. I expect to face a lot of challenges even though I am familiar with Arakanese political affairs, because it is the first time for me seeking election. So, I have prepared for my spirit to overcome them. I will face any challenges with a mind to work for the best interests of Arakanese people.
Q: What more do you want to add?
A: I want to tell Arakanese people to create a better future for beautiful Arakan State with the cooperation of the Arakanese people. From today, we are going to build a strong and beautiful future for our younger generations.