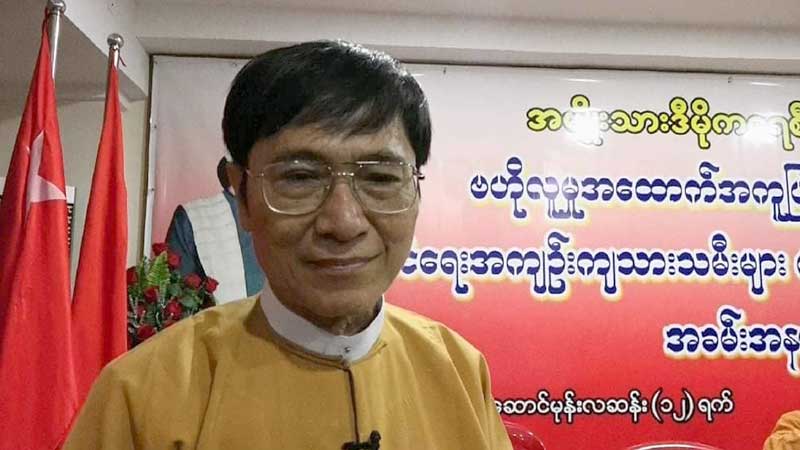 The Union Election Commission (UEC) announced on October 16 that Myanmar's upcoming general election will not be held in nine Arakan State townships, as well as some wards and villages in four other townships of the state. 
The nine townships where the forthcoming election will not take place on November 8 are Pauktaw, Ponnagyun, Rathedaung, Buthidaung, Maungdaw, Kyauktaw, Minbya, Myebon and Mrauk-U. The UEC's announcement said there will not be voting in some parts of Kyaukphyu, Ann, Sittwe and Taungup townships, where certain areas are "not in a position to hold a free and fair election."
DMG spoke to Dr. Myo Nyunt, a spokesman for the ruling National League for Democracy (NLD), about the recent cancellation of elections in several Arakan State constituencies.
Question: The UEC's decision not to hold the upcoming general election in many Arakan State townships has drawn criticism that the affected townships are places where the ruling NLD was not likely to win the seats. How would you like to respond to such criticisms?
Answer: The NLD has nothing to do with the UEC as far as designating townships where elections are unlikely to take place due to security concerns. It is important to note that there are some armed groups based in areas where the general election cannot be held for security reasons. That is why it is not safe for us to hold elections, for security reasons.
It is also true that political parties operating on the basis of ethnicity are stronger in these areas. The general election will not be held in those areas for security reasons triggered by sectarian violence. These political parties are in a good position in those areas because they act on the basis of race. I would like to reiterate that the NLD has nothing to do with the UEC designating townships where elections are unlikely to take place. 
Q: The general election will take place in Paletwa Township, Chin State, where there is fighting, and there are questions about not holding the polls in some places like Pauktaw Township in Arakan State, where there has been no fighting at all. What do you have to say about that? 
A: We must review the security report regarding the situation in Arakan State. The administrative sector has to tackle security matters over holding the general election in a safe manner. How many village-tracts cannot hold elections for security reasons? How many voters can vote? How many people cannot cast their vote? I think it depends on these factors. The common view is that there is an escalation of armed conflict in Arakan State. I think that the decision was made by the Union Election Commission based on the abovementioned factors.