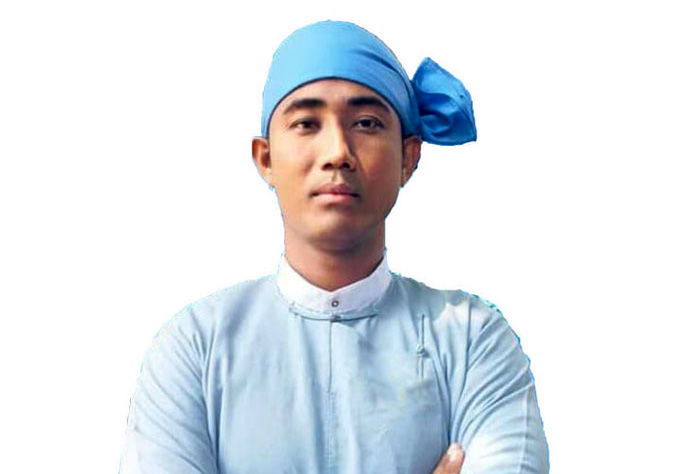 Although 18 independent candidates contested the November 8 general election in Arakan State, none claimed victory. As one of the unsuccessful non-partisans, U Naing Soe competed for Sittwe Township's state Hluttaw constituency No. 2, where he was bested by the Arakan National Party (ANP) candidate.   
In the general election's wake, DMG interviewed U Naing Soe to discuss this year's winless independent field, as well as Arakan State's past, present and future politics. 
Question: First of all, please tell us about the political journey you've just been on. 
Answer: Since I was a university student, I was involved in social activities and the underground movements. That was in 2003-04. We formed a group for social activities including providing university stipends. We did social activities as well as underground movements after formation of the Arakan Students and Youths Association, networking with every single student.  
We participated in the 2007 September Saffron Revolution in cooperation with monks in Arakan State. Some students including myself had to flee to the liberated areas. But I couldn't reach the liberated area. I returned to Arakan State and was involved in student affairs and underground movements, and finished my college education. 
While doing underground things, one from our orbit betrayed. As a consequence, many student leaders and young leaders from the local orbit got arrested in early 2009. Some escaped. Of more than 30 people on the arrest warrant list, 11 students were arrested. After being arrested, we were freed in 2013.  
We the students were kept in many different prisons, we were then freed after being detained for more than four years. After being freed in March 2013, we formed the Arakan New Generation Political Force with the students who were freed in 2014 and 2015, those who came back in 2010, those who were freed from prisons, and remaining local political forces. Since then, we have been engaged in politics and contested the election. We have continued our national politics. This is a brief background. 
Q: As you entered the election as an independent candidate for the first time, what were the difficulties and challenges you encountered?  
A: When I first announced I would contest the election, I became well-known again due to my colleagues and the support and instigations of my political comrades since university years. Because online media is a good tool, people supported me online, and quite effectively. 
When an independent competes with parties, the power is totally unequal. Manpower is not equal. Money power is not equal. Another weakness is the parties have already penetrated the [political consciousness of the] electorate. Because I was an independent, the people know me personally. They don't know my logo. As they are not aware of my logo, it was rather difficult to penetrate. And the people did not take much note of the logos.  
The sign of Arakan has been on their brains. It is difficult to overcome it. The weakness was not having enough time to prepare. I had these sorts of challenges. There was weakness in timely dealings or interactions with people. I think that was why I had many challenges. I gained a lot of experience, [learning about] people's attitudes. Mainly, the attitudes of Arakan people. I learned a lot about the will of the Arakan people. I realized from this election how terribly and surprisingly strong the Arakan people's patriotism is. 
There was a situation where we could believe for sure that U Naing Soe would get votes. However, the Arakan patriotism superseded that situation. Instead of U Naing Soe's qualifications, they went for the Arakan objective. That was quite respectable, and we could also say Arakan patriotism was terrible.  
When nine townships in northern Arakan State had their elections cancelled, the Arakan National Party went [south] and did campaigning. When in control, the national spirit of Arakan people is like a situation where a bamboo pole is disguised as an Arakanese covered with a cloth; the people will vote for the bamboo pole regardless of the candidates' qualifications. Whoever contests under the name of Arakan will win. Arakan people's nationalism is that big. They don't look at the person. They gave their vote to Arakan.   
As an independent — and whatever I had done for the public, whatever I would do for the public, whatever I am doing for the public — it is Arakan in the hearts of the people. Our Arakan people must win. That nationalism I could not overcome. That was an experience.
Q: There are the ANP, AFP (Arakan Front Party), and the ALD (Arakan League for Democracy). All are based in Arakan. Why did you contest as an independent candidate? 
A: I hadn't joined any party up through the time of going into Hluttaw politics since my [days in] student politics. Whatever the party, it would be a party that I would have to be representing. There could have been someone who had already been nominated and the question is whether that person might be happy if I had contested in the election. That is how I thought. Another point is I would become an opportunist. So, I would like it to be seen that I could be of service to the people outside of a political party. That as an independent, I could be of help to the people. That is what I'd like to show. That was why I contested as an independent candidate.  
Q: U Naing Soe won more than 4,000 votes, nearly 5,000. The winning Arakan National Party got more than 10,000. You got votes to a certain extent, but could you please comment on this gap?   
A: I opened an office in my stronghold, which is Ohntabin ward in Sittwe. There are my relatives and it is also the native place of my parents. That place is where I have been doing social work. I know many people in Ohntabin. However, wards like that saw [voting] cancelled. 
In some places like Tawgan village, we had to make the people understand about giving votes. People were not smart or clear at the time of voting. So, I had to explain where to find my name on the ballot paper.   
In some places, ballot boxes had to be arranged in order; like, Pyithu Hluttaw, Amyotha Hluttaw, State Hluttaw. I had to tell people that my name and logo was in the last box. 'Find that box and put the ballot.' I had to explain to them like that. But, when I went around the polling stations, I found my box happened to be in the middle, not in the right order. I asked responsible persons at the booths, 'Why was my box in the middle of the Pyithu Hluttaw, Amyotha Hluttaw and State Hluttaw?' When I asked the ward election subcommission, it said the polling station officers arranged the boxes. Again when I asked the station officers, they said it was the ward election subcommission. Villagers came and asked me why they didn't find my box. A whole village said they couldn't find my box. I checked at the polling stations and found out it was in the middle. So, this is also a difficulty. This slip-up is small. However, the nationalism of villagers was much aroused. Because of an attitude that our Arakanese must win, I believe I lost the election. 
Q: Do you have anything to say to the Hluttaw representatives who have won?
A: The first thing is I'd like to send the message to Hluttaw representatives that the fate of Arakan cannot be grasped from the Hluttaw, because it will be [sworn in] under the 2008 Constitution. However, there are many things they can do for development matters. 
Do everything and anything for socioeconomic improvement, including for the livelihoods of Arakanese people. Take trade seriously, for Arakan State. As it is relying mostly on the agriculture and fisheries sectors, I want them to focus on agriculture and livestock breeding, and to try to facilitate international trade. I want municipal matters to improve in Sittwe. As it was established during the British era, the town was very beautiful and properly maintained when we were young. Now, it has become ugly. There are many things not in discipline. I want the municipal systems to be given priority — ditches and garbage. There are also squatters inside Sittwe municipal areas. They are destroying the beauty of the capital. 
I think these things should be handled systematically and without harming the people. Municipal laws should become the best. That is why I would like to ask Hluttaw representatives to work for the beauty of Sittwe; to be at the same level of ASEAN counterparts, even if not to a world standard.   
Q: Do you have any plan to contest the next election? If so, will you contend as an independent?
A: Because I think of myself as a politician, I will be doing politics even though I could not get into the Hluttaw. If the situation permits, I might compete again in 2025. If I were in a situation where the people accept it in 2025, I will possibly contest. It could be as an independent or from a party. However, this is not sure. There are a lot of things that need to be established in the next five years. If things permit, I will get into it. If things do not permit, then I will have to wait. However, I will continue to walk the path of politics. 
Q: Is there anything you'd like to add?
A: I do respect the Arakan people. They have chosen the Hluttaw representatives that they thought to be suitable for them. That is why I hope for the best outcome. I hope the Hluttaw representatives will not turn their faces away from the people and always focus on the people.