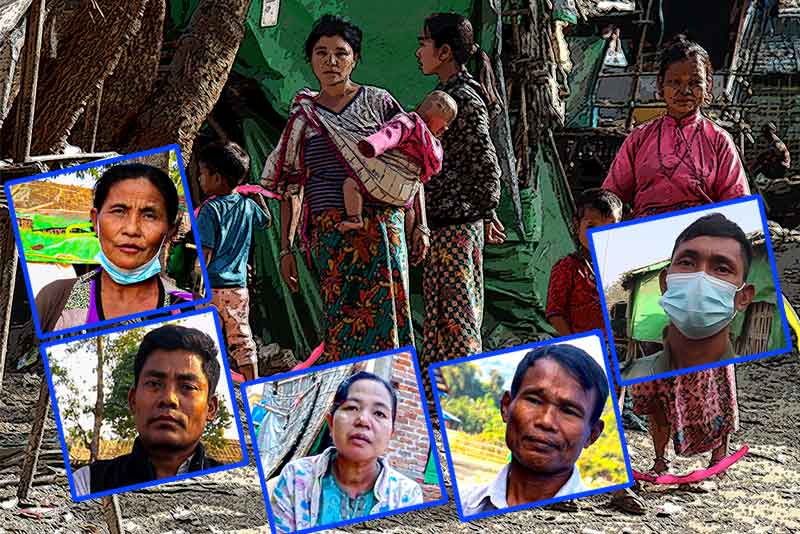 Fighting between the Myanmar military and the Arakan Army has been negligible in Arakan State since the country's November 8 general election, with the two sides apparently having settled into an unofficial ceasefire that has endured now for more than two months. But local people in Arakan State remain concerned that the conflict has wound down without a formal ceasefire, and could flare anew without a concrete peace agreement. 
There have been three rounds of talks between the Tatmadaw and the Arakan Army during the cessation of hostilities, and the government has offered to hold talks with the four members of the Northern Alliance, including the Arakan Army (AA), this month.
Since December 2018, more than 236,000 people have been displaced by the conflict. While tens of thousands have reportedly returned home in light of the tentative peace struck late last year, there remain over 180,000 internally displaced people (IDPs). Many continue to face hardships ranging from lack of access to education and healthcare to livelihood woes and hunger.
With all of this painting a decidedly mixed picture of the outlook for Arakan State's war-affected populations, DMG reporter Aung Htein recently asked IDPs what kind of peace they hope to see.
Daw Thar Nu Phru, IDP at Tin Nyo displacement camp in Mrauk-U Township
If we return to our communities from the IDP camps and stay in the villages for a day or two, we will all be in trouble. That is why I do not dare to go back. Both sides have said they are discussing peace, but so far no good news has been heard. 
I want to return to my village when we face difficulties in the IDP camps. When we return to our village, we have many difficulties. Therefore, I want the Tatmadaw and the AA to coordinate quickly and peacefully.
U Tun Hla Kyaw, IDP at Wahtaung displacement camp in Kyauktaw Township
It is good that leaders from the Tatmadaw and the ethnic armed group have been at the table when negotiating a ceasefire between the two sides. If there is tension between the Tatmadaw and ethnic armed groups, the armed conflicts will escalate. I think it would be better for the two sides to negotiate their stances in peace talks.
Daw Moe Moe, IDP at Ponnyayama displacement camp in Minbya Township
It would be better if we lived peacefully without armed conflicts. Only if both the Tatmadaw and Arakan Army stop fighting will we be able to return home. We want a lasting peace in Arakan State.
U Tun Phru, IDP at Angu Ywathit displacement camp in Myebon Township
Our main point is that we want mutual understanding and a strong peace to be built. This is what we want most. Only peace can bring us back to the village. I think the fighting between the Tatmadaw and the Arakan Army has stopped temporarily. If we were to return to the village, we could not predict what would happen tomorrow. That is why we cannot return to the village.
U La Pyae Aung, IDP at Tin Nyo displacement camp in Mrauk-U Township
Our expectation is that we want to return home completely. Living in a small room like this for a family isn't comfortable. I want to return to my village as soon as possible. I think we can go home when the Tatmadaw and the AA make peace.