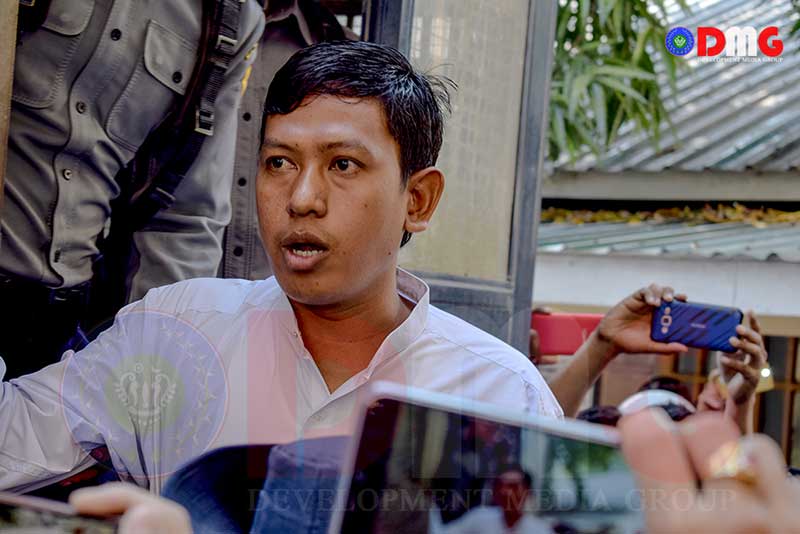 The writer Wai Hun Aung — who in 2019 was sentenced to 20 years in prison for high treason and another two years for sedition, to be served concurrently — was released in a mass amnesty on Union Day, February 12.
DMG caught up with Wai Hun Aung shortly after his release to discuss his legal ordeal, his newfound freedom, and his hopes and plans for the future.
Question: Please tell us how you're feeling following your release from prison.
Answer: I'm so happy. No one wants to be in jail for a minute or a second. Everyone has been arrested not because they want to stay in prison, but because of some problem. That is why I want to say that I am very happy to be free from prison.
Q: What do you have to say about being released from prison in a Union Day amnesty under the military government?
A: I think the government released me from prison in time. The Arakanese people protested and held a prayer service and demanded my release. Finally, the Arakan National Party issued a statement urging the government to release us. We would like to express thanks also to the people who demanded our release from prison, and to the Commander-in-Chief of the Defence Services who released us from prison.
Q: What do you want to say to the people who demanded your release from prison?
A: Thank you to all the people. The people had to suffer mentally and physically for us. The people also suffered from the COVID-19 pandemic, which was unprecedented in the world. [Due to conflict,] local people have been forced to flee their homes; some people were arrested and imprisoned. Some people became amputees due to landmines. I don't want to say that these troubles are over, but I want to say that we are moving in a positive direction. We will lead Arakan State with all our strength and intelligence. I would like to say that we will stand firm with the Arakanese people.
Q: What will you do next?
A: I will continue to work for the Arakanese people. In the past, I have also worked as a volunteer in literature and philanthropic activities. But I cannot give advice on what to do at the moment because I had to spend more than three years in prison. I don't know much about what is happening outside. So, after a while, I will do my best to help as much as I can. I will do my best to help Arakanese people.
Q: What do you want to say to the remaining prisoners?
A: There will be people related to the Arakan Army and our Arakanese brothers, who were arrested on various political charges, remaining in prisons. I want these people to be released as soon as possible. We will continue to do whatever we can to free them.
Q: Would you like to say anything more?
A: We have just been released from prison. Dr. Aye Maung and Wai Hun Aung are really working for Arakan State. Now that we are free, I would like to reiterate that we will do our best for Arakan State by taking the lead as best we can.