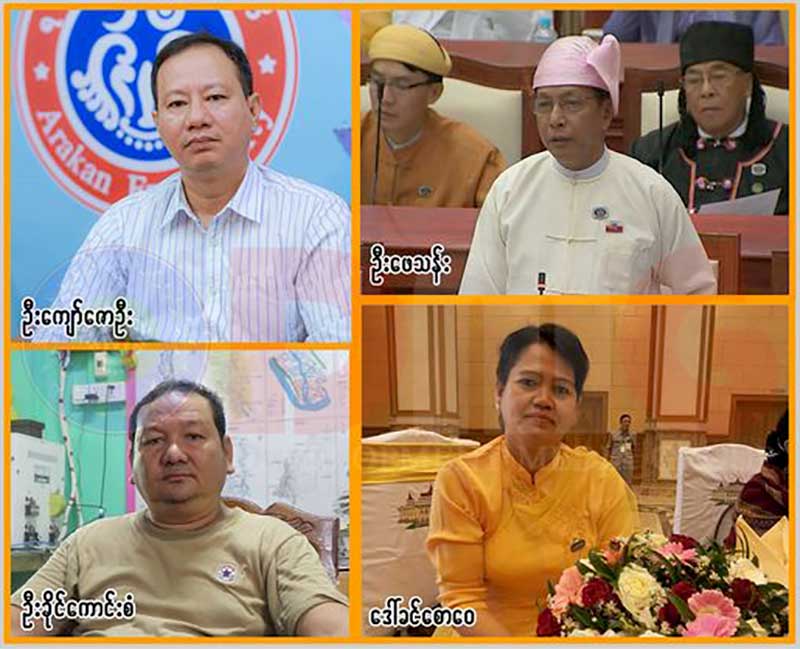 DMG Newsroom
12 March 2021, Sittwe 
The previous government declared the Arakan Army (AA) to be a terrorist group and unlawful association on March 23, 2020. But with the military-run State Administration Council (SAC) announcing a rescission of the AA's terrorist designation on Thursday, DMG interviewed a variety of local stakeholders to get a sense of what this development might mean for Arakan State and its people. 
Daw Khin Saw Wai || Former Lower House MP || Rathedaung Township 
We welcome the announcement to delist the Arakan Army (AA) as a terrorist organisation, because there has been a lot of fighting in Rathedaung Township for the past two years, forcing many internally displaced people to take shelter at IDP camps. There are many people who have been charged with the Counter-Terrorism Law in connection with the Arakan Army. 
I would also like to say that those who have been charged under the Counter-Terrorism Law should be released after the Arakan Army was delisted as a terrorist organisation. Withdrawal of the Arakan Army from terrorism means that more peace initiatives can be taken to stop the fighting in Arakan State. There are many IDPs in Arakan State for the time being. Around 200,000 locals from conflict-affected areas in Arakan State are taking shelter at IDP camps. 
I would also like to say that if they [the SAC and AA] can negotiate a peace, the IDPs will be able to return to their homeland. I wish for peace as soon as possible not only in Arakan State but also in Myanmar. 
U Kyaw Zaw Oo || Vice Chairman of the Arakan Front Party (AFP) 
More than a year ago, our party issued a statement saying that de-designating the Arakan Army as a terrorist organisation was the most important step in resolving the escalating conflict in Arakan State. Among the political parties in Arakan State, our party was the first to point this out, and will continue to do so. We have spoken in parliament about these issues. As a result of this change, many hopes for peace have been brightened. We think it is good for Arakan State. Our party also welcomes this process. 
U Khaing Kaung San || Director of Wan Lark Development Foundation  
The military-owned Myawaddy News reports that the ULA/AA has withdrawn from terrorism. The Arakan Army should never have been designated as a terrorist organisation. The Arakan Army is an armed group fighting for lost rights, for the national cause, and for self-autonomy.  
In fact, we need to be willing to deal with the Arakanese people after the ULA/AA demands and equal treatment in the peace process. The State Administration Council removed the Arakan Army as a terrorist organisation, but the Unlawful Associations Act also needs to be repealed. At that time, I hope that the peace process, in terms of dialogue and trust, will get better and stronger as soon as possible on the road to peace in Myanmar. 
U Pe Than || Policy Steering Committee member || Arakan National Party (ANP) 
The definition of a major terrorist organisation is also a major obstacle to negotiations between the Tatmadaw and the AA to ensure peace in Arakan State. So this issue is even more important. Today, our party has called for this to be abolished. The state legislature also demanded that. 
It can be assumed that these issues will be included in the ongoing dialogue process with the AA and the Myanmar military. Therefore, [listening to] the demands of all sides is very important for the stability of Arakan State. The withdrawal of a terrorist group [designation] as a political solution to a political crisis to prevent further war opens a closed door. 
It's great and we must welcome it. The second step is to delist the AA as an unlawful organisation. This is a process that they have been working on since the signing of the Nationwide Ceasefire Agreement (NCA) and it will not happen at this time, but it is certain that it will be a gradual process.