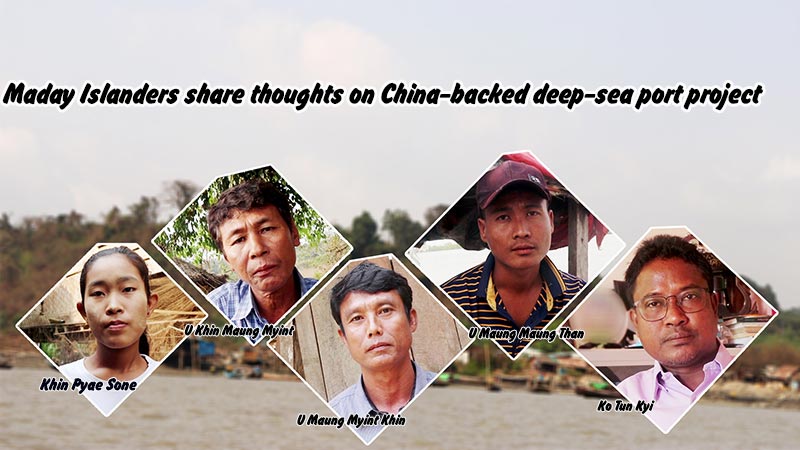 DMG
29 April 2021, Kyaukphyu
China International Trust and Investment Corporation (CITIC) won contracts for deep-sea port and special economic zone (SEZ) projects in 2015. According to the initial agreement signed with the U Thein Sein administration, CITIC took an 85% stake in the deep-sea port and a 51% stake in the SEZ. But amid political sensitivity surrounding Chinese investment in Myanmar and concerns over China's reported "debt-trap diplomacy," CITIC agreed to lower its ownership stake in the deep-sea port project from 85% to 70%.  
The strategic deep-sea port is part of China's Belt and Road Initiative, designed to provide Beijing with direct access to the Indian Ocean and allowing its oil imports to bypass the Strait of Malacca while boosting development in its landlocked Yunnan Province. According to Xinhua, the deep-sea port project consists of one terminal each on Maday and Ramree islands, totaling 10 berths. 
DMG recently interviewed local residents of Maday Island about their views on the project.
U Maung Myint Khin || Maday Island resident 
About the question of whether we welcome the project or not, I think we should measure based on our experiences with China National Petroleum Corporation [CNPC, the Chinese firm that pipes oil and gas via Maday Island to China's Yunnan Province], which is already operating here. Since that project came, we have been oppressed by the Chinese employees. We heard a deep-sea port project is also in the pipeline. They [CITIC] are buying land and farms. We feel like our island will get worse if that project comes.
We can accept the project if they have sympathy toward us and are willing to offer more opportunities and jobs than the existing Chinese firm [CNPC] has provided. But we residents are vague about the project and are concerned that we will be deceived again, like we were previously deceived by the Chinese. Considering this, I would say we should not accept that project.
U Maung Maung Than || Maday Island resident
Local people have negative views about the deep-sea project on Maday Island. They have had quite a tough time since the CNPC started its project in 2009. Their livelihoods were affected and they have lost their fishing waters. To summarise, the CNPC has left a big impact on local people. So, people are quite concerned the next project will bring the same result to the region. Regarding the question of whether we will welcome or object to the project, it depends on its stance.
Previously, we could fish freely in the Thanzip River. However, we lost our fishing waters after the CNPC designated navigation lines. We have various difficulties fishing. And we are concerned that it will be even more difficult to fish when a deep-sea port project is implemented. If the next project is transparent and will provide jobs for us, we will welcome it. But local residents won't like it if the new project follows in the footsteps of the CNPC and lacks transparency.
U Tun Kyi || Coordinator || Kyaukphyu Rural Development Association
The deep-sea project will not bring any benefit to the region. If a project does not bring any benefit to Arakanese people and Arakan State, that project should be opposed. Myanmar has pressing political problems like federalism and equality. Such projects should be suspended until we clearly know what share of the profits Arakanese people will obtain from the project, and to what extent the state government elected by Arakanese people can manage the project. If everything is controlled by the central government, our region will face more grinding poverty, and there will be more Arakanese migrant workers.
U Khin Maung Nyunt || Maday Island resident
The deep-sea port project is unacceptable to us if it is not different from the CNPC. I think we should raise objections to it. Some argue that we should accept the deep-sea port project because it will help spur the development of Arakan State, as well as our island. But we lack information about the project. We are not totally opposed to the project. But we must be well-informed about it. If the new project is not different from the CNPC, there won't be any development at all.
Ma Khin Pyae Sone || Maday Island resident
It is good if the project can offer decent jobs and salaries, and if the Chinese firm takes responsibility for their actions. It is not good if big companies come in and harm local residents. I hope they will do good for the residents.