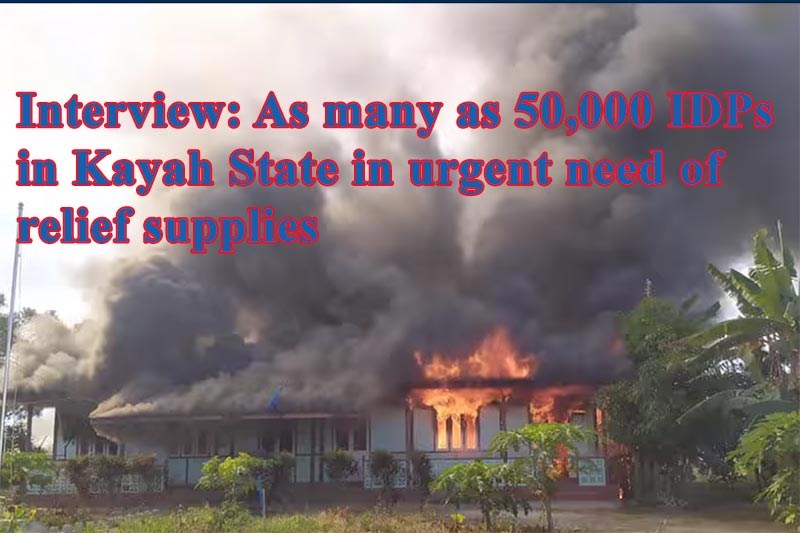 DMG
27 May 2021, Yangon

Fierce fighting between the Myanmar military and a People's Defense Force has been ongoing in Kayah State since May 20. The fighting is taking place in cities and villages, forcing more than 50,000 locals to flee. Due to a lack of camps for internally displaced people (IDPs), civilians are fleeing to the mountains and border areas. Local civil society groups say the refugees are in dire need of shelter and food, as well as medical care because pregnant women are among those fleeing. DMG spoke to a local woman in Loikaw, Kayah State, about these problems.

Question: Can you tell us about the situation in Kayah State currently?

Answer: Yesterday, there were clashes between the army and the People's Defense Force in Loikaw. At night, I heard gunshots and gunfire. There were clashes in Dimawso Township at around 5 a.m. There were people who were seriously injured in the clashes. It is not known exactly how many were injured. The current situation is that the people are fleeing the war. Nearly 50,000 people have fled to safer locations. In Loikaw, some people have had to flee to safety. Some also fled to the Kachin-Kayah border.

At present, the exact number of refugees is still unknown because the list is being compiled. Some village-tracts have the internally displaced people (IDP) lists, but the number of refugees is increasing day by day. You can't go from place to place; you can't go from Loikaw to Dimawso. If you want to go to Dimawso from Loikaw, you have to go through a series of steps. In addition, there is not enough food and tents for the IDPs. There are many difficulties.

Q: How are the IDPs doing now? Who came to help and what were the conditions? What kind of help is needed?

A: The IDPs are living in the jungle near their village. In the jungle, they do not live in one place. The IDPs have to live in the jungle in makeshift tents. They currently have no mosquito nets or blankets, making it difficult for them to make ends meet. There is not enough rain shelter in the IDP camps. When it rains, it is very difficult because they have to live as displaced people.

They no longer can buy food at the shops in their village. No one buys the items in advance. When there is nothing to buy, it is a very difficult situation for them. Some local organisations are doing their best to help those who are now fleeing the war. Some local organisations send items such as instant noodles to the IDPs. Most of the refugees are women, children and the elderly. We also help women with their needs. In one village, there are about four or five pregnant women, some of whom are about to give birth. We need to prepare for those who are going to give birth this week. At present, our group buys as many essential items as possible for the most important people to have children. When it rains, we need tents, but we can only afford a few things. What is needed is a lot. There are about 50,000 IDPs, so there are a lot of difficulties.

Q: Do they take refuge in convenient places in the villages, not in IDP camps?

A: The IDP camps have been officially declared open on the border. These areas are called IDP camps, but they are no longer safe. There is heavy artillery and small arms fire in those areas as well. On the other side of Dimawso and Pruso, there is no clear definition of which refugee camps are located in which villages. Some even have to run through the forest near the village at night. The current 50,000 IDPs are not sheltering in one place. There are more than 20,000 IDPs in the eastern part of Dimawso Township. Another 20,000 are hiding in the forests in various areas. There is no water for these IDPs to live in insecure places. The IDPs have to return to their villages in the afternoon to fetch water. If the situation is bad, you can't even enter the village.

Q: When did the fighting start and how bad was the situation?

A: The fighting took place on the 21st of this month for five days and we have been on the run for five days. No matter how bad it was, the Myanmar army clashed with the local people [PDF]. Fighting broke out between the Myanmar military and the local People's Defense Force in Dimawso. Last night, the military surrounded the elderly and ordered them to surrender the PDF [members] there. If they do not surrender, they will kill the elderly grandparents. So the PDF members just stopped shooting. The Myanmar army also surrounded the area with heavy artillery shells.

Q: Would you please tell me where you are now?

A:We are now in Loikaw. Fighting is taking place in Dimawso, Pekhon and Loikaw. In Loikaw, there are up to three places where clashes between the Myanmar military and PDF are erupting. There are also clashes on the other side of the football field. There are clashes in around three places.

Q: Is the Burmese military endangering civilians?

A: As many as four people were killed when Myanmar military troops opened fire on refugees hiding inside a church. At night, heavy artillery shells were fired from the Golden Hand Church. The Myanmar army does not care whether there are civilians or not. In some cases, people were killed when the Myanmar army fired such heavy weapons. In some cases, people passing by on motorbikes were shot dead by Myanmar military troops.

Q: Are there any military council patrols at night?

A: At night, Myanmar military troops stormed the streets and houses in the area, firing heavy weapons and firing guns. As Myanmar military troops continued to fire on the roads, they entered the alleys and crossed the roads.

Q: Are there any curfews in place?

A: They have imposed martial law in Kayah State. Although martial law has been put in place, the exact time is not yet known. People were not allowed to go outside because of martial law. People were shot and if they went outside, all the shops in the town were closed and they did not dare to go around much. There are not many people in the cities and villages. The sound of gunfire and gunfire can be heard loudly, and even when you are indoors, the houses shake and your chest throbs.