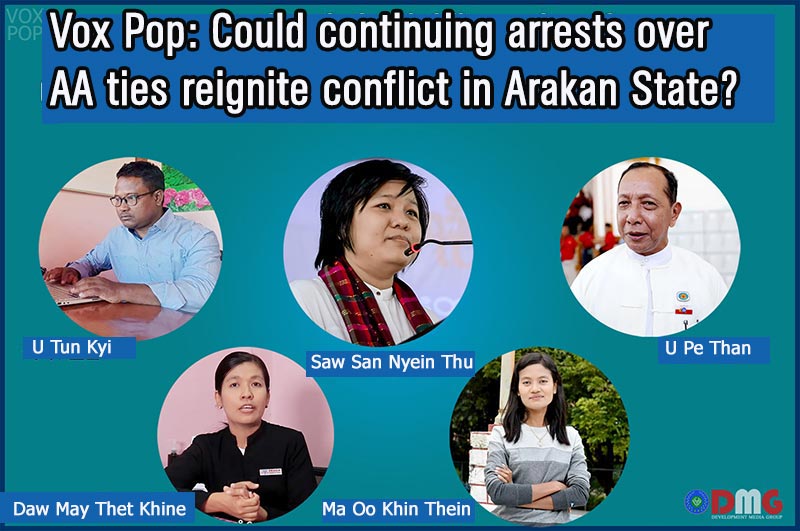 DMG 
8 June 2021, Sittwe 
The recent arrest of seven Taungup Township youths, reportedly over alleged ties to the Arakan Army, served to highlight the legal ambiguity that surrounds the ethnic armed group, and raised anew questions about whether there are legal consequences for affiliating with it. After the military regime removed the Arakan Army from its list of terrorist groups in March, it was hoped that the dozens of court cases accusing defendants of illegal AA links would be dismissed, but acquittals and dropped charges have occurred in a piecemeal fashion to date.  
The uncertainty hanging over the AA's standing vis-a-vis the junta and the judiciary under military rule has led some to question whether Arakan State might be headed for a return to conflict. DMG interviewed activists, legal professionals and political stakeholders to find out their thoughts on what the continuing arrests might mean for Arakan State, which has enjoyed more than seven months of relative peace thanks to an informal Tatmadaw-AA ceasefire.   
U Pe Than || Policy Affairs Steering Committee member || Arakan National Party 
The military has gradually dismissed the cases charged under the Counter-Terrorism Law after it removed the AA from its list of terrorist groups; however, it has not removed the AA from its 'unlawful association' list. So, AA is still an unlawful association. We've seen that the military has sued and arrested people while AA was listed as a terrorist group as well as the period when the AA has not been removed from the unlawful association list. The current, peaceful situation of Arakan State can't be taken for granted if the military keeps arresting people. In my opinion, arrests and lawsuits should not be made any more during a peaceful period, in order to get a good result from political dialogues.   
Saw San Nyein Thu || Chairperson || Rakhaing Women's Initiative Organization 
Firstly, I've seen that fighting has stopped in Arakan State now, and secondly, I hope to get an official ceasefire agreement. I hope that negotiations will be held and Arakan State becomes a peaceful and strong region. Although we hope like that, current arrests after accusing people of associating with the AA have threatened the people's peace and security. If the military keeps arresting people, fighting could resume. I don't want fighting in our state. In this stable situation, I just hope to get peace. 
U Tun Kyi || Coordinator || Kyaukphyu Rural Development Association 
There is a terrorist group list, but now, it is not clear whether arresting people is for just investigating them or is in order to charge them for associating with the AA. According to the current situation, it can sue people with Section 17(1) and (2) of the Unlawful Associations Act and sentence them to imprisonment for a term not exceeding two years. I think that because the AA has been removed from the terrorist group list, the arrested people will not be charged under the Counter-Terrorism Law. They could be charged with the Unlawful Association Act.  
[Nationwide Ceasefire Agreement] non-signatory groups were designated as unlawful groups before. Signatory groups have been removed from the unlawful list as they have signed the NCA. It can be done by the government. In my opinion, there are few possibilities of fighting in Arakan State because fighting has occurred in other regions. In Myanmar, if fighting occurs in one place, fighting in other places is suspended.  
Daw May Thet Khaing || Legal officer || Thazin Legal Institute 
Currently, all cases relating to the AA have not been dismissed. Children's cases have been dismissed but adults' cases have not been dismissed yet. So, more arrests could be made. If the AA has been removed from the terrorist group list, I want it to be removed from other lists too. Now, most adults' cases remain. We hope that all these cases are dismissed as cases have languished before the courts. I want all these cases to be finished quickly. If there is a plan to dismiss these cases, it should be done quickly as people in custody are facing difficulties. 
Ma Oo Khin Thein || All Arakan Youth Organizations Network  
Arakan State's current situation is stable. In my opinion, the military council has made these arrests to get to a situation where Arakanese people and the AA accept them. Now, they have arrested youths. Gwa and Thandwe towns are included in the regions that the government has controlled. 
Most areas in the northern part of Arakan State have been controlled by the AA. All these things have occurred, as the military cannot control the northern part. I think fighting can resume in Arakan State, because when we went to some IDP camps, we heard that the government told the IDPs that both sides would clear landmines for IDPs to return home. 
Both sides have to clear landmines because both sides laid these mines. We think that the government has cleared landmines only along routes, without including forests, and IDPs told us that. In Arakan State, landmine explosions still occur, and it does not happen on routes but happens in the forests. I think that this is a political trick. So, I assume that fighting will resume in Arakan State.