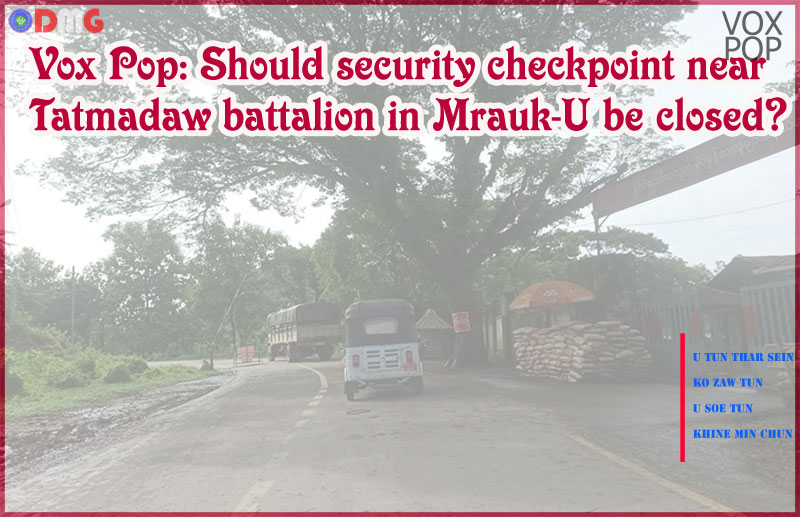 By DMG 
Locals are questioning whether a security checkpoint near the 540th Infantry Battalion in Mrauk-U, which was set up during heavy fighting between the Tatmadaw and the Arakan Army in Arakan State, should be removed. Motorcyclists have to dismount at the checkpoint to undergo inspection, and locals complain that all car and van passengers have to register and provide the details of their destination, and when they will return. 
DMG asked locals for their thoughts on the checkpoint in Mrauk-U and others like it, at a time when more than nine months have passed without clashes between the Tatmadaw and Arakan Army. 
U Tun Thar Sein || Former Arakan State MP || Mrauk-U Township 
At present, there is no fighting and there is peace and stability in Arakan State. This is a time of peace, so I think it is best not to do unnecessary security checks. There will be patients who need assistance everywhere due to the outbreak of the Covid-19 pandemic, so the checkpoint should not be closed at 6 p.m. 
If the security checkpoint is closed, it will be difficult for critically ill patients to go to the hospitals or clinics at night. It can also cause trouble for the local people. It is human nature to want to move freely and to trade freely. At a time of stability, interrogations by security forces are a source of frustration for the public. 
Ko Zaw Tun || Mrauk-U resident 
This security checkpoint has been conducting such inspections for more than two years. Security forces are also deployed at the checkpoint, and passersby are checked for their security. Some AA [Arakan Army] members were arrested at the security checkpoint about a year ago. By setting up such a security checkpoint, some information may be important for military and security reasons. 
On the other hand, it can be said that by looking at the military aspect alone, the Tatmadaw does not see the people. When they act militarily, the people see their human dignity as subordinated. The checkpoint is closed at 6 p.m., so those who have to travel for health reasons, those who have returned from a long trip, and those who are late for a social event are not allowed to enter the town. Inspection at the security checkpoint is very socially and economically disruptive. 
To this day, I do not know why local people are not allowed to travel freely in the area. One thing is for sure: Such security checks can have a detrimental effect on people's dignity and health. 
We have experienced it ourselves. When I went to donate to the displaced people, security personnel checked the vehicle and the goods at the checkpoint. We were asked where we came from, where we were going, and where we lived. It can be very frustrating. Now the [military] government has declared itself a caretaker government. The military should have the idea that a government should respect the people.  
If the Tatmadaw values and respects the people and wants to be in harmony with the people, it is necessary to stop doing anything that could upset the people and cause trouble. This is not the only checkpoint in Mrauk-U. The military personnel's behavior is very rude. Gone are the days when the military could rule the country with such barbaric behavior. The time has come for people to respect and value each other. If the military rules the country with the ideology of 50 years ago, it will be alienated from Arakanese society.
Ko Khaing Min Shin || Chairman || Mrauk-U Youth Association  
Travellers and passersby are being checked on suspicion in times of peace, when there is no fighting. Another thing is that when motorcyclists reach the security checkpoint, they have to stop and push their motorbikes beyond the 60-foot-wide gate.  
Some people have been traumatised by the security forces' inspections. Some people do not even want to go through this security checkpoint. However, some people have to cross the security gate because the road leads to Minbya Township. Occasionally, security forces have sneered at locals as they registered their names at the security checkpoint. I would like to urge the military not to conduct unnecessary security checks on travellers and locals during this time of peace and stability. 
U Soe Tun || Mrauk-U resident 
Checking travellers and pedestrians at the security checkpoint is not a good idea. For a long time, cars lined up on the main road to get off and register. Motorcycles also have to be pushed down. Sometimes the roads are closed to cars. This is not a good thing to do. Passengers are also checked at security checkpoints on the roads to Sittwe and Kyauktaw. However, these checkpoints are no longer as thorough as Mrauk-U. 
Travellers have to get out of the vehicle and walk at the only checkpoint in Mrauk-U. In the case of cars, the driver gets out of the car and registers. When the vehicles are parked one by one, there are unnecessary delays due to roadblocks. Security guards are stationed around the security checkpoint. Such security checks are more of a nuisance than a concern for local travelers. 
Unwanted checks on such travelers at security checkpoints can be frustrating due to travel delays. I think there shouldn't be any security checks on travellers and pedestrians as there is no fighting between the Tatmadaw and Arakan Army in Arakan State.