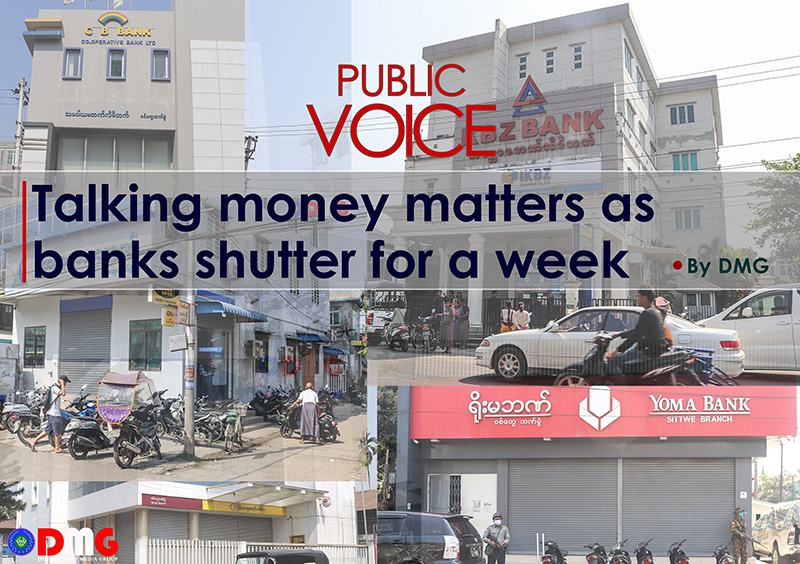 By DMG 
The Central Bank of Myanmar has ordered that all banks in Myanmar suspend operations from August 16-22, the latest extension of a weeks-long public holiday period as part of the military regime's efforts to curb the spread of Covid-19. The public holidays have been announced week after week beginning in mid-July, but this week marks the first in which private banks have been included in the order. 
DMG interviewed businesspeople, border traders, private companies and online money transfer providers about the challenges they expected to face during the week without banking. 
U Khin Maung Gyi || Chairperson || Rakhine Economic Initiative Public Company  
There are some companies that are in trouble to operate their businesses because they cannot withdraw cash from the banks. Our cash circulation depends on the banks. Now, it is pretty slow. The faith of the customers in the banks has declined now. So, more economic impact is likely to be seen gradually. 
U Tin Aung Oo || Chairperson || Rakhine State Chamber of Commerce and Industry 
The cash flow was pretty slow even while banks were not closed during the previous extended public holidays. So, businesspeople will face more difficulty with cash flow as banking services are suspended during the latest public holidays. Since the public holidays are a week long, there will be difficulty transferring money. I think banks should not be closed after this public holiday [week]. 
U Hla Maung || Vice Chairperson  || Arakan State Construction Entrepreneurs Association 
We can withdraw only K1 million ($608) a week during the time banking services are operating, even though we have won tenders to construct buildings for Arakan State development projects. But we have to proceed with our construction work to be completed in time. We cannot pause our construction work. So, we have to pay the salaries for our workers and buy construction materials by selling our possessions to get enough cash. So, there will be more difficulties when banks suspend their operations. We will be in better shape when banks are operating. 
U Nyi Nyi || Owner || Mar City Company 
When the banks are closed, we cannot transfer money; it means businesses are stopped. We cannot sell our goods when we cannot transfer money and take out cash. It causes difficulties for businesses. 
Ko Khant The || Wave Money agent || Ramree town 
We have to depend on banks too much. We will face difficulty in providing services for our customers when the banks suspend their operations. We cannot give cash in the amount the customer needs to receive. Eventually, we have to suspend our services when we do not have cash.