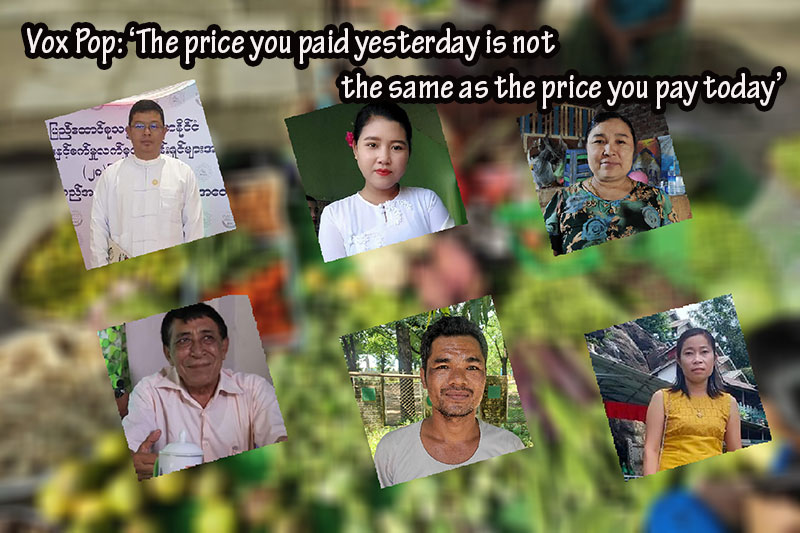 Under Myanmar's military regime, the prices of basic foodstuffs and commodities have risen sharply amid a significant weakening of the kyat against the US dollar and rising gold prices. DMG spoke to a cross-section of voices in Arakan State about the challenges presented by the rising prices.  
U Tin Aung Oo || Chairman || Arakan State Chamber of Commerce and Industry 
We are monitoring the rising prices of basic foodstuffs. The Arakan State Chamber of Commerce and Industry is working with the rice traders association and rice millers to control rising prices if rice prices rise. We've also compiled a list of edible oil sellers to control the rise in cooking oil prices. We also submitted a proposal to the Union government to buy the amount of cooking oil that consumers want to buy at the basic price of K3,700 per viss.  
We are monitoring to see that commodity prices do not go up too much. However, it is difficult for us to control the rising prices of imported goods. 
U Khin Maung Gyi || Vice Chairman || Rakhine Economic Initiative Public Co. Ltd. (REIC) 
There are two basic types of food: raw and dried. The prices of raw materials from Arakan State have risen by only 30% to 50%. However, the price of imported goods to Arakan State has risen as the US dollar has risen. At present, the US dollar is depreciating, but it is still slightly lower than K2,000 per US dollar instead of the previous exchange rate of K1,300 per dollar.  
The prices of imported goods to Arakan State will also rise due to the political instability in mainland Myanmar. Political, economic and social [factors] are all interconnected, so political instability will have an impact on the economy. So, we do not see a solution yet to solve these issues. Imports from mainland Myanmar are related to the exchange rate, so commodity prices will continue to rise. 
Ma Hnin Phyo Wai || Schoolteacher 
Because I am a government employee, my income is the same. However, as commodity prices continue to rise, we have to save more money than we used to. Previously, the price of cooking oil was just over K3,000 per viss, but now it has risen to around K6,000 per viss. If commodity prices rise further, both the regular income earners and the grassroots will suffer. At the moment, money seems worthless. So, I'm thinking about how to reduce my monthly expenses. 
A Yee Hla || Restaurant Owner 
Commodity prices are constantly rising. The price you paid yesterday is not the same as the price you pay today. Previously, 7.5 ticals of palm oil was only K1,800, but now it has risen to K4,700. It used to cost around K900 for 2.5 ticals of seasoning powder, but now it is around K1,800. Previously, a bag of onions cost only K5,000, but now it is K12,000. Meat and fish prices have also gone up. Now there are fewer customers at my shop. It is very inconvenient because of rising commodity prices. 
U Thein Soe Tun || Betel Nut Vendor 
When we sell at the market, we also have to pay taxes to the township development committee. The price of betel products sold in the shop has gone up and sales are not as good as before. People are struggling to make ends meet at this difficult time.  
Commodity prices are rising, and almost all of them are going up. We used to spend about K5,000 for daily expenses in the past. Now that commodity prices have risen, my income is not enough to meet daily expenses. So when we work, we get into a lot of trouble. 
Ma Khin Mar Yi || Housewife 
Commodity prices have been rising steadily. During this period, rising oil prices have pushed up transportation costs and pushed up commodity prices. Almost everyone is very financially strained during the Covid-19 pandemic. At a time of financial crisis, commodity prices have skyrocketed. If possible, I want the government to control the US dollar as well as oil prices.