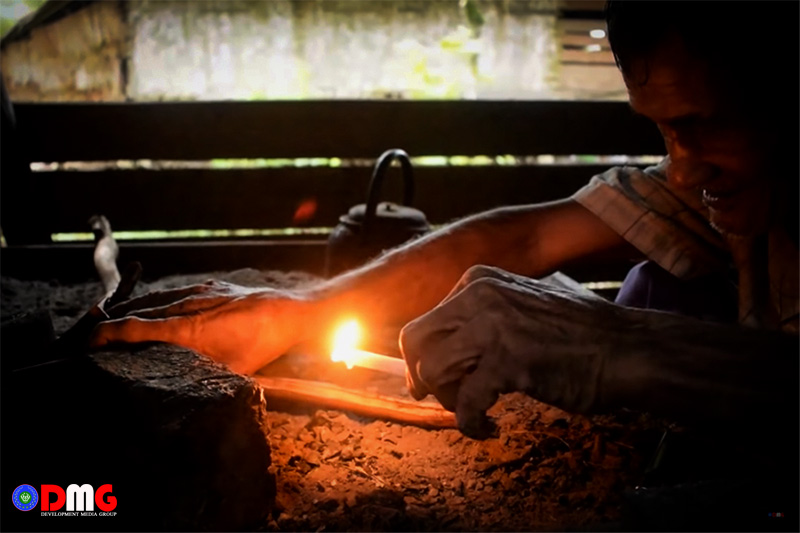 Electricity consumers in Arakan State complain of facing regular power outages while at the same time having to pay regular electricity fees. Some of these outages are prolonged, affecting small businesses, local industries and the broader Arakan State economy. DMG asked a cross-section of state residents about the problems caused by frequent electricity disruptions. 
U San Shwe Thein || Principal || Maha Pyinnyar Kyaw private school 
When there is no electricity, we have a lot of problems. It is almost time for students to take their exams. There is light during the day, but children have difficulty studying when the lights are not on at night. It is possible to turn on a generator and turn on the lights, but now the price of fuel is very high. Previously, the government had promised to cut off electricity for only two hours a day. Sometimes a candle is lit when the electricity goes out. On the other hand, there is the danger of fire for children.  
There are also days when there are two power outages on the same day. There are days when there is no electricity for three hours a day. Due to the high price of kerosene, generators cannot be provided in every dormitory. Students from boarding schools without generators have to study by candlelight. So we are worried about the risk of fire.  
Everyone in Arakan State pays a regular monthly electricity bill. However, the power outages are longer than usual. The electricity bill for my house costs more than K20,000 per month. We have never failed to pay the meter fee. In Arakan State, if you do not pay the electricity bill, you will have to pay a fine of K30,000. 
U Khin Maung Gyi || Businessman 
Electricity is an essential element of society. So, because of the frequent power outages, it is not convenient for businesspeople like us. For the people, cooking is not convenient, nor is using other electrical appliances. The government must pay attention to the people and consider the power outages.  
I don't think there are any people in Arakan State who do not pay for electricity. I always pay the electricity bill for both my home and my business. However, when such power outages occur, rice mills have to shut down rice milling operations. We have not seen the government give advance notice of when the power will be cut off. 
Ma May Than Nu || Resident of Sittwe 
We have difficulty doing online business and it is not convenient to eat and drink in the morning due to the power outages. It is not convenient to do office work. Due to the lack of electricity, cooking using charcoal costs more money unnecessarily. Even as the cost goes up, it takes more time [to cook] and people are tired. 
It is not a matter of setting a specific time [for power cuts] in each ward. I would like to have the power cut off when not in use. We also want EPC [Electric Power Corporation] staff to check the electricity bills accurately. Now I hear people say that they are having to pay for electricity they don't use. We don't want this to happen because some people have to pay hundreds of thousands of kyats in electricity bills without using electricity. I understand that the government is not at ease, but I want the people to be at ease. 
Ko Tun Kyi || Resident of Kyaukphyu 
There are many people in Arakan State who run their businesses using electricity every day. People lose their wages when electricity comes and goes. Another is that phone shops can no longer provide timely service to their customers. Frequent power outages are seen as affecting society as a whole. 
The government cannot justify the power outage by saying people are not paying for electricity. If people do not pay the meter fee, the government needs to find out why the people do not pay. The power outages are just an excuse.  
The military council has also announced [scheduled] power outages. They already have areas set aside for power outages. It is divided into where and when it will be cut off. However, the power outages have not been at the time when they were officially declared, but rather the time when the government wanted to cut it off. It is even more difficult for people like us who depend on electricity for their livelihood. 
Daw Kyawt Sein || Chairwoman || Arakan Alin Dagar 
The power outages cause us many problems. While cooking, a fire broke out and I had to throw away my cooking pots. In addition, it is difficult to get water when pumping water due to power outages. The electricity bill has not decreased, and actually it is even higher than before amid the power outages. As a result, we don't know what the government is doing.  
A power outage should be announced a month or 10 days in advance. Now, while I was cooking, the electricity went out. Parents of students also face various difficulties due to power outages.  People also have to buy charcoal due to power outages. People have to pay around K30,000 a month for electricity bills. The price of charcoal has risen from K6,000 to K8,500 per bag.  
What I want to say to the Electric Power Corporation is that I want the EPC to announce in advance when such a power outage will occur. I want to tell the government to provide enough electricity for the Arakanese people with gas from Arakan State. We are producing gas in Arakan State, but our people are burning candles. 
Unnamed Township Medical Superintendent
In the event of a power outage, the generator must be started. Currently, there are frequent power outages across the country, but the work cannot be stopped and the generator has to be turned on if necessary. When we start the generator, we have to cover the cost of fuel and sometimes we have to spend it from the salary of the staff.  
There are times when the government announces a power outage, but there are times when it does not. We do not know how they manage it. When I asked that question, I did not get a straight answer.