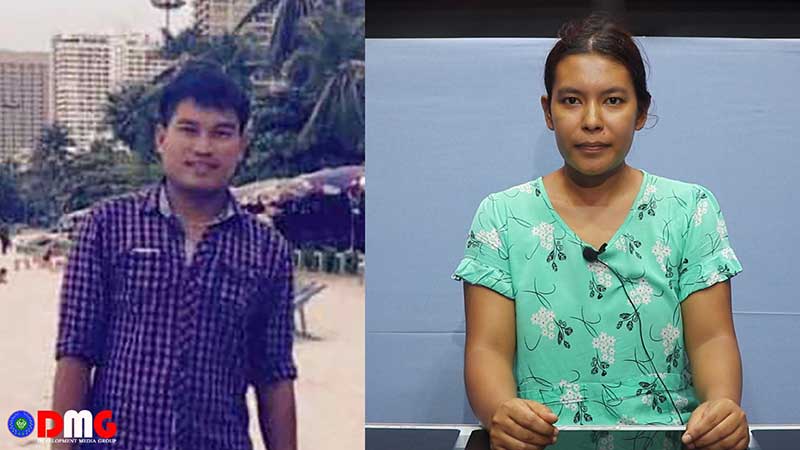 Military tensions have been running high in Arakan State over recent weeks, with the Arakan Army (AA) detaining junta soldiers, police and other security personnel. In response, the regime has detained dozens of civilians in Ponnagyun, Kyauktaw and Mrauk-U townships. 
The regime reportedly arrested several Ponnagyun residents after the AA abducted a junta soldier in the town on June 17. One of the detained civilians is 35-year-old U Ba Hlaing. His wife, Ma Aye Aye Khaing, recently spoke to DMG about the arrest of her husband.  
DMG: Can you tell us what happened on June 16, the day your husband was detained? 
Ma Aye Aye Khaing: That day, two soldiers came to our shop to buy rope. We sell building materials. One of them was an officer and the other was a private. They left by motorbike after paying. AA members showed up when they arrived some distance from our shop. At that time we didn't know they were AA members. They tried to seize them. It was followed by a fight. One of them was pushed onto the road in front of the township administration department. Another was pushed into the ditch.  
A shot was fired as they fought. I think it was the AA that fired the shot, but we don't know exactly. As it was not far from our shop, we had to close our shop quickly. Then we heard a junta soldier was seized and another escaped. We don't know exactly who was seized. 
Then, two junta soldiers came to our home and told my husband to go with them to the battalion for inquiries. We told them that it happened outside our shop and we had nothing to do with it. However, they insisted that my husband must go with them. We did nothing wrong, so my husband said he would go with them. Then I went to pick up my daughter from nursery school. Then junta soldiers came again and told me to give them our cellphones. They said they had to check the phones. So I handed them over. 
DMG: Where is your husband being held now? 
I have no idea. I heard he was alleged to be a core AA supporter and is being held at a military interrogation camp. But I don't know where it is. We have no ties to the AA. We are just shopkeepers and we have to serve any customer. 
DMG: How many people have been detained in Ponnagyun since all this began? 
I heard nearly 40 residents have been detained. Eight people including my husband and other shopkeepers were detained on June 16. The military detained innocent people by giving various excuses. 
DMG: How is the situation in Ponnagyun now? 
The situation is quite bad. Soldiers are searching houses and questioning people. They've also made threats. I was questioned at the township General Administration Department on June 17. They said they would release my husband if I answered their questions. I told them what I saw. They said nothing when I asked them when they would release my husband. They told me not to go anywhere. 
DMG: Why do you think they have detained your husband? 
The people that they have detained are innocent. We are just shopkeepers and we have to serve customers. Some say that detainees are being tortured. There is no doubt about that. I was terrified by their shooting on the day the soldier was seized. So, I am concerned for the safety of my husband. He is innocent. I want to know why he was detained and where he is being held.