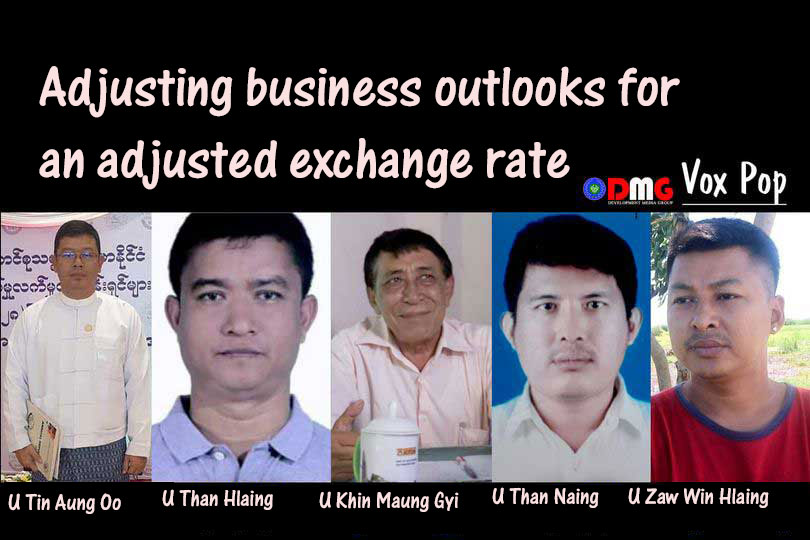 DMG Newsroom
28 August 2022

The junta-controlled Central Bank of Myanmar early this month adjusted the official exchange rate from K1,850 to K2,100 per US dollar, a move that economists say will increase the prices of imports. The exchange rate has since reached around K3,000 per dollar in the open market.

Businessmen in Arakan State shared their views with DMG on how the new exchange rate could affect the economy and local people's lives in Arakan State.

U Tin Aung Oo || Chairman || Arakan State Chamber of Commerce and Industry

The adjustment is causing repercussions over time, but has an immediate impact on fuel prices. The prices of consumer goods could further increase. It is not bad if prices are high but commodities are easy to buy. But what is happening here is commodities are scarce and prices are high. I am afraid prices may further increase because of higher transportation costs.

U Khin Maung Gyi || Arakanese Businessman

It is high time civil society organisations and political parties in Arakan State worked together to cushion the possible social and economic crises. It appears that the kyat may further weaken against the greenback. Myanmar heavily relies on goods imported through border trade. Therefore, further depreciation of the kyat means a huge blow to low-income families.

So [civil society organisations and political parties] must prepare to mitigate the impacts on low-income families. At the same time, the rice harvest is likely to decline due to the lack of rainfall during the early monsoon season. So, the prices of food, including rice, are likely to increase.

U Than Naing || Owner || May Yu Royal Co.

There has been no consistency in the government's policies, which makes it difficult for businesses. And there is a huge gap between the official reference rate and the rate in the open market. So, we have a lot of difficulties.

Prices have increased by more than 50 percent. We engage in fish farming. Fish feed prices have almost doubled. The depreciation of the kyat has serious impacts on people. Everyone is having a hard time as their income does not increase while costs of living have soared.

U Than Hlaing || Chairman || Arakan State Fuel Suppliers Association (Interim)

We have a lot of difficulties. We have to wait at least seven to eight days to get our quota of fuel from Thilawa. And it takes two more days for fuel to be transported from Yangon to Arakan. And prices are so volatile, due to the new exchange rate, that the revenue we earn today is not enough to buy fuel tomorrow. Fuel prices could further increase.

Ko Zaw Win Hlaing || Sittwe Resident

We are facing fuel price hikes and fuel shortages in Sittwe. Fuel prices are much higher than reference prices. Food prices have soared, which will worsen the hardship of people, and result in crimes. As for the people, it is not easy to earn money, and the money they earn is declining in value. And people feel insecure. People are committing crimes like mugging and theft in broad daylight. Suspicions have grown among people due to a stronger sense of insecurity.