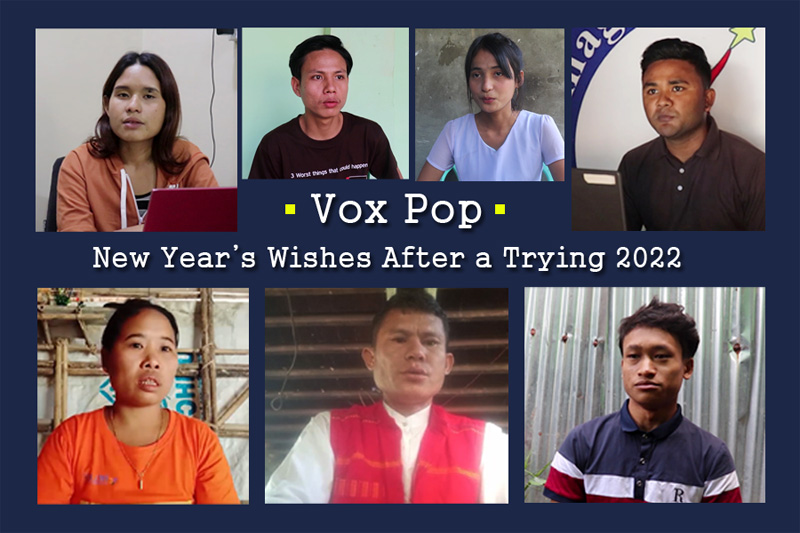 DMG Newsroom
1 January 2023, Sittwe
The year 2022 brought renewed conflict to Arakan State as a ceasefire between the Myanmar military and Arakan Army (AA) broke down in August, resulting in mass displacement and scores of civilian casualties. At the same time, economic hardship and the Covid-19 pandemic continued to make life difficult for many of the state's residents. 
With a challenging year now behind them, DMG spoke to the members of several ethnic groups to hear their hopes for the year ahead. 
Ma Phyo Ei San || In-Charge || All Arakan Youth Organisations Network (AAYON)
As everyone knows, no one was at peace in 2022. Everyone was worried economically, socially and politically in 2022. The people were not very secure and had to live in fear. In 2022, the people faced livelihood difficulties, and the number of internally displaced people [IDPs] increased. Young people also lost their right to education. There were also young people who tried to escape from the instability of Arakan State.
In 2023, I don't want to have long periods of instability. Young people want to be free to study the subjects they want to study, whether in politics or education. We no longer want to live in fear in 2023. People have suffered emotional damage as well, so we hope to be able to heal that as well. I also want to pray for all the youth and people living in Rakhine [Arakan] State to live in peace. In 2023, I wish that all people can live happily.
Ko Pyi Nyein || Member || Khami Ethnic Literature and Culture Association
Because ethnic people live in mountainous areas, transportation is inconvenient for them. The situation in the country is not peaceful, and there are many battles, which has an impact on children's education. Ethnic people have to go to the hospital by car or boat. There were many economic difficulties due to the Covid-19 virus. From the New Year on January 1st, we want all members of ethnic groups to be safe, and we would like to see an end to the fighting and ensure stability in Myanmar.
Ma Myo Zar Zar Tun || Kaman activist
Arakan State is unstable, so I want to be able to sleep peacefully. Now the people are afraid of the day when there will be a war in which they might die. I want people to live in peace in 2023. I want to see educated people born in Arakan State.
Ko Aung Khin Oo || Secretary || Maramargyi Youth Network
We experienced both the Covid-19 pandemic and armed conflict in 2022. Many people in Arakan State experienced the fighting between the military and the Arakan Army. At the same time, the people of Arakan State have been suffering from a disaster like Covid-19. On behalf of the Maramargyi Youth Network, I would like to wish that the people of Arakan State are able to overcome both the war and the [Covid-19] disaster that they faced in the previous year, and have a peaceful year in 2023.
Ma Hla Oo || Ethnic Mro woman || Wah Taung IDP camp || Kyauktaw Township
I wish happiness for the people in 2023. I want people to have the right to move freely. I also want IDPs in the displacement camps in Arakan State to receive relief aid. May all people everywhere move and live freely. I wish everyone happiness and prosperity in 2023.
Ko Maung Thein || Ethnic Daingnet man || Shintaw Village || Ponnagyun Township
Some villagers had to flee due to the renewed hostilities between the military and AA that occurred in 2022. People in urban areas have faced various hardships due to the Covid-19 pandemic, and children have lost their right to education. I am very sad that the people have faced all kinds of difficulties. In 2023, I wish the people to be peaceful and full of happiness and peace of mind.
Ko Nyi Nyi Win || Member || Thet Youth Association
I wish all ethnic groups in the whole of Myanmar to be healthy and happy. I wish that those who are far away from their homes can return to their homes as soon as possible. I pray that the people can realise their goals as soon as possible.