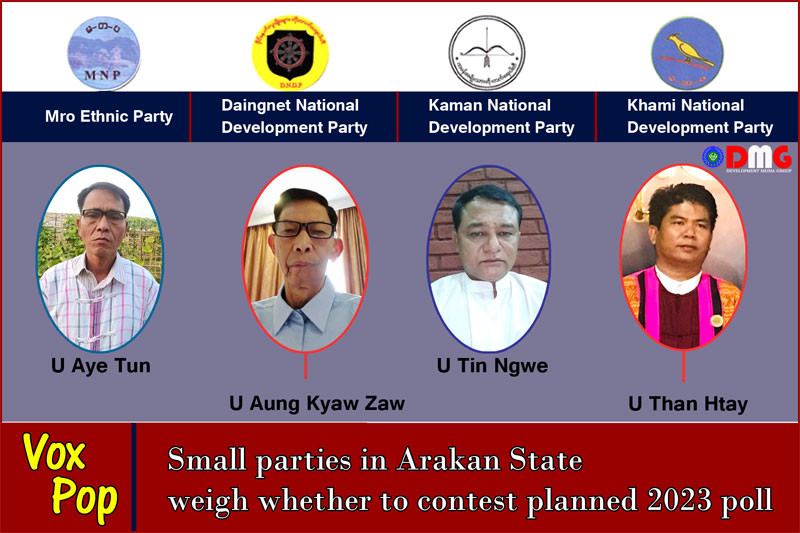 DMG Newsroom
20 January 2023, Sittwe
Myanmar's military regime is planning to hold an election later this year, after seizing power in a coup from the democratically elected government in February 2021, citing electoral fraud in the 2020 general election. The regime has said it will introduce a system of proportional representation (PR) for the proposed poll, replacing the first-past-the-post electoral format of the 2010, 2015 and 2020 general elections.
Some of Arakan State's smaller ethnic political parties spoke to DMG about their views on the junta-organised election scheduled for later this year, and whether they plan to contest the vote.
U Aye Tun || Chairman || Mro Ethnic Party
We are a small party, so we will see how the big parties in Arakan State will react. If those parties don't contest the election, we won't either. But if big parties like the Arakan Front Party, the Arakan National Party and the Union Solidarity and Development Party contest the election, we will definitely run [candidates].
We will have to look at regional stability then. Only when there is stability can the election be held freely. If both sides [the Myanmar military and Arakan Army] do not disrupt the election, we will contest. We will contest if there are no hurdles. For now, we are waiting and seeing the steps of the big parties.
Regarding PR, it is fair to say it is even more hopeless for us than under the previous electoral system to win seats. Perhaps we don't have enough knowledge. For example, if proportional representation is to be exercised in Maungdaw District, our ethnic group is a minority in Buthidaung and Maungdaw. Considering the size of our population [against the minimum threshold set by the regime to qualify for seat-sharing], there is little chance that we can win a seat.
U Aung Kyaw Zaw || Chairman || Daingnet National Development Party
It is too early to tell whether we will contest the election or not. We don't know yet what they [the regime] will do. Things we have heard about the election are not very good. We are not a big party. Whether we agree or not, they [the regime] will hold the election.
Though the election will be held under the PR system, I don't think there are chances for tribal parties. For example, we will only be able to win a maximum of 5,000 votes in a constituency. At first, I thought PR was good. Later, I realised that we tribes will not benefit from the PR.
U Than Htay || Secretary 2 || Khami National Development Party
Our party is a regional party. The political landscape in Arakan State is different from those of other regions and states. So, we hold a wait-and-see attitude and keep an eye on political developments in Arakan. The Arakan Front Party said it would contest the election, but it has not yet officially announced it. The Union Solidarity and Development Party will surely run for it. We also have to wait and see the steps of the Arakan National Party, as well as stability in Arakan State.
If the ceasefire holds, and the ANP will contest the election, there is no reason why we won't run in it. We are just a tribal party, and we can't cover the Union level. We will act accordingly, depending on the local situation.
U Tin Ngwe || Vice Chairman || Kaman National Development Party
We have yet to hold a meeting to decide whether or not to contest the election. We will hold a party meeting next month, when we plan to discuss it.
Tribes only have small populations. The population of our tribe is small. And it is unlikely that PR will bring significant change for tribal people.