Arakanese Farmers Reap Benefits of Cultivating Non-Native Pepper Varieties
The fact that Arakan residents are buying and consuming produce shipped in from mainland Myanmar at higher prices underscores the dearth of domestically grown fruits and vegetables.
09 Feb 2023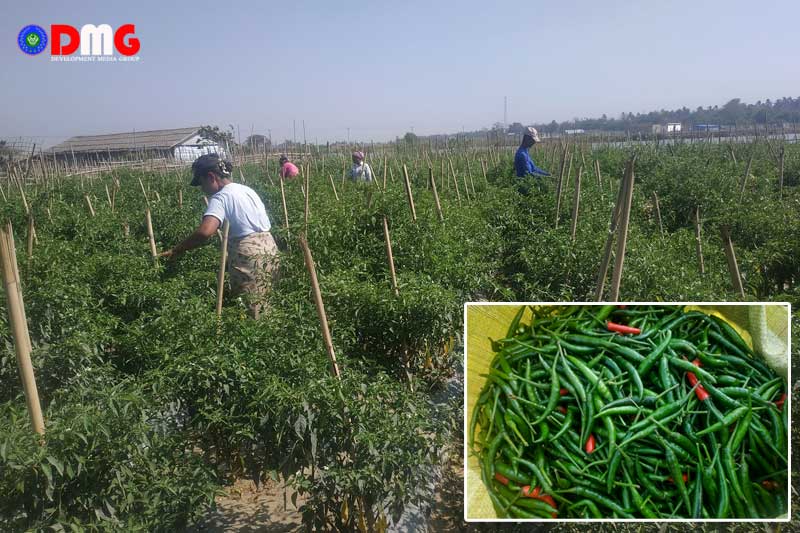 Written by Aung Htein
U Shwe Maung proudly showed off his pepper plantation, where the plants were a vibrant green and fruits and flowers were in full bloom. U Shwe Maung spoke enthusiastically about the successful development of the peppers he planted using new technology and purebred varieties.
The 41-year-old from Kan Chaung Village in Pauktaw Township, Arakan State, is a passionate farmer who grows peppers and fruit trees every year.
In the past, the method that U Shwe Maung used to grow pepper was by ploughing and scattering the land according to tradition. This method was only practical for domestic consumption, however, and could not be effectively commercialised.
These days, U Shwe Maung has new hope thanks to a new farming method employed with the guidance of a technical assistance team.
"The peppers that I have planted now have strong fruits and good yields. In the rainy season, the stem is strong, and in the winter, the yield is good," U Shwe Maung said enthusiastically.
He believes that the two varieties of pepper planted — Moe Htaung and Kyauksein — will continue to benefit from the changes to cultivation made by the introduction of new technology.
New Methods and Varieties
Since 2021, Arakan State-based Orgae Land has been providing agricultural technology in the townships of Sittwe, Ponnagyun, Kyauktaw, Mrauk-U and Minbya.
Ko Ye Tun Myint, in charge of the community support organisation, said the aim is to provide farmers with tangible benefits including successful crop outcomes and the development of agriculture more broadly in Arakan State.
"There are many farms that are lost because they do not know the method. To prevent such losses from happening, we would like them to discuss with us and then grow more profitably," said Ko Ye Tun Myint.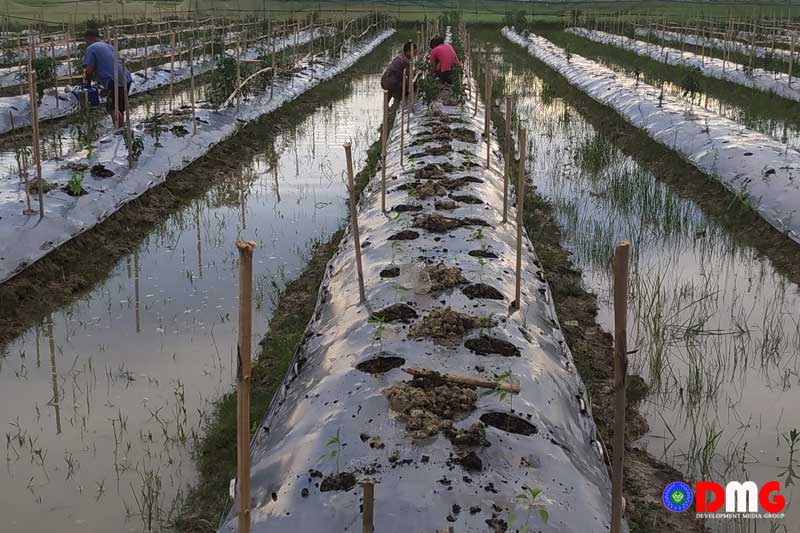 Orgae Land said that in addition to peppers, cucumber, eggplant, onion, and mungbean crops are also being used to showcase the benefits of new technology for farmers.
Before the Kyauksein pepper variety is grown, the number of plants is calculated, compost, cow dung and chicken manure are mixed, the soil is dug up, and the frame height is made. To compact the excavated soil on the frame and protect it from sunlight, it is planted with a tarpaulin cover and uses an irrigation system.
The Kyauksein pepper variety can be harvested two months after planting, and can be harvested up to four times a month when the crop yield is normal. Orgae Land has observed that the growth of the plant is more than three feet tall and the life of the plant is seven to eight months.
The land in Kan Chaung Village, Pauktaw Township, where U Shwe Maung is growing Kyauksein peppers, has a clay-based soil and is an area with poor overall agricultural development. U Shwe Maung said that there are some difficulties with water supply during the summer months due to the new system, but that these concerns are nothing compared with problems associated with the traditional method.
"The Kyauksein pepper variety is better than local peppers. Although local peppers are hearty, the yield is not good. The Kyauksein pepper variety planted now produces good fruit and the plant lasts longer, so it is more convenient for us," he explained.
With technical assistance provided by Orgae Land, local growers succeeded in growing two non-native varieties of pepper, echoed pepper grower Daw Hla May from Aung Dine Village in Sittwe Township.
"The local pepper that I planted before was fed with manure, and the cost was higher, and it was a lot of work, and it was not worth the income," she said. "The Kyauksein pepper is not only cost-effective, but also the fruit yield rate [is better], so I'm happy to do it."
Effecting Positive Changes to Market Dynamics

The Great Arian Development Company, a small firm in Arakan State, is carrying out an agriculture-related project with the objectives of helping farmers benefit from crop cultivation, improving agricultural practices, producing local products as well as finished products, and creating opportunities for local residents.
"Arakan residents pay a high price for all their food, and buy it from mainland Myanmar," said U Mrat Kyaw, director of the Great Arian Development Company. "All Arakanese people depend on mainland Myanmar to buy chilli powder. Local farmers are losing out on that opportunity [to supply the local market]."
Currently, some six varieties of pepper that will suit the region are being tested in cooperation with the farming community support group Orgae Land.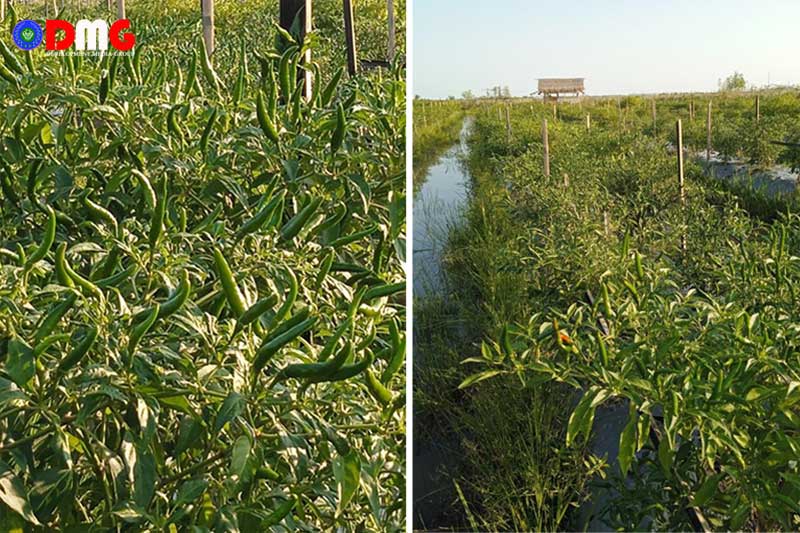 Meanwhile, a factory in Sittwe that was established by the Great Arian Development Company produces chilli powder, spiced masala, dried anchovies and mung beans, the kind of finished products that proponents say will boost the value-added economy of Arakan State.
U Mrat Kyaw also believes that the successful testing of the Kyauksein and Moe Taung pepper varieties, along with the implementation of new technological approaches, will result in the emergence of a new generation of farmers.
U Maung Htwee from Kyauktaw Township, who has been working in agriculture for more than 20 years, said many like him are desperate for changes to agricultural practices and markets that will make farming more financially viable.
"Now, our lives are sinking in the pit of poverty, and we have nothing," he said.
Agricultural Self-Sufficiency Sought
Arakan State has well-irrigated land along the coast, but due to the lack of technology, market guarantees and labour force, the agricultural industry is widely viewed as trending downward.
The fact that Arakan residents are buying and consuming produce shipped in from mainland Myanmar at higher prices underscores the dearth of domestically grown fruits and vegetables.
U Khin Maung Gyi, a veteran Arakanese businessman, pointed out that in order to change these shortcomings, a basic backbone of national interests must be built.
"The people of Arakan State have reached a situation where they are always dependent on other people's agricultural products for food. If this can be reformed like a revolution, this situation can be improved again," he said.
Because of its reliance on mainland Myanmar for agricultural products, Arakan State has been harder hit than most by rising commodity prices under the military regime. Making matters worse, the junta blocked off both land and water routes in Arakan State due to a resurgence in fighting between the military and Arakan Army (AA) last year, leading to goods shortages for the affected populations.
The AA spokesman in November threw the ethnic armed group's support behind efforts to bolster agricultural self-sufficiency in Arakan State, and expand markets for farmers.
"Regarding import and export, instead of relying on one side, we should open up trade channels on both sides and think about relations in the future," he said, referring to trade with mainland Myanmar as well as neighbouring Bangladesh to the west. "We also have to do agricultural production in order to support ourselves."
U Shwe Maung of Pauktaw Township, who has seen firsthand the positive changes brought about by a new system, is happy to see his pepper plants flourishing, even in a clay-based soil.
"If every farmer starts growing pepper, there is no need to rely on mainland Myanmar. Arakan State's agriculture will also improve. Farmers just need to follow the new farming system," he said.