Telecommunications Revolution Leaves Pauktaw Villagers Behind
The rapidly expanding access to smartphones saw Myanmar leapfrog into the mobile internet age, which improved the socioeconomic lives of millions of people in many parts of the country. But Phadu villagers were left behind.
By Moe Pauk 03 Nov 2022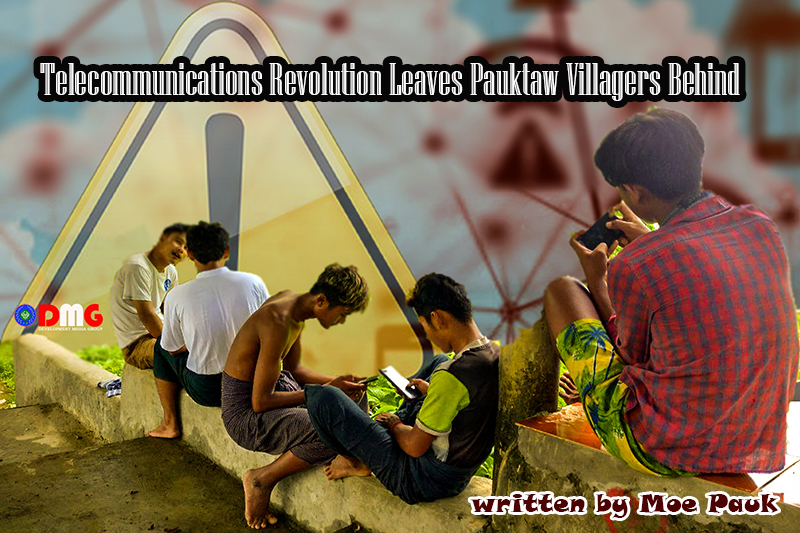 Written By Moe Pauk

It was a sunny day in Pauktaw Township's Phadu Village earlier this year when five young people could be seen climbing a hill under the scorching sun; sweating, yes, but they seemed to be used to scaling it.

Without a telecoms tower in their village, it is a part of daily life for the residents of Phadu. The village is located on Alae Phayonekar Island aka Peinnae Chaung Island in Pauktaw Township, Arakan State, where cellphone users have a choice of either climbing the hill (which takes nearly an hour) or going to the shore (which takes more than an hour) for any hopes of connecting to the mobile network. In short, the village is virtually disconnected from the rest of the world.

Phadu is about 25 miles from the Arakan State capital Sittwe, and more than 20 miles from Pauktaw town. Though it is known as a village, it is in fact a village-tract made up of eight villages that are home to 1,405 households and over 7,000 people.

It is not unusual to see villagers searching for a phone signal on the hill, or along the shoreline. The search can be especially frustrating during the rainy season, when villagers sometimes have to wait for an hour or more to connect to the network.

"The internet connection is poor, but phone calls are no better. It is always like this when the weather is not good," said Ma Ma Wai, a 23-year-old villager.

Telecoms Reforms Fail to Reach Phadu

With reforms introduced to the country's telecoms sector under U Thein Sein's quasi-civilian government, CDMA and GSM SIM cards became widely available to the public for the first time in 2012-13, following more than a decade in which Myanmar was largely absent from the telecoms revolution underway elsewhere in the world. Mobile phone and internet penetration increased exponentially in just a few years under the U Thein Sein government and its successor administration led by the National League for Democracy (NLD).

The rapidly expanding access to smartphones saw Myanmar leapfrog into the mobile internet age, which improved the socioeconomic lives of millions of people in many parts of the country. But Phadu villagers were left behind.

"Compared with people from other villages, we are ill-informed and know nothing about what is happening in our state and beyond," said Ma Ma Wai, the disappointment evident in her voice.

The lack of internet access has had serious impacts on the health and education of the affected villagers. At times when Myanmar has been hit by significantly fatal waves of Covid-19 over the past few years, locals barely received alerts and information about the coronavirus issued by the Health Ministry.

Information that does arrive to them is mostly hearsay and sometimes fake news, according to residents.

"We lacked information about Covid-19 then, until people from the town that came to our village told us. So, many of us didn't know Dos and Don'ts. It is the consequences of the lack of phone and mobile internet services," said a young resident from Phadu.

When stay-at-home orders were imposed to control the spread of the coronavirus across the country, many training classes were forced to go online. This at the same time provided opportunities for people to learn from their homes, regardless of their status and condition related to access to the internet.

"We need the internet even more under the current circumstances. Sometimes I feel extremely frustrated that I can't learn anything here, and that I shouldn't have been born here," said Ma Ma Wai.

The lack of internet access affects not just local health and education, but local incomes too, said Ma Phyu Hnin Wai from Aung Hla Pyin Village, which is a part of Phadu. She previously lived in Yangon for two years, during which she sold clothing online.

After the military putsch in February of last year, she returned to her native village with the hope of continuing her online business. But the logistical realities of life in Phadu conspired against her. After returning to her village, Ma Phyu Hnin Wai continued to sell clothes for just shy of three weeks — scaling the hill or traipsing to the shoreline in search of an internet connection — before calling it quits.

"My business wasn't OK due to the inconvenience of internet access. I lost contact with my customers and I had to stop working because sales of the product went down," she said.

'Everybody Here Is Unhappy'

There is a high school and a rural healthcare centre in Phadu, where a rotating cohort of civil servants have similarly found it extremely difficult to do their jobs in the internet void.

"Everybody here is unhappy. … They [government employees] don't want to live in the village because they can't contact their families. They are dissatisfied with the inconvenience of no mobile phone and internet access," said local resident Ma Soe Myat Nwe.

The head of the rural healthcare centre said he has faced practical difficulties, from contacting other local health officials to administering the Covid-19 vaccine.

"The vaccine is chilled with ice and injected at the right time; there are times when we can't communicate with each other, so we face difficulties for people here," he said, adding that sending patient records, photos, and office documents via the internet is often impossible.

At times, lives hang in the balance.

"If there are issues where a patient needs to be transferred to the hospital, I can't make a phone call, so I worry that something will happen on the way. I'm worried that something might be misunderstood," he explained.

Local resident Khin Maung San put it this way:"I don't think there's even a need to talk about internet access when even the phone lines can't communicate well. It is like a dream for these villagers to be able to sit at home and use the internet like people in the urban areas."

Under the NLD government, U Aung Kyaw Zan, the Lower House MP for Pauktaw Township, raised a question during a parliamentary session concerning a proposal to erect telecommunications towers in the Phadu area. The then deputy minister for Transport and Communications replied to the question, saying there was no such plan.

For now, despite its location just 25 miles from the Arakan State capital Sittwe, Phadu and its residents look likely to remain isolated and largely non-beneficiaries of Myanmar's telecoms revolution.