Spiralling Military-AA Relations Have Arakan State Verging on Return to Conflict
Tensions between the Myanmar military and Arakan Army (AA) have been running high in Arakan State for months, with an informal ceasefire reached between the two sides in November 2020 said to be on the brink of collapse. 
By Nay Myo Linn 01 Aug 2022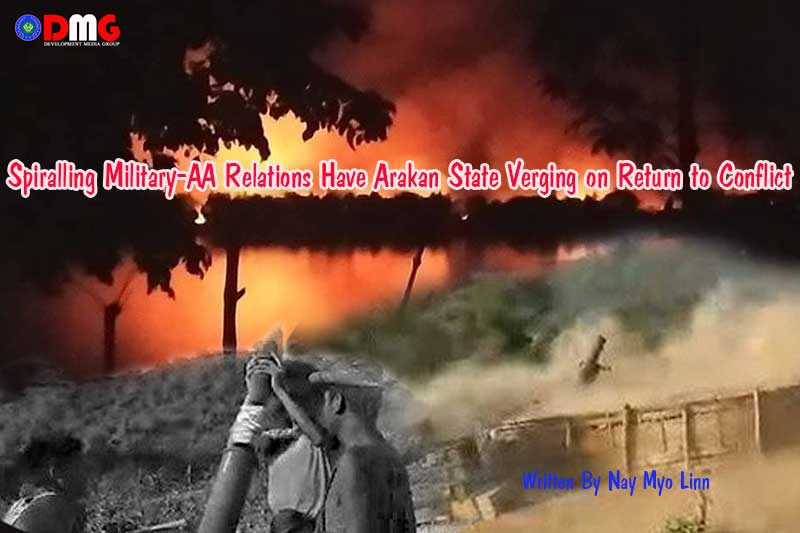 Written By Nay Myo Linn 
Upon seeing fully armed junta soldiers entering the Pyi Lone Chan Thar Monastery compound, Maung Kyaw Than (a pseudonym) and his family members were quick to flee due to their past experiences with Myanmar military troops. In sho rt, they knew that they could end up beaten, detained, or worse.  
At around noon on July 18, some 30 soldiers showed up at the monastery turned displacement camp in Arakan State's Rathedaung Township, where Maung Kyaw Than and other internally displaced people (IDPs) were taking shelter. Only about 40 people were living at the camp at the time, with others having returned to their homes over recent months. 
Except for a handful of elderly IDPs, the Pyi Lone Chan Thar camp's residents fled the monastery on that Monday, fearing what might happen to them if they did not.  
"We come from places that witnessed fighting. So, we are scared when we see them, and we have therefore fled," explained Maung Kyaw Than. 
Tensions between the Myanmar military and Arakan Army (AA) have been running high in Arakan State for months, with an informal ceasefire reached between the two sides in November 2020 said to be on the brink of collapse. 
The Way of Rakhita 
The military takeover in February of last year prompted a mass armed revolt in Myanmar, after the junta carried out brutal crackdowns on peaceful protesters opposed to the coup. The military is frequently described as having been preoccupied by the uprising against its rule across much of Myanmar, and thus made little effort to prevent the Arakan Army from consolidating its control over Arakan State following the end of military-AA hostilities circa November 2020. 
Though the coup was followed by massive protests, armed rebellion and a civil disobedience movement that swept the country, there were only a few demonstrations in Arakan State, partly because of the AA's call for pursuing the "Way of Rakhita." 
On the anniversary of the AA's founding in 2021, the armed group's leader, Major General Twan Mrat Naing, said he was saddened by the deadly crackdowns on protesters and arbitrary arrests of dissidents. He vowed to do what he could to fulfil the political wishes of the majority ethnic Bamar and the country's ethnic minorities. 
"But we don't want CDM [civil disobedience movement] and street protests. We have our Way of Rakhita, and our own objectives. It is important that we don't get confused by other problems while we are taking firm strides toward our clear goal," said the AA chief. 
The AA took advantage of the political crisis facing the junta to accelerate its implementation of the Way of Rakhita. The ethnic armed organisation has tightened its control over large parts of Arakan State, strengthening its administrative grip — complete with a judicial system and police force separate from the regime's own — as it engaged in nation-building and development tasks. 
The junta was too stretched to confront the AA militarily as it engaged newly formed resistance forces as well as some ethnic armed organisations in many parts of Myanmar. Until recently, it seemed all the regime could do was to warn civilians to steer clear of the AA and its political wing, the United League of Arakan (ULA).   
At a regime press conference on May 19, junta spokesman Major-General Zaw Min Tun said the regime had "tolerated" the AA for the sake of local people in Arakan State. 
Escalating Tensions 
The AA and ULA, meanwhile, continued to work on building up their judicial and administrative apparatuses in Arakan State. At some point in recent months, the junta's tolerance for these activities appears to have waned.  
The Myanmar military now regularly arrests people for collecting funds for the Arakan Army, and several locals have been detained on suspicion of simply having ties to the ethnic armed group. 
The Arakan Army warned in May that fighting could resume in Arakan State at any time, as the military was expanding its presence in the state and interfering with the AA/ULA's judiciary, tax collection system and administration. He acknowledged growing military tensions between the two sides. 
"Ko Htin Latt Oo, don't go too far. You have been irritating. I won't give a shit about peace [if you carry on]. I will come to your place and crush it," Major-General Twan Mrat Naing warned on Twitter on May 6, addressing the commander of the military's Western Command following a round of civilian arrests by the junta. 
In the months since, the Myanmar military has stepped up inspections of locals and travellers in Arakan State, and has made dozens of civilian arrests. 
At the May 19 press conference, regime spokesman Maj-Gen Zaw Min Tun told the Arakan Army not to blame Myanmar's military if conflict does flare anew in Arakan State and the Arakanese people suffer the consequences. The remarks were widely interpreted as a threat to the Arakanese people.  
Amid these rising tensions, the Arakan Army did not attend peace talks invited by junta chief Min Aung Hlaing in April, and instead engaged in dialogue with the National Unity Government (NUG), an organisation vehemently opposed to the military junta. 
The military-AA rift widened when it was made known that the Arakan Army had provided support and advice to NUG-affiliated People's Defence Forces (PDFs), including the Bamar People's Liberation Army (BPLA), that emerged from the post-coup fallout — also known as the Spring Revolution to anti-regime types. 
Then came the airstrikes: The Arakan Army confirmed in a statement that Myanmar military fighter jets on July 4 killed six AA members and injured others, as well as causing significant damage to its camp on the Thai-Myanmar border. Two weeks later, AA-initiated hostilities on July 18 in Maungdaw Township were described by the ethnic armed group as "retaliation" for the deadly aerial assault. The Arakan Army had previously vowed a response to the attacks, which took place in territory controlled by the Karen National Liberation Army, an AA ally. 
Some Arakan affairs analysts have predicted that a return to full-scale conflict between the military and the Arakan Army would be more intense than the 2018-2020 fighting, with grave consequences for Arakan State and its people. 
At present, what is known is that trust is at a low point, as the words and actions on both sides attest to. Regime spokesman Maj-General Zaw Min Tun told the media at a press conference on July 26 that the AA's retaliatory attack on Myanmar troops in Maungdaw was an "unacceptable act of aggression." 
"Since the trust between the two sides is destroyed, the fighting may return," said U Pe Than, a veteran Arakanese politician and former Lower House lawmaker for Arakan State's Myebon Township. 
For now, Myanmar military troops remain stationed at Pyi Lone Chan Thar Monastery, where Maung Kyaw Than lived less than a month ago. The soldiers have built bunkers with sandbags there — not the kind of activity that inspires hopes for peace. Maung Kyaw Than thinks that these conditions are a sure sign that there will be another round of sustained fighting in Arakan State. 
"Now, the fighting hasn't even started, [and yet] junta soldiers are at the monastery, so we are fleeing," he said. "If there is a fight, there will be no place for us to flee."