Instability Again Tests Arakan State's Traditional Weaving Industry
Warr Bo is a relatively large village, with more than 300 households, and weaving is the village's main business. Nearly every household has one to three looms, and nearly every woman is skilled in weaving.
By Min Tun 18 Sep 2022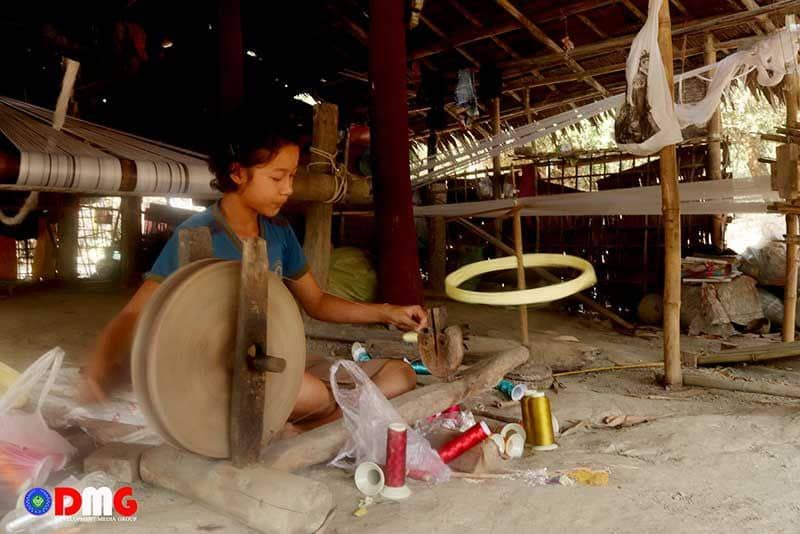 Written by Min Tun

Less than a decade ago, the traditional weaving industry in Arakan State was on the brink of collapse due to a serious lack of market. The industry, however, picked up in 2015.

While the industry was in decline, many weavers left the trade to seek overseas jobs. But villagers in Sittwe's Warr Bo Village, where the majority of residents weave clothes for a living, endured the challenges to preserve the industry and its traditions, which have been handed down from generation to generation.

"Our weaving products hardly sell at all. So, other villages stopped weaving Arakan longyis. Only our village has continued to do this business," said Daw Tin Thein, 60, from Warr Bo Village.

Warr Bo villagers carried on with the business despite various hurdles, and the industry started to pick up around 2015 as traditional Arakanese weaving products were promoted at ceremonies and they subsequently regained popularity among local residents.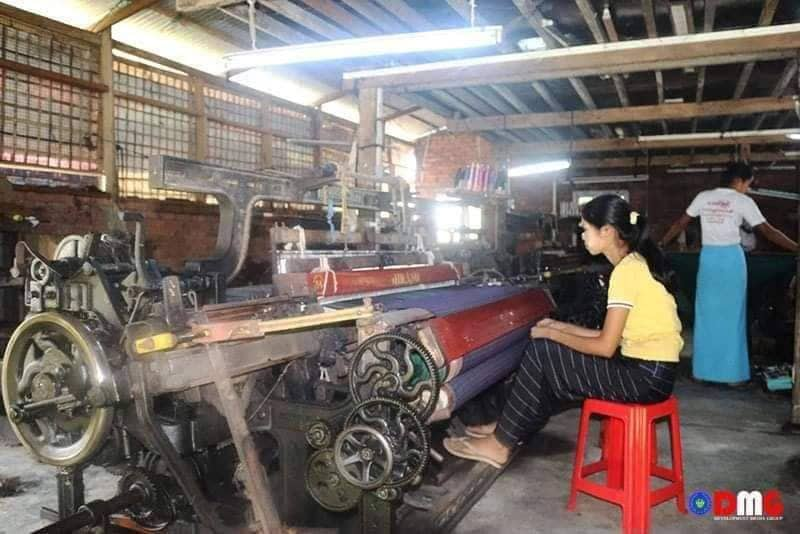 As the industry showed signs of a comeback, villages that had stopped weaving re-entered the business. At present, Thein Tan, Taw Kan, Kyar Ma Thauk and Kyauktan Chay villages in Sittwe Township are also engaged in the weaving business.

"We are delighted to see people wearing Arakan longyis woven by us. We are glad that we could preserve the works of our forefathers," said Daw Ma Tin Thein, the owner of the Warr Bo Thu weaving workshop in Warr Bo.

Warr Bo is a relatively large village, with more than 300 households, and weaving is the village's main business. Nearly every household has one to three looms, and nearly every woman is skilled in weaving.

Thanks to her mother and relatives, Daw Ma Tin Thein was already weaving by the time she turned 15. Today, she runs a weaving workshop that employs around 30 young local women.

The return to better days did not last for long, however. The weaving industry suffered when Arakan State was wracked by instability in 2017 as the military unleashed a fierce military counter-insurgency campaign that drove hundreds of thousands of the state's Muslims across the border into Bangladesh.

Demand steeply declined, and some businesses were even forced to shut down during the subsequent years of armed conflict between Myanmar military and the Arakan Army, and the Covid-19 pandemic.

After the Myanmar military and the Arakan Army entered into an unofficial ceasefire in November 2020 and Covid-19 cases significantly declined toward the end of that year, weaving businesses thought they could finally see a glimmer of light at the end of the tunnel. But their troubles were not yet over.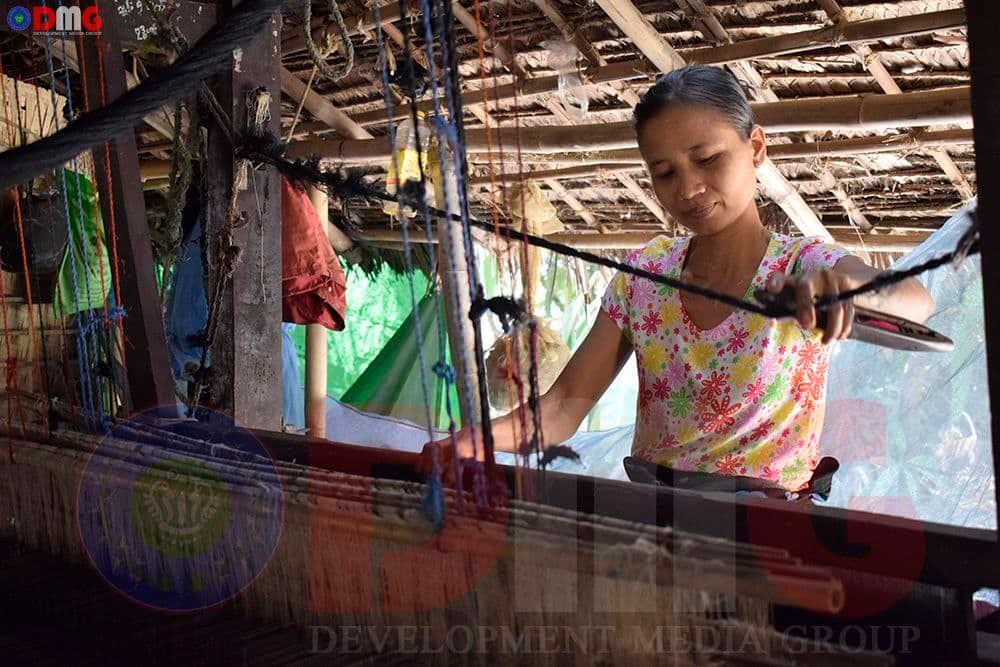 The country was plunged into social and economic turmoil when the military seized power in a coup on February 1, 2021. Prices of raw materials soared, presenting a new challenge to weaving businesses in Arakan State, said Daw Ma Tin Thein.

"As prices of raw materials have shot up, we need a larger amount of capital," she explained, as the cost of everything from thread to weaving accessories has risen.

The Shwe Kyar weaving workshop in the village of Kyar Ma Thauk, Sittwe Township, has 125 looms, but 100 of them have been put on the shelf and the workshop is only running with 25 looms, said owner Daw Ma Aye.

"The prices of raw materials have increased day by day. So, we have to limit our production. The demand is low because of instability and unemployment," she said.

The difficulties faced by local weaving entrepreneurs do not end there. Weaving businesses are finding it difficult to operate not only due to the rising price of raw materials, but also due to decreased demand.

Regional instability is a factor, said Daw Ma Aye, the owner of the Shwe Kyar Arakanese weaving business at Kyar Ma Thauk village in Sittwe Township.

"Currently, the Arakanese traditional clothes are not selling well due to travel restrictions. Traditional Arakanese cloth cannot be sold much due to instability in Arakan State," she said.

After the military coup, there were fewer buyers due to the increase in prices and fighting between junta troops and anti-regime armed forces, which made transportation difficult and the sales of hand-woven fabrics decreased, weavers said.

Traditional hand-woven clothes are distributed and sold not only throughout Arakan State, but are also exported to Thailand through Myawaddy. They can also be purchased in markets from Mandalay to Yangon to Monywa.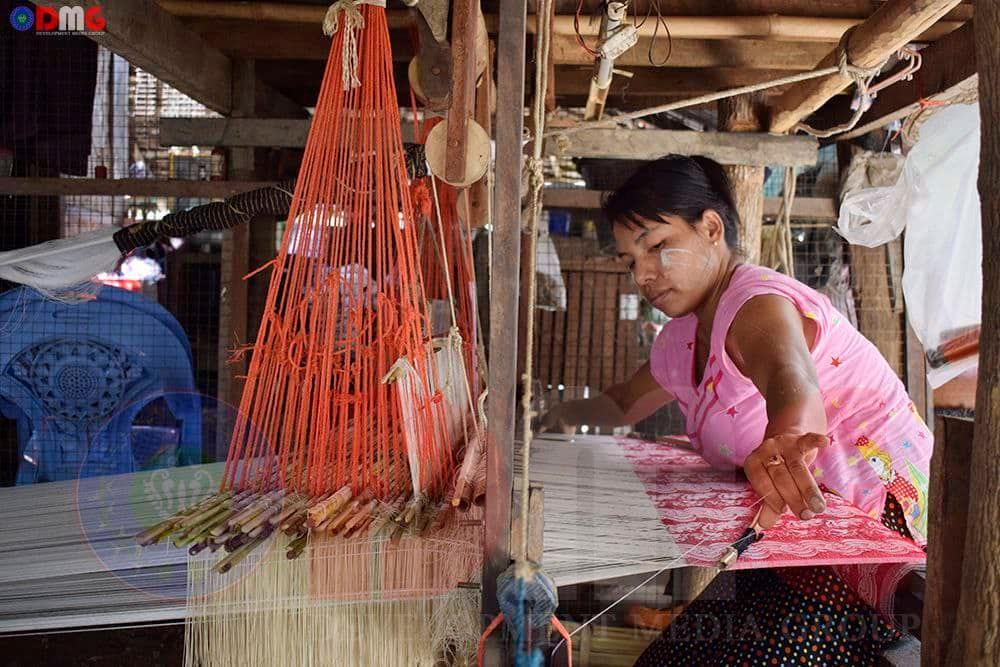 "If the political situation is stable, sales representatives dare to sell traditional hand-woven fabrics. Now, because of the political instability and fighting, they [sales representatives] are not buying many Arakanese traditional clothes anymore," said Daw Ma Tin Thein of the Warr Bo Thu weaving workshop.

Not only are these entrepreneurs faced with the difficulties associated with the rise in raw materials prices and the decline in demand for hand-woven fabrics, they also face a labour cost conundrum.

"Whether the Arakanese traditional hand-woven fabrics are sold or not, we have to pay the labour costs. Although the Arakanese traditional clothes are not sold yet, we have to pay the wages for the workers to address their livelihood hardships," Daw Ma Tin Thein explained.

Daw Ma Aye, owner of the Shwe Kyar Arakanese weaving business in Sittwe Township, said there is a need for peace and stability in the region in order to solve the problems faced by the Arakanese traditional weaving industry.

"If the politics is not stable, how can we operate our business? Economics and politics are directly proportional," she said. "No hand-weaving entrepreneurs are comfortable with political instability."