When School Desks Become Shelter From Artillery Fire
As soon as they heard the explosions, teachers and students in their white-and-green uniforms rushed to take cover under desks close to the walls in their classrooms.
03 Dec 2022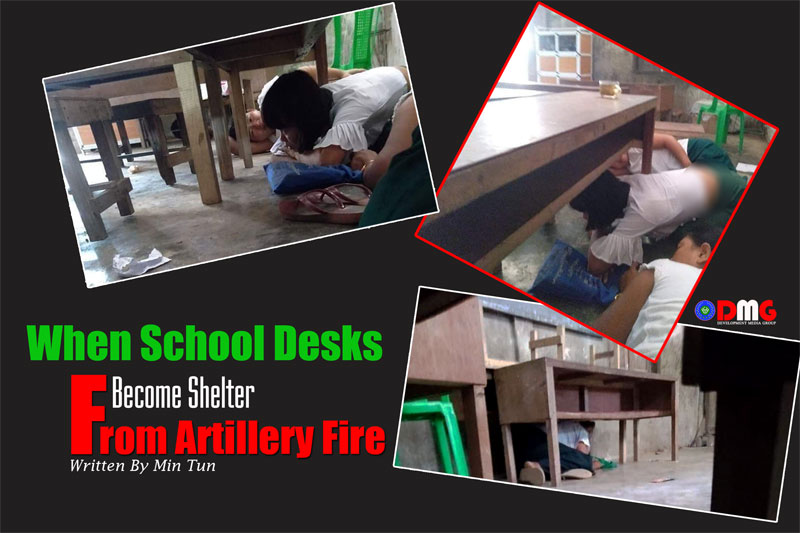 Written By Min Tun
As soon as they heard the explosions, teachers and students in their white-and-green uniforms rushed to take cover under desks close to the walls in their classrooms.
It was October 19, and artillery shells had landed near their primary school in Peinnae Chaung Village, Kyauktaw Township, during school hours.
"Once we heard shooting, we didn't bother to close the school doors, but dived beneath desks together with the children," recounted schoolteacher U Hla Maung, whose name has been changed to protect his identity.
"I was scared that I might be killed. So I told myself, we all die one day. I recited as many religious verses as I could remember, and kept warning the children," said the teacher.
Junta troops at a security checkpoint on the Gisspanadi Bridge shelled continuously for some 90 minutes, from 1 p.m. to 2:30 p.m. that day, according to local residents. Some four houses were damaged in Peinnae Chaung Village. An unexploded shell was found inside a house.
Six teachers were teaching more than 100 students at the basic education primary school in Peinnae Chaung Village that day. Parents have not sent their children to school in the aftermath of the artillery bombardment.
On November 26, Myanmar's military regime and the Arakan Army reached an informal ceasefire, bringing a halt, for now, to months of hostilities. In the tentative and cautious optimism that tends to follow developments such as this, one important focus of efforts to pick up the pieces will be restoring some semblance of normalcy to the schooling lives of tens of thousands of students in Arakan State who have seen their educations violently disrupted. 
A Triggering Ambush
The Arakan Army (AA) ambushed junta troops near Nga Tan Pyin Village in Minbya Township on October 17, resulting in an exchange of fire. Following the ambush, battalions based in Minbya town fired artillery shells continuously.
Upon hearing the shells, teachers closed a post-primary school in Htaung Chaung Gyi Village. As students and teachers left the school, 49-year-old teacher Daw Ma Saw Mya was fatally hit by shrapnel from an artillery shell. She died in her white and green school uniform.
The same day, two others were killed and six others were injured in Minbya. Five villagers were injured in Sin Gyi Pyin Village, two died and one was injured in Palaung Pyin, and one died in Htaung Chaung Gyi. One of the two victims killed in Palaung Pyin was a 10-year-old girl.
Speaking to DMG prior to the November 26 ceasefire, a teacher assigned to Minbya Township said she increasingly feared for her life due to casualties being reported daily.
"Though we still go to school, we are frightened. We are frightened that something bad might happen while teaching. We would not be spared because of our uniforms. We might be hit if struck by bad luck. I don't feel safe," said the teacher.
Until the late November ceasefire, clashes had seemed to only intensify since renewed hostilities erupted between the Myanmar military and Arakan Army in August. Civilian casualties rose week after week.
Among them were a female schoolteacher and three school-age children.
The tragedy in Kyauktaw Township has brought a stark realisation for 25-year-old schoolteacher Daw Hla Hla (not her real name), who is assigned to a conflict zone.
"At first, I believed nothing bad would happen to government employees. But after I learnt that a teacher was killed by an artillery strike, I feel increasingly unsafe," she said.
In a statement on October 7, the AA said the regime has used fighter jets during the renewed hostilities in Arakan State, in addition to firing artillery rounds from some 17 junta bases in Arakan State.
Parents are not sending their children to schools in conflict areas for the sake of their safety. 
"We dare not tell students to come to school. And we can't take responsibility for their safety. In fact, we can't even ensure our own safety," said a female teacher from Minbya.
A primary school principal called on authorities to guarantee the security of teachers and students. "We run the school depending on the situation. Though we have concerns, we still teach school with caution. We will be helpless if something bad happens. We are concerned about our safety. And we need their guarantee for our security during school hours," said the headmaster.
Six people, including a minor, were killed by artillery fire and other conflict-related violence from November 1 to 13 alone. Six people under the age of 18 were among those injured by artillery fire. Civilian casualties rose steadily in November prior to the reaching of the ceasefire, with Ponnagyun Township reporting the most. 
Schools Closed
The renewed fighting and rising military tensions between the Myanmar military and the Arakan Army, along with the military's road blockades, have forced the closure of about 60 public schools in five Arakan State townships, according to locals and social organisations.
Around 20 schools have been closed temporarily in several villages such as Phalaungpyin, Yayngansel, Chaungwa, Chaungphyar, Nanchaung, Kanchaung and Kyarpaikkay as the military has blockaded the Kyatsin Bridge in Minbya Township for more than a month.
"The road to Kyatsin Bridge was blocked by the military, and passengers and teachers are banned from travelling via the bridge. We will be able to go to Minbya only when the bridge is reopened. We are not in good stead due to the closure of the bridge," said a female teacher in the area.
The military deployed near Kyatsin Bridge and imposed travel restrictions for locals after it clashed with the Arakan Army near Ngatanpyin Bridge in Minbya Township on October 17. As a consequence, some teachers from downtown Minbya who have to go to their schools by motorcycles via the Kyatsin Bridge were unable to go.
In Rathedaung Township, around 10 schools have been closed temporarily across 10 villages for about three months as locals have fled to safer locations due to the military's indiscriminate shelling into residential areas.
"Parents of the students dared not stay in the village due to the military's shelling. A female student was killed by a military artillery strike. Teachers and residents fled to safer locations as they dared not stay in the village. This is the reason why the schools were closed," said a resident of Pyainetaw Village.
A 13-year-old girl was killed by a shelling in Pyainetaw Village, part of Arakan State's Rathedaung Township, at around 11 a.m. on October 19.
Respective township education officers have not reported to the state education office about closures of schools amid renewed fighting in Arakan State, said U Ba Htwee Sein, the Arakan State education officer.
"We have not instructed the respective township education officers to close the schools. I think they [township education officers] closed the schools depending on the situation," he said.
Educating Amid Dangers
From August to mid-October, the number of internally displaced people (IDPs) in Arakan State and Paletwa Township has increased by more than 17,000 due to the resurgence of hostilities, including thousands of school-aged children.
In an effort to ensure educational continuity, education departments and social support groups have been providing these IDP children with the opportunity to study elsewhere.
"We help IDP children at displacement camps pursue their education at nearby schools," said an official from the Maungdaw Township education officer's office.
A parent of an IDP student from Pyainetaw Village said it is not easy to continue the education of his two children amid food shortages in the displacement camps.
"We face many difficulties. We need relief supplies as we dare not stay in our own village. My children need stationery and school uniforms," he added.
An official from the Zedipyin IDP Relief Committee in Rathedaung Township said that at the moment, social organisations are struggling to provide food for the displaced people while also helping the IDP students to continue their education.
"We cannot provide the necessary assistance for IDP students because we don't have enough funds. We can provide only food supplies to the IDPs. NGOs are also barred from providing relief items to IDPs in Arakan State. We collect donations from those working abroad and contribute them to the IDPs," he said.
Daw Hla Hla, the 25-year-old schoolteacher in Minbya Township, said: "I want the fighting to stop as soon as possible so that the children can go to school. I want to teach children in a safe manner."
While news of the ceasefire last week brought hopes for a less rocky road ahead, classrooms in Kyauktaw, Rathedaung and other Arakan State townships are unlikely to feel properly safe and secure for some time to come.