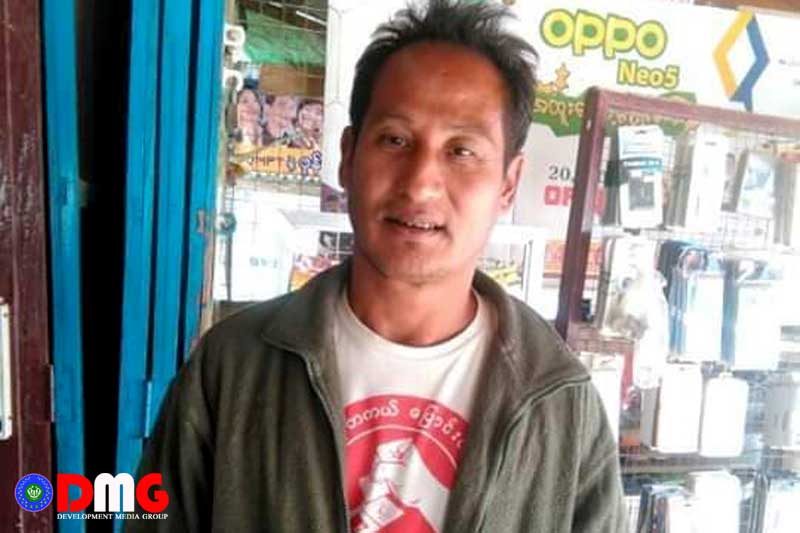 Win Nyunt | DMG
December 26, Sittwe

The Arakan Army (AA) and the Tatmadaw are at odds over the death of a local National League for Democracy leader in Arakan State who died while in the custody of the ethnic armed group, which is claiming that he was killed by a Tatmadaw artillery shell. The military denies any responsibility for the killing of U Ye Thein, who was chairman of the NLD's Buthidaung Township chapter.

The Arakan Army said on December 25 that U Ye Thein, who had been detained by the AA for two weeks, was killed by an artillery shell blast. The AA said in the statement that a Tatmadaw division based at its Buthidaung headquarters had been targeting an AA hill position with heavy weapons fire for days when an artillery shell explosion killed U Ye Thein and injured some other detainees.

"An artillery shell fired from Sa Ka Kha [15] military headquarters exploded near U Ye Thein and his whole body was torn to pieces. We gathered the pieces as best as we could and buried them. Some of our soldiers who were guarding him were injured as well," said Khaing Thukha, an AA spokesperson.

U Ye Thein was detained by the AA on the evening of December 11 while he was preparing to hold an event in support of State Counsellor Daw Aung San Suu Kyi in Buthidaung town. The event was cancelled following his abduction.

Colonel Win Zaw Oo, a spokesperson for the Myanmar military's Western Command, denied the AA allegation that U Ye Thein was killed by a Tatmadaw artillery shell.

"According to the information we received, the AA took the NLD guy and killed him one or two days later. Now, only when we shot at them, they said that he had been killed. That is just distributing disinformation," Colonel Win Zaw Oo said.

U Aung Ko Swe, brother of U Ye Thein, said he wanted clarity on how his brother died, as there were numerous different reports floating around concerning the incident.

"We heard the news but don't know anything clearly. If he is dead, we want to know clearly how he died. If his death is true, we want to see photos," he said.

U Hwei Tin, an Upper House MP for Chin State who was detained by the AA on November 3, is still being held by the group.