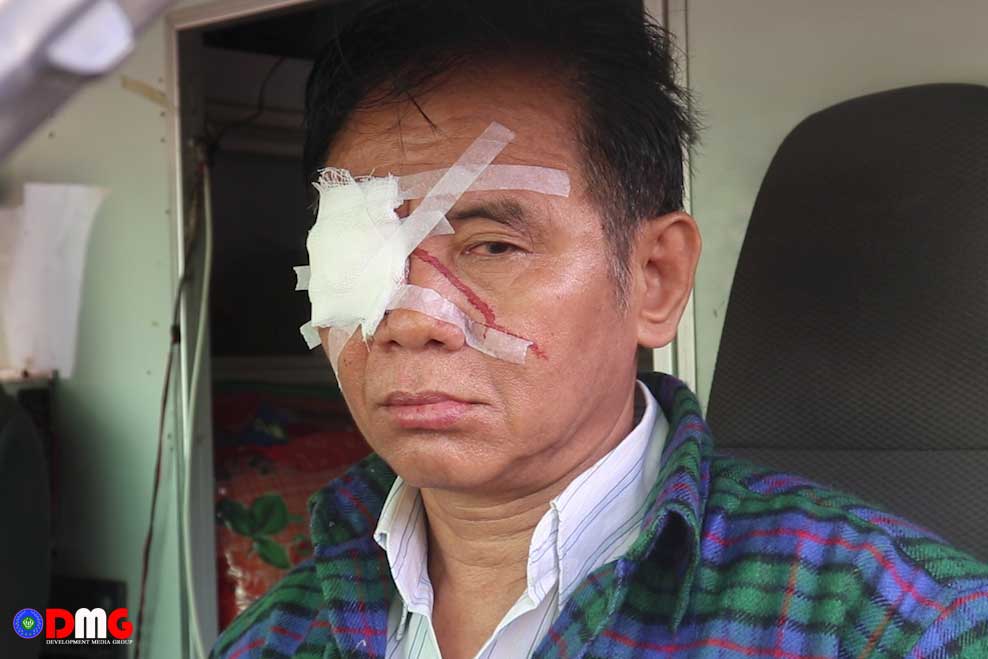 Min Tun and Kyaw Thu Htay | DMG
December 29, Sittwe
 
Three men and one woman were injured by gunshots near Mahar Kangyi Shin Pagoda in Kyauktaw town, Arakan State, their family members said.
 
The Tatmadaw said that while one of its units was providing area security in Kyauktaw Township on December 28, the Arakan Army (AA) attacked the Tatmadaw soldiers in three places: near the Agriculture Science School, the Kyauktaw highway bus station and a local power plant. The attack injured the above-mentioned four civilians and damaged the entrance to Mahar Kangyi Shin Pagoda and other religious buildings, according to the Tatmadaw.
 
Khaing Thukha, the AA's spokesperson, responded that AA soldiers had fired warning shots because the Tatmadaw had set up camp inside the pagoda compound, and questioned and disturbed the residents. He added that their warning attack killed a minimum of 20 Tatmadaw soldiers. "After lots of their soldiers were killed, they shot at quarters of Kyauktaw town where civilians live with heavy weapons and small arms. Four civilians ¬– three men and one woman – were injured by their shooting," he said.
 
The injured are U Sein Kyaw Win, 53, from Myo Thit quarter; U Aung Win, 43, and Daw Ma Than Htay, 30, from Pyi Taw Thar quarter; and U Aung Kyi, 50, from Shan Ywar quarter.
 
"I heard an explosion coming from near Kangyi Shin Pagoda. At the time my husband was sitting in front of our house with three other people and a stray bullet hit his eyebrow. Our house is about two miles from the explosion. We don't know why my husband was hit by a bullet," said Daw Htay Htay Win, wife of the injured U Sein Kyaw Win.
 
A day earlier, on December 27, stray artillery fire landed in Kwe Kue Seit village near Yoe Chaung bridge in Myebon Township and severely injured six residents.
 
Khaing Thukha, the AA spokesperson, said the Tatmadaw was responsible for that incident.
 
"We heard that the Myanmar army called the ambulance for the injured people and sent them to Ann Hospital. And we also found that they gave money to villagers to get them to say that we [AA] were responsible for the attack," he said.
 
The Tatmadaw said the AA launched an attack with heavy weapons against Yaw Chaung camp, where Tatmadaw soldiers were providing area security about 500 meters southwest of Yaw Chaung village in Myebon Township.
 
Shells fired from heavy weapons landed on a house in Kwe Kue Seit village, about 200 metres east of Yaw Chaung camp, and injured six civilians including Daw Ma Hla Sein.