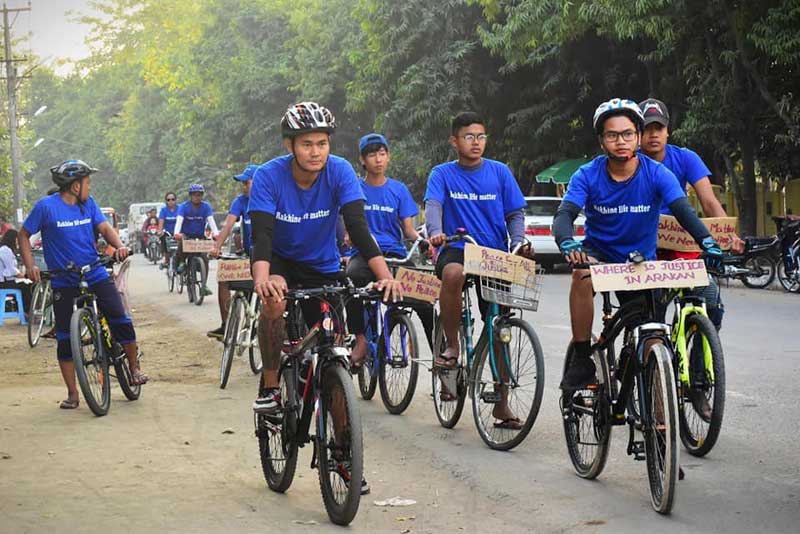 Aung Htein | DMG
December 30, Sittwe
 
Riding bicycles and wearing blue tops, a group of 20 young people sought to peddle their way to peace on the evening of December 29, launching a "search for justice in Arakan State" campaign in the state capital Sittwe.
 
Ko Than Hla from the Arakan Youth New Generation Network said they launched the campaign because human rights are being violated and people are being killed in Arakan State.
 
"People are being killed but we don't know who killed them. It seems like the lives of people in Arakan State have no value. This is unjust, and we don't have any peace here. That's why we are searching for justice," he said, adding that the group plans to ask the government to guarantee fundamental rights for the people.
 
"As citizens, we will take our fundamental rights. We will have to ask for our rights for the public from the relevant ministries and government," Ko Than Hla said.
 
Fighting in Arakan State between the Tatmadaw and the Arakan Army (AA) escalated about one year ago. In the months since, the Tatmadaw has detained numerous civilians on suspicion of having links to the AA, and the Arakanese ethnic armed group has done the same.
 
Thazin Legal Aid stated on November 27 that 503 people had been detained by the Tatmadaw on suspicion of having ties to the AA, with only 10 released as of that date.
 
Scores of civilians in Arakan State have been killed or injured by small and heavy weapons fire, and as casualties of landmines.