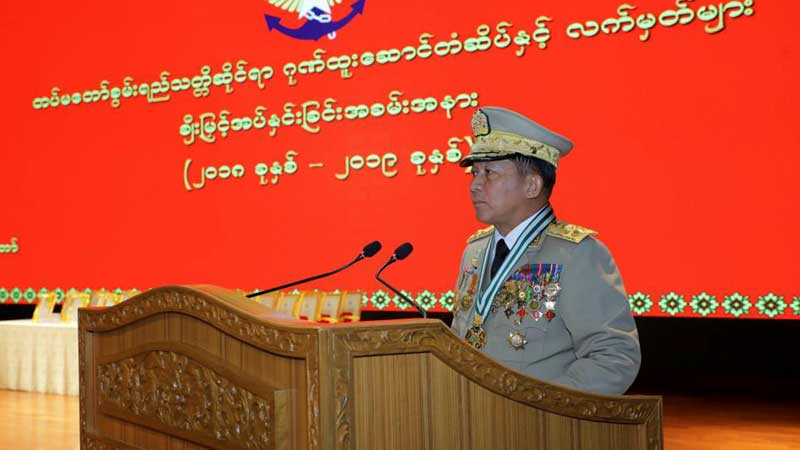 Myat Win Kyaw | DMG
January 5, Yangon

The commander-in-chief of the Defence Services, Senior General Min Aung Hlaing, said the Tatmadaw has resorted to addressing problems via military means because the leaders of some ethnic armed groups are not sufficiently committed to peace.

He made the remarks at an awards ceremony for Tatmadaw soldiers held in Naypyitaw on January 4.

"Leaders from some armed groups who are short-sighted and prioritize their egos are causing the government's administrative mechanism to break down and making the lives of the public unsafe, instead of doing things peacefully to establish democracy," he said.

"They are disturbing the good sake of the country with terrorist actions."

The Senior General said the Tatmadaw and the government had negotiated with patience and tolerance but some armed groups had prioritized political gain and their own private interests. By creating conflict in this manner, he said, those armed groups were degrading the national authority.

He added that the Tatmadaw was trying to conclude all peace processes and deliver an enduring peace to the people in 2020.

"The Tatmadaw isn't working to solve problems and to have peace for just the short term. We are working to have permanent peace," he said.

He added that throughout its history, the Tatmadaw had always adhered to the three national causes and endeavored to prevent destructive acts. It stood at the head of the public and the country to wage just wars, he said.