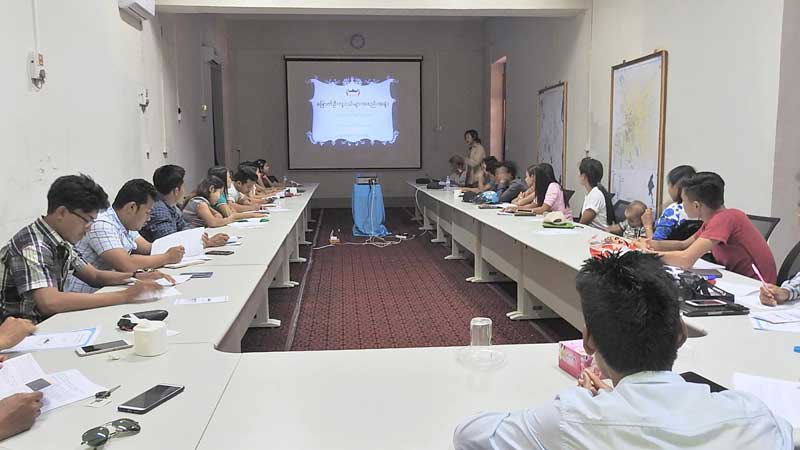 Win Nyunt | DMG
6 January, Sittwe

Young people in Mrauk-U district have rejected an offer of the Arakan State Youth Affairs Committee to join its district committee because they do not trust the latter's policy and the district-level committee is centralized, the Mrauk-U Youth Association (MUYA) said in a statement released on January 5.

A representative of the Arakan State Youth Affairs Committee met the MUYA in December and offered to participate in Mrauk-U district Youth Affairs Committee, but the district youths found that the committee did not have a typical organizational set-up, and lacked clearly delineated lines of duty and authority, the statement said.

Arakan State Social Affairs Minister Dr. Chan Thar was assigned the task of the chairperson of the state-level committee and the chair of the district-level committee was assigned to a young person but the vice chair was from the district-level Social Welfare Department, it said.

"We are told to present our idea to the state-level committee, but our effort would be in vain because the representative did not take responsibility for making our idea materialize," MUYA chairperson Ko Moe Zaw Myint said.

U Saw Kalyar Tun, representative of the state-level committee, said the committee was working with the government but was not under the government.

"They misunderstood, thinking the committee is working only for what the government says," he said. "We had to try for a year to be able to hold a youth forum. So, we cooperate with the government to facilitate our process. We are not a committee under the government as they thought."

The Arakan State Youth Affairs Committee on January 6 said the district-level committees were formed with the aim of carrying out its activities effectively in their respective regions.

The ruling National League for Democracy (NLD) government held youth forum in all states and regions during its first 100 days in office, convening the meetings to brainstorm youth policies for Myanmar.