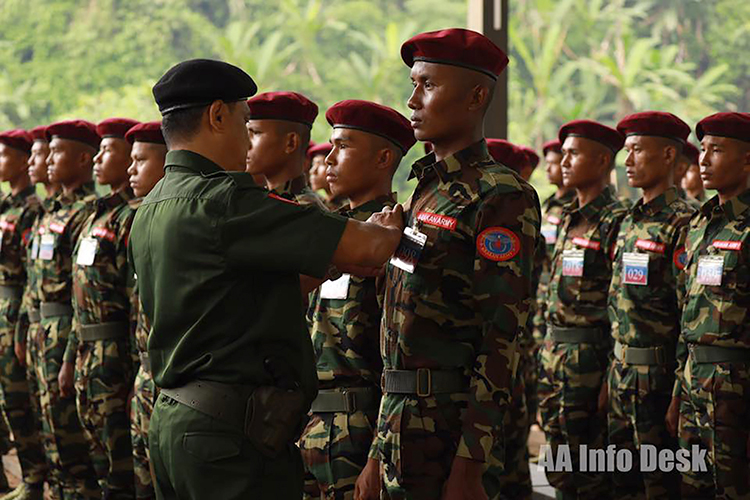 Phadu Tun Aung/ DMG
April 9, Sittwe
The Arakan Army (AA) established in 2009 at the KIO's headquarters in Kachin State is celebrating its 10-year-old birthday today on April 10.
Coincidentally, the hostility between the Tatmadaw and the AA has been escalating and it has acquired more public support through the decade.
Commemorations of the 10th anniversary of the AA have been celebrated beginning April 7 in the countries where Rakhine people are now living such as Singapore and Japan. The AA's chief Major General Twan Mrat Naing, sent an online message for Rakhine people celebrating the occasion.
One of the facts in his message was to rename the Rakhine Tatmadaw as Rakhine Tat Taw in the Myanmar language, although there is no difference in English.
His followers at the ceremony like the new name and some people in Rakhine State also agree with it.
"We can be called the Arakan Army in English, but it can be called Arakan Tat Taw, omitting the Myanmar phrase "ma" from the previous name," the AA's chief said.
After reviewing the word "Tatmadaw", he found that the world has known that it is the usage of Bama and they add the suffix "taw" behind the word "Tatma" which means brigade in English, he said.
"On the day of the 10th anniversary, we renamed our group as Rakhine Tat Taw which means a clever army. We must be faithful to our country and people. We must guarantee sustainability for Rakhine people. We must ensure freedom and safety for future generations. Our army is a smart army, Rakhine Tat Taw," he said.
By renaming the army, he played around with the wording of the Myanmar Language. In the Myanmar language, the adjective "Taw" means "clever" and "Ma Taw" means "not clever". He altered the suffix "Taw" for the "Tat Ma" which means Brigade.
The deputy chief of the AA Dr Nyo Twan Awng also said that the new name will be used for the event of the 10th anniversary of the AA.
The ongoing fighting between the Myanmar Army and the AA started in early December 2018 in Rakhine State has displaced about 30,000 people so far.