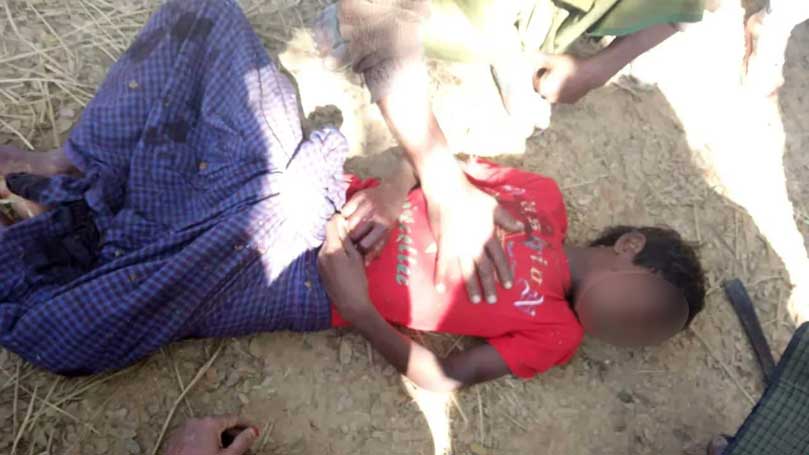 Cha Lu Aung | DMG
January 8, Buthidaung
 
An explosion that killed four schoolchildren and injured six others this week near Htate Htoo Pauk village in Buthidaung Township, Arakan State, was due to an artillery shell and not a landmine, the students' teacher Ali Zuhar, who was also injured in the blast, told DMG.
 
The explosion occurred while the teacher and his students went to a hill outside the village to collect firewood on January 7. Two of the deceased were 8 years old and two were 10 years old. Five of the six injured were also students ranging from 8 to 10 years old.
 
"An artillery shell landed on the ground at around 9:45 a.m. I don't know which direction it was fired from," said 25-year-old Ali Zuhar, who is receiving medical treatment at Maungdaw Hospital.
 
There were no clashes in the area that day between the Tatmadaw and the Arakan Army (AA), according to locals. Tatmadaw soldiers arrived to assess the scene in the wake of the explosion.
 
The Tatmadaw later released a statement contradicting Ali Zuhar's account, however, saying the dead and wounded were victims of a landmine planted by the AA ethnic armed group. The statement said AA troops frequently targeted the Phone Nyo Leik police security camp, located on the northwest side of the hill where Tuesday's blast occurred.
 
Asked about the Tatmadaw statement, AA spokesperson Khaing Thukha said, "The Myanmar military released the statement to hide and cover up the things they have done. Landmine explosions always happen in places where they [the Tatmadaw] have been."
 
Villagers said that due to the explosion, they are too afraid to go to the hillside and nearby plantation gardens to pick vegetables and cut bamboo.
 
Ko Zaw Zaw Tun, secretary of the Rakhine Ethnics Congress (REC), told DMG early last month that landmine blasts had killed 16 people and injured 57 in Arakan State since December 2018. Fifteen of the 57 injured are now physically disabled, REC said.
 
Fighting between the Tatmadaw and the AA has affected thousands of Muslims in Buthidaung Township, and more than 100,000 IDPs across several Arakan State townships face hardships related to lack of food, shelter, education and healthcare.
Related Post : Four students killed, six injured by explosion in Buthidaung