State Counsellor opens JICM peace talks stressing inclusion
"In the short term, you will be drifted along in the armed conflicts, driven by your swollen pride, hatred and prejudices. But in the long run, what has been sacrificed behind the scenes of smoke and gunfire is the lives of our national races, the regions where they had been settled,"
By Myat Win Kyaw 08 Jan 2020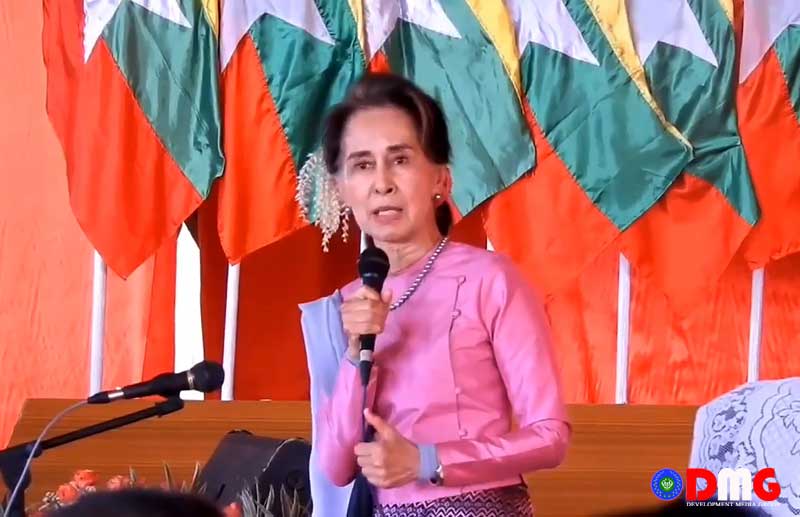 Myat Win Kyaw | DMG
January 8, Yangon
 
State Counsellor Daw Aung San Suu Kyi struck a note of inclusion and emphasized the need for compromise in Myanmar's peace process on January 8 as she heralded the "very auspicious" convening, about one week into the new year, of the 8th Joint Implementation Coordination Meeting (JICM).
 
Her opening remarks at the meeting in Nay Pyi Taw reminded its participants that it was the country's civilian populations that had suffered the brunt of more than 70 years of civil war, with hundreds of thousands residing in camps for refugees or internally displaced persons (IDPs).
 
"In the short term, you will be drifted along in the armed conflicts, driven by your swollen pride, hatred and prejudices. But in the long run, what has been sacrificed behind the scenes of smoke and gunfire is the lives of our national races, the regions where they had been settled," she said, according to a translation of her remarks.
 
She invited all stakeholders to join her government at the negotiating table.
 
"I'd strongly urge you all to come through the Door of Peace in dignity and with full confidence," read the translation, provided in the state-run Global New Light of Myanmar.
 
Daw Aung San Suu Kyi said the National Reconciliation and Peace Centre, which she chairs, was working to engage with non-state armed groups involved in ongoing conflict with the military, as well as groups that are not yet signatories to the Nationwide Ceasefire Agreement (NCA).
 
"You are always welcome to come under the umbrella of the NCA for collective discussions, and if necessary, the Door is open for you to have separate discussions as a single group, as already clearly stated in the NCA," she said.
 
General Yawd Serk, interim leader of the Peace Process Steering Team, in a separate speech, echoed the State Counsellor's inclusive rhetoric.
 
"We need to find a way in which everyone can participate," said Yawd Serk, who is also chairman of the Restoration Council of Shan State ethnic armed organization.
Related Post : Daw Aung San Suu Kyi questions militancy as negotiating tactic