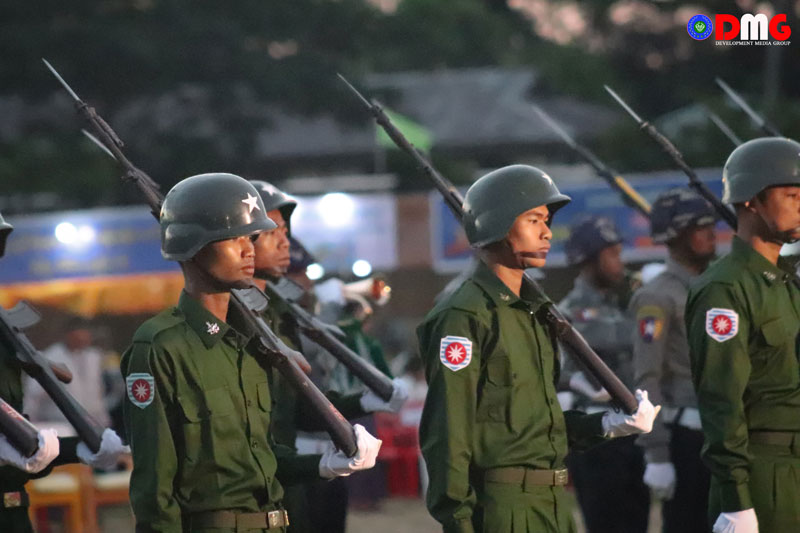 Kyaw Thu Htay | DMG
January 13, Sittwe
 
About 40 villages in Ann Township, Arakan State, are facing difficulties because their residents are unable to use water transport due to clashes between the Tatmadaw and the Arakan Army (AA), locals say.
 
A resident of Ywar Thar Yar village, who spoke on condition of anonymity, said the Tatmadaw has closed off the water route since December 27, after fighting erupted between Yoe Chaung village in Myebon Township and Dalat Chaung village in Ann Township.
 
"We are facing lots of problems because the Yoe Chaung bridge is closed. Nobody can go in or out. Soldiers [from the Tatmadaw] are staying at that bridge and they said that the Yoe Chaung area is an AA stronghold. We are facing food shortages and aren't allowed to cross the bridge to go to Myebon ¬– even for health reasons," he said.
 
U Khin Maung Htay, a lawmaker in the Arakan State parliament from Ann Township, said people travelling along water routes with goods have been stopped and questioned by the Tatmadaw.
 
Residents from those 40 villages rely on Myebon and Kan Htaungyi towns to buy food supplies and other necessary items.
 
DMG attempted to contact the Tatmadaw's Western Command spokesperson, Colonel Win Zaw Oo, to address the concerns of those in the affected villages, but he did not answer the phone.
 
Clashes between the Tatmadaw and the AA since late December 2019 have forced about 2,000 people from their homes in Ann Township. They are facing shortages of food, shelter and clothing, according to volunteers who are helping IDPs in Arakan State.