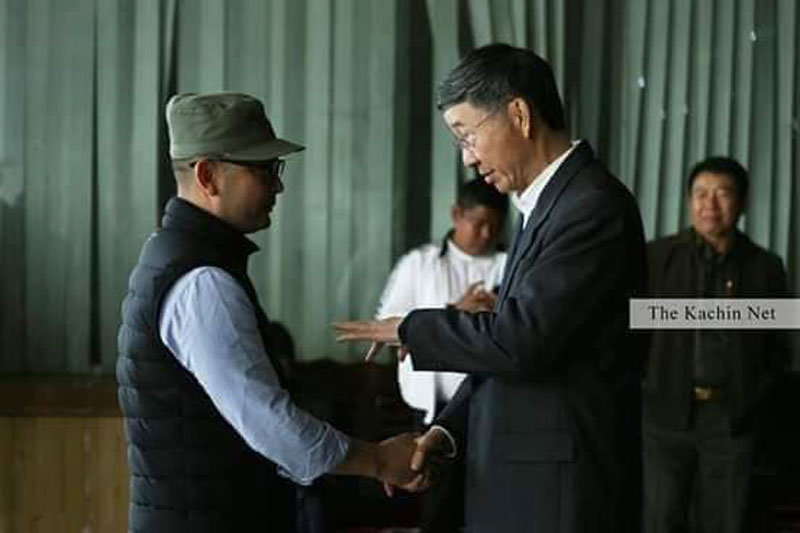 Phadu Tun Aung | DMG
January 12, Sittwe

Chinese Special Envoy for Asian Affairs Sun Guoxiang met with leaders of the Arakan Army (AA) and urged the ethnic armed group to reduce clashes and refrain from attacks on the Tatmadaw, AA spokesperson Khaing Thukha has told DMG.
He said the Chinese envoy met with AA leader Major General Twan Mrat Naing on January 10 in Laiza, Kachin State, and offered to help the group reach a peace with the Tatmadaw at the negotiating table, not on the battlefield.  
"He stressed reducing offensive clashes and [advocated] discussions at the peace negotiating table. Especially, he focused on not launching attacks and decreasing clashes," Khaing Thukha said.
Although most clashes in recent months have erupted in northern Arakan State, fighting has also spread farther south including in Kyaukphyu Township, where the Chinese have significant business interests. However, Khaing Thukha said the Chinese envoy did not specifically refer to hostilities in Kyaukphyu.
"He didn't say anything about it. What he mainly said was to reduce the clashes," Khaing Thukha said.
The Chinese special envoy met with Northern Alliance member groups including the AA and the Kachin Independence Organisation/Army (KIO/KIA). The discussions came a week before Chinese President Xi Jinping is due to visit Myanmar, on January 17-18. Xi's visit will include meetings with several high-level Myanmar government officials. 
Clashes between the Tatmadaw and the AA have been taking place in Arakan State for more than a year. 
The Myanmar National Democratic Alliance Army (MNDAA), the Ta'ang National Liberation Army (TNLA) and the Arakan Army (AA) of three Northern Alliance members, recently announced a two-month extension of a unilateral ceasefire, now in effect until the end of February. However, clashes have been reported on an almost daily basis since that ceasefire extension was announced on January 1.