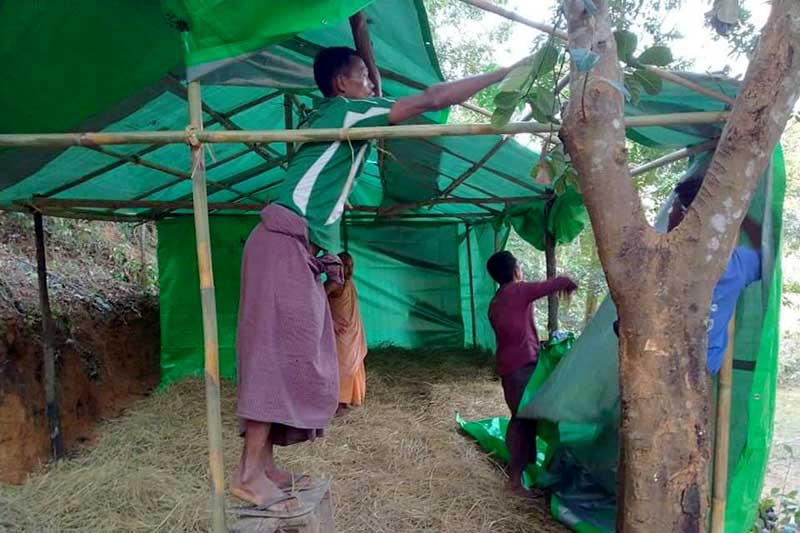 Win Nyunt | DMG
14 January, Sittwe

Hundreds of wartime refugees at a camp for internally displaced persons (IDPs) near War Taung village in Minbya Township, Arakan State, say they are lacking adequate provision of basic necessities such as food, clothing and shelter.

More than 240 IDPs from Kalama Taung, Tha Lu Chaung and Tagundaing villages are sheltering at the camp, after fleeing their homes on December 11 as clashes broke out near their villages.

"We face many hardships," said Daw Sein Phyu, an IDP from Kalama Taung village. "Currently, we're sheltering in a temporary camp made with straw and tarpaulin near War Taung village. We get water for drinking and other uses from nearby wells."

Mya Ta Saung Sayadaw, who helped set up the temporary camp near War Taung village, said he had sought assistance from the International Committee of the Red Cross.

"Currently, I made a temporary camp for them near War Taung village. I also told ICRC about the situation. No assistance has arrived at present," said the Sayadaw.

The number of IDPs in Arakan State has topped 100,000 due to skirmishes between the Tatmadaw and the Arakan Army. IDPs across the state face varying degrees of hardship related to lack of food, shelter, education and healthcare, among other livelihood concerns.