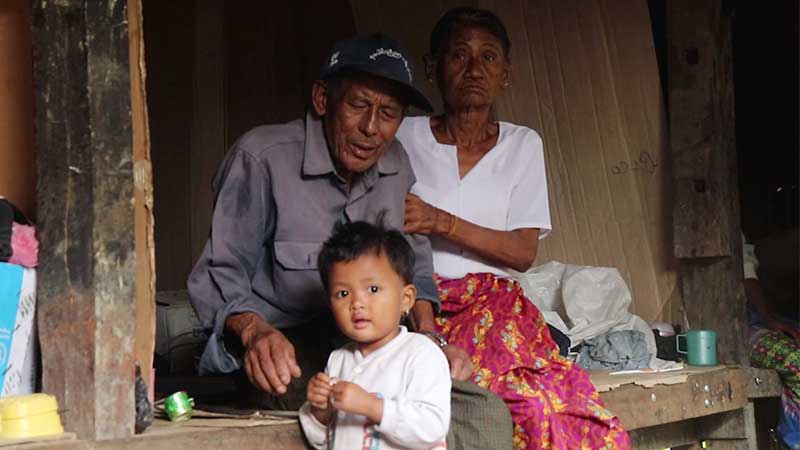 Khaing Roe La | DMG
14 January, Sittwe

The number of wartime refugees taking shelter in Sittwe has risen due to recent fighting in the state, according to Bhadanta U Rarzeinda, abbot of the Metta Parami Monastery in the Arakan State capital.

More than 450 internally displaced persons (IDPs) had been taking shelter at other monasteries in the city of Sittwe such as Dhamma Rama, Buddhawmaw and Wibitzawardi, but about 120 new IDPs arrived at Metta Parami Monastery on January 8, the abbot said.
"I am currently providing for the IDPs by spending the money I have. For food, some donors provided rice, tomatoes, eggplant and potatoes," the monk said.
The new IDPs are from Rathedaung, Mrauk-U, Minbya and Myebon Townships in Arakan State, as well as some from Paletwa Township in Chin State.
Lacking security in their home villages, the IDPs fled and took shelter in Sittwe, said Ma Cho Cho Win, from Thaemawa village in Chin State's Paletwa Township.
"We have had to eat rice with pounded green chilli and vegetables here. Children are crying because they are cold, as we do not have blankets or mosquito nets," she said. "But this is a better place for us. We really thank the monk because we could not eat rice in our previous place. We had to eat broken rice given by others. We fled from home suffering various troubles."
On January 6, the regional government headed by Chief Minister U Nyi Pu met with IDPs in Sittwe and provided rice and food. The chief minister further promised he would provide assistance to meet their needs, and implored them to articulate to him openly what they required.

Hostilities in Arakan State between the Tatmadaw and the Arakan Army have resulted in more than 100,000 IDPs, many of whom suffer difficulties related to livelihoods, including a lack of food, and access to education and healthcare.