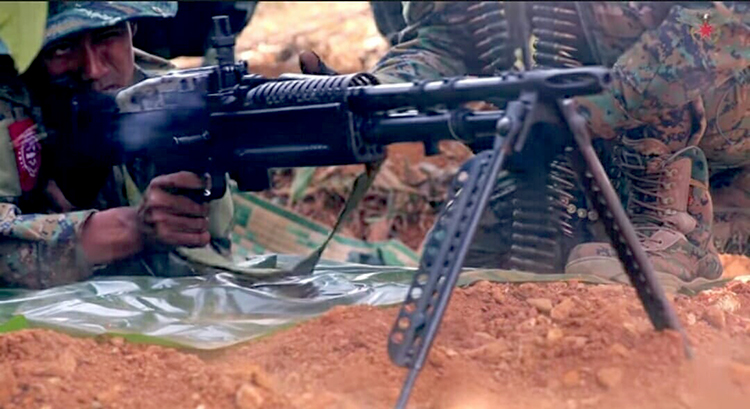 Phadu Tun Aung/ DMG
April 10, Sittwe
The hostility between the Tatmadaw and the Arakan Army (AA) has been intensifying in Mrauk-U since Tuesday night, Khaing Thukha, information officer of the AA, told the DMG yesterday.
The AA has been conducting clearance operations in villages and mountain ranges in Mrauk-U and Minbya Townships in areas of heavy artillery fire, clashes occurred between the Tatmadaw and the ethnic armed group while the AA troops launched a raid at three artillery stations including a police station and Lay Nyin mountain near the ancient city Mrauk-U, Khaing Thukha said.
"Our troops launched clearance operations at some Myanmar military installations and areas where Rakhine people face trouble.  What I can say at the moment is that our members are clearing three places where the Myanmar Army opened fire," he said.
The Myanmar Army returned fire using helicopters and jet fighters during the attack, locals said.
"They (Tatmadaw) are also conducting bombing runs with three jet fighters. The aerial bombardment started since morning," Khiang Thukha said.
The DMG contacted colonel Win Zaw Oo from the Western Command to seek comment for the clashes, one of his juniors responded that "Colonel is meeting with his superiors."
The DMG could not get any comment on the incident.
During the clashes, Daw Hla Nu, 25 years old, and her daughter, over one year old, from Chaung Thit village near a police station received bullet wounds while they were taking refuge in the village monastery. It is not clear who fired the bullets.
Since Mrauk-U is a cultural heritage area treasured by Rakhine people, local residents requested combat should not occur in this area.
"Since we are seeking to list Mrauk-U as a world heritage site, artillery shells and bullets should not hit in the precinct of the ancient city," said U Tun Tha Sein, Rakhine State Hluttaw representative for Mrauk-U Township.
However, Khiang Thukha said that the AA didn't launch any attacks in the cultural heritage zone, but they had to resort to doing clearance operations in the area because Myanmar army troops were being troublesome to locals in an area near a police station.
The fighting in the area is escalating, the Myoma market in Mrauk-U town has been closed and the city is completely deserted because people are hiding in their houses. Local people were worried for their safety, town-dwellers said.
Artillery shelling occurred in Mrauk-U last month, locals sustained injuries and ancient temples were destroyed. It was one-sided attack by the Tatmadaw and there was no clash, the AA said. But, the Tatmadaw said that there were conflicts with the AA.
Following the incident, a curfew had been imposed in Mrauk-U Township.