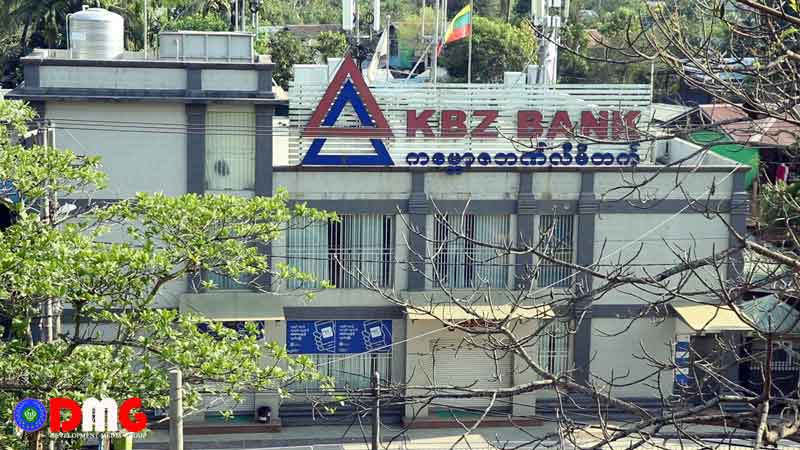 Khin Thayaphy Oo | DMG
January 16, Mrauk-U
 
Locals have urged KBZ Bank to reopen its branch in the town of Mrauk-U, Arakan State, as its closure 10 months ago has forced them to seek out financial services in other townships.
 
KBZ Bank closed its doors the day after shooting erupted in Mrauk-U town on March 18, 2019. The bank was hit by several bullets during the incident.
 
"We are facing difficulties withdrawing or transferring money," Mrauk-U resident Ko Khaing Min Shin said. "We have to go to other townships if we need to use a bank. The main problem is withdrawing money."
 
Prior to the March 18 firefight, Mrauk-U had operational branches of KBZ Bank, Global Treasure Bank and Myanma Economic Bank. Since KBZ was shuttered, the other two banks have been overcrowded and customers face delays in processing payments.
 
Mrauk-U is also one of four townships in Arakan State where the government has cut off internet access since June 21, 2019.
 
Officials from banks still operational in the affected area say many banking activities have been hampered without internet access. Money transfer and withdrawal service providers such as WaveMoney and True Money are also having trouble operating without internet.
 
Mrauk-U residents have to make the 30-minute trip to Kyauktaw or Minbya towns when they need to transfer or withdraw money.
 
"I'm a member of a charity group so I have had to travel to Minbya to withdraw money. Traveling wasn't that smooth before, but it is even more difficult now because Tatmadaw units are checking vehicles on the way," Mrauk-U resident Ko Tun Ni Win said.
 
Locals said the KBZ Bank branch in Mrauk-U is being renovated but they are not aware of when it might reopen. The manager of the bank told DMG that he too did not know yet when the bank would be back in business.
 
Mrauk-U is the ancient capital of Arakan, with its numerous centuries-old pagodas making it a major tourist draw. But the tourism economy has taken a severe hit since fighting between the Tatmadaw and the Arakan Army (AA) erupted in the region last year.