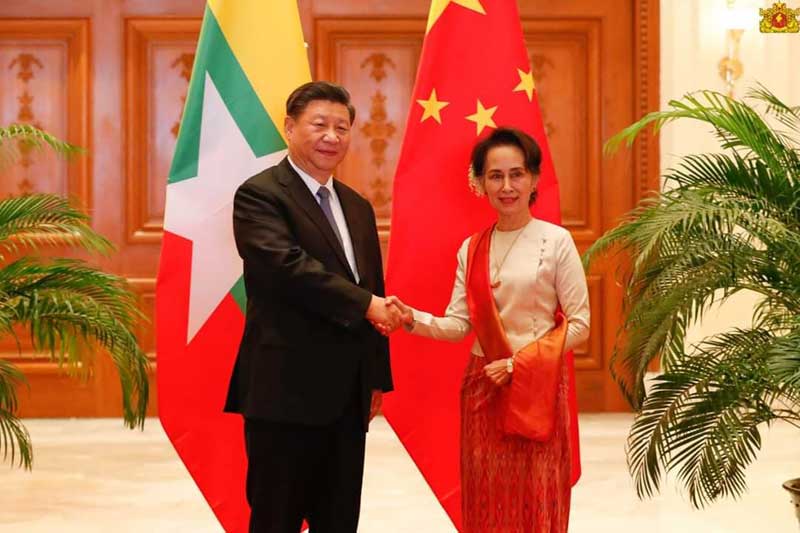 Myat Win Kyaw | DMG
January 18, Sittwe
 
Myanmar and China signed agreements on the Kyaukphyu Special Economic Zone (SEZ) and deep-sea port project during Chinese President Xi Jinping's recent visit to Myanmar despite the objections of some civil society organizations in Arakan State.
 
The two countries signed concession and shareholders' agreements pertaining to the development at Kyaukphyu, which is sited along the Arakan State coast.
 
At the heart of opposition is concern that Myanmar's Constitution does not enshrine meaningful provisions allowing local affected populations to have a say in determining outcomes or benefiting from large-scale development projects like Kyaukphyu.
 
The Arakan Natural Resources and Environmental Network (ANREN) said on January 18 that all major foreign investment projects that have the potential to fuel conflict within a region, including the Kyaukphyu SEZ and deep-sea port, should be halted until peace is attained and progress is made toward establishing a federal system of government.
 
"The government didn't take [account of] the voices of locals. Another point is that the Kyaukphyu project is important for the energy requirements of China. That's why this is the time to make a change for peace in Myanmar," ANREN spokesperson Ko Tun Kyi said. "We aren't guaranteed to see the 2020 election held in the whole of Arakan State. Letting mega projects proceed in this kind of situation makes the government look like a dictatorship."
 
The Kyaukphyu SEZ Watch Group also released a statement on January 16 urging the government to officially recognize locals' claims to farmlands that have been held for generations, and to create enough job opportunities for locals to compensate for their losses before signing an agreement with China for the project.
 
"The locals are completely being ignored with the signing of the agreement. We see that they [the government] just made the contract without listening to the voices of the locals," Watch Group leader Ma Moe Moe Aye said.
 
The statement also said that locals living in the project area were worried about compensation for land and future job opportunities. Though a Social and Environmental Impact Assessment (SEA) was required for the project, it has not yet started and not enough information has been shared with locals, the group said.
 
The Watch Group claimed that the government and companies still haven't resolved land problems related to the Shwe gas and oil pipelines project.
 
Xi traveled to Myanmar on January 17 and met with State Counsellor Daw Aung San Suu Kyi the following day. Including paperwork on the Kyaukphyu SEZ and deep-sea port project, agreements were also signed on the Shwe Li-Muse border economic cooperation zone and several other infrastructure initiatives, among a total of 33 memorandums of understanding (MOUs) signed during the Chinese leader's two-day visit.
Related Post : Amid Development at Kyaukphyu, a Question Persists: For the Benefit of Whom?