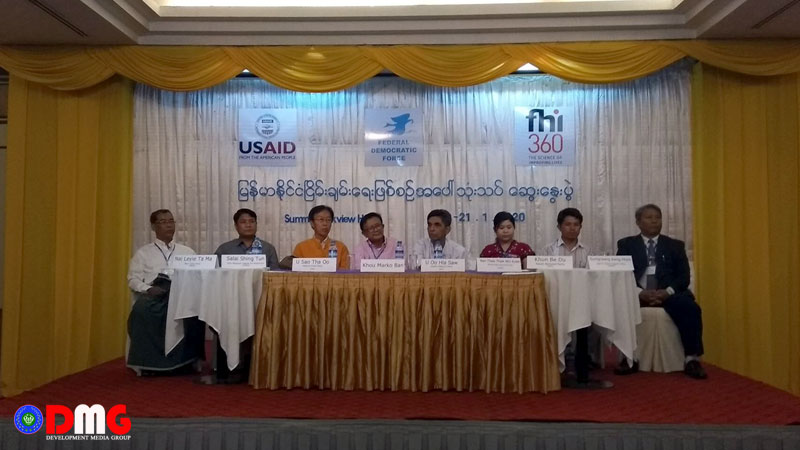 Myat Win Kyaw | DMG
January 23, Sittwe
 
Political leaders this week said that although successive Myanmar governments including the current administration have promised to form a federal Union, none has had a systematic framework for introducing it.
 
The remarks were made at a press conference following a workshop on Myanmar's peace process held January 20-21 at the Summit Parkview hotel in Yangon. Representatives from about 40 political parties attended the workshop.
 
U Oo Hla Saw, a Pyithu Hluttaw member from the Arakan National Party (ANP), said the National League for Democracy government has not revealed any plans to fellow political parties about the introduction of a federal system. He added that the NLD government needs to be transparent and negotiate with ethnic groups on matters related to federalism.
 
"They have to let everyone know [what their plan is]," he said. "This isn't a military secret. I have spoken to NLD leaders in the Hluttaw and they aren't interested in federalism."
 
He added that only attempting to amend the Constitution would not be enough to bring about the formation of a federal Union, and that concurrent progress in the country's peace process was also necessary.
 
Salai Shein Tun, general secretary of the Chin National League for Democracy (CNLD) in Chin State, said successive governments lacked any standards for federalism.
 
"If we look through the 51 [points of agreement] of the peace process, none of the points says to go to a federal system," he said.
 
During this week's workshop, political leaders discussed amending the military-drafted 2008 Constitution; achieving a peace process that is inclusive of all political parties and armed groups; and establishing a framework for introducing a federal system of government.